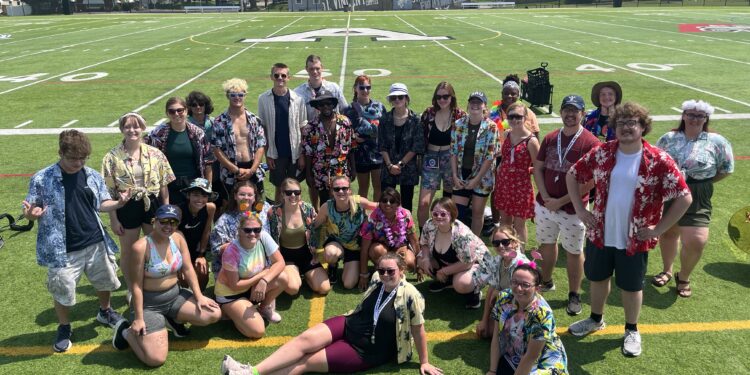 The Fighting Bee Marching Band is back for the eighth time, with a very exciting new show. Their 2023 production is cleverly entitled "Queen Bee" and will feature selections of music from both Queen and Beyonce, creating the perfect blend of fun, charisma, and energy that the crowd will be sure to enjoy.
The Fighting Bee Band got started with their 2023 activities on August 9th, when the student leadership team moved back onto campus. The season really got started with marching band camp the following week once the rest of the group was settled in. The band has already put in countless hours, and have been working hard ever since to put the show together, get ready for parades, and represent St. Ambrose University with pride at every performance.
Drum major and sophomore student, Eve Wackerlin, was able to provide insight into this upcoming marching band season.
"This season I am most excited for football games. We don't have many, but each one will demonstrate more and more growth from the last. Also, it's a short show but the music is recognizable and is an excellent representation of our confidence as a team!" Wackerlin said.
New this year is a stadium that hosts SAU football, marching band, cheer, and dance teams outside of Davenport Assumption High School. This will be where St. Ambrose's game days will take place. This change of venue is sure to provide an exciting change for both students and spectators coming to enjoy the Fighting Bee Band.
Wackerlin was also asked to speak on the differences between this group this year, and the group in previous years because there are already noticeable differences that set this group apart.
"I think the most identifiable difference between the band this year and last is the fact that we have cultivated such a positive, uplifting atmosphere that always brings the energy," Wackerlin said. "A goal that our leadership team set during band camp was to always support our members by being role models and an accurate representation of what it truly means to be in the Fighting Bee Band – dedicated and strong, but also to embrace mistakes and learn from them.
"Not to say that last year's band did not represent this, but there's just a new growth mindset this year, and it definitely has had an amazing impact on our team already."
After many rehearsals, The Fighting Bee Band took the field for the first time in performance on Saturday, September 2nd, at the home opener for St. Ambrose football. While they didn't showcase the entire halftime show, each performance in the future will build upon what was presented at this first production. If you missed the game, be sure to catch them at any of the following dates for another halftime show:
September 23
October 21
October 28
November 4
In addition to playing at football games, they will also appear at several other community and school events in the next few months, so keep your eyes open and your ears ready for some great music as the Fighting Bee Band traverses their 2023 season.