Wrestling looks to start off strong in first year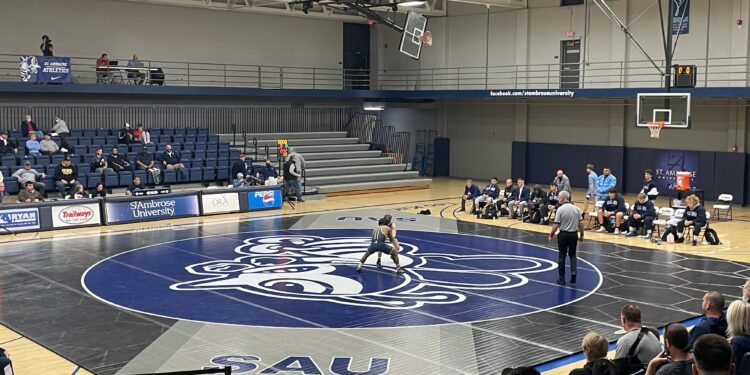 In 2020, SAU announced they would be adding men's wrestling to its hive of sports. Bo Bettinson was announced as the head coach shortly after, setting the wrestling team to begin competition in the 2021-2022 school year.
"Being the first head coach has been amazing, it's been absolutely amazing. Challenging but fun. When I took the job, I knew it would be hard, but nothing in life worth doing is easy," Bettinson said.
"I am extremely high on Bo," Director of athletic facilities stated. "We have been preparing and improving our facilities with the addition of wrestling, so things should flow smoothly."
Bettinson was an assistant coach at Montana State University starting in 2017 but has a long history with wrestling and Iowa, having wrestled and coached at Waldorf University. His previous college coaching experience has helped make the transition to SAU a bit easier.
"Working in a college atmosphere the transition has been pretty seamless. More specifically, I've worked at a private-catholic based institution before so that part hasn't been that different for me. Coaching is coaching, whether it's assistant or head coach, but the administrative stuff is different," Bettinson said. "Trying to keep up with every aspect is a challenge, such as getting fans in, making sure we have an official, or every player is eligible. You don't realize that there can be about 9-10 things we juggle each day."
Bettinson added that another struggle has been starting the program during COVID, an unique struggle not too many first time coaches have dealt with. COVID has affected the eligibility of players and availability of some teams competing, adding to the difficulty.
Bettinson saw a lot of success at Montana State, helping build a program that consisted of 18 NAIA national qualifiers, 10 All-Americans, 6 national finalists and a National Champion in 2020. Bettinson looks to bring that success over and begin a tradition at SAU.
"I've seen talent and want to recruit that here to SAU; we're trying to get that going within our recruitment process. There have been struggles but we are figuring out what our niche is and running with it."
Bettinson and the rest of the athletic department are excited for the season and think success is imminent.
"Seeing how things are done the right way and being able to be a part of championship programs and cultures is huge for my staff and I, as it allows us to understand what it takes to be good," Bettinson said.
In their first season, Bettinson expects the team to be extremely competitive.
"Winning is the ultimate goal, but we will be in every match," Bettinson stated.
Some important games Bettinson has circled on the schedule are against his alma mater Waldorf, a ranked opponent in Grand View and the first game of the year against Augustana.
The Fighting Bees started off the year taking care of business in that important first ever game, defeating Augustana 24-23.
"That one set the tone for the SAU community as a whole," Bettinson said.
SAU students and the community are invited to attend future home matches at Lee Lohman Arena. Find which game is best for you here http://www.saubees.com/schedule/0/51.php