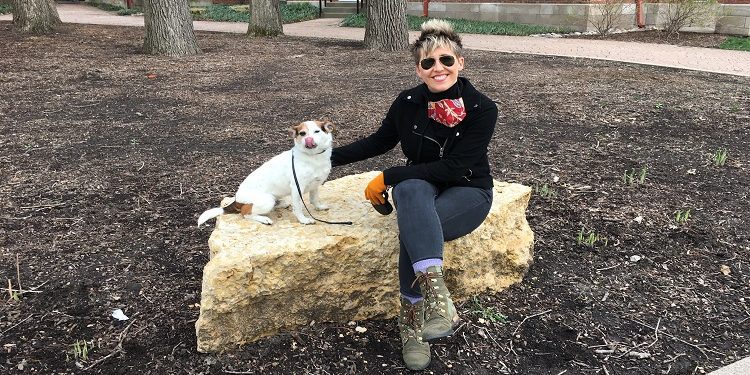 Dr. Sarah Eikleberry takes on many roles: a professor, an advocate, a researcher, a leader, and a noisy voice on campus getting things done, most of which she never thought she would be.
"I certainly never thought I was going to be a professor. It was very much the expectation that I would go to college, but I was not encouraged to go to find myself or study something that made my heart explode with happiness," Dr. Eikleberry said. "I was very much encouraged to study a profession."
She knew that she loved physical education and sports, as well as learning about cultures, different peoples and underrepresented voices.
"My heart was really split between health and the humanities," Dr. Eikleberry said. "But fortunately I had some wonderful experiences at community college that showed me these don't have to be separate."
Today she classifies herself as a sports historian and a person who studies the cultural and political significance of sports and movement.
Dr. Eikleberry earned her Ph.D. in Health and Sports Studies from the University of Iowa.
Dr. Eikleberry has been at SAU since the summer of 2013 when she was hired as an adjunct faculty member. Now, she's an associate professor of Kinesiology and affiliate faculty in the Women and Gender Studies program.
Dr. Eikleberry emceeing at the Kinesiology Graduation Reception at the WRC in 2019. This photo was taken pre-Covid and is courtesy of Dr. Eikleberry.
Outside of academics, Dr. Eikleberry acts as an advocate and leader for many different organizations and causes. These include, but are not limited to, PRISM, SafeZone, Greendot, Bystander Intervention Training, Ambrose Women for Social Justice and the College of Arts and Sciences Annual Theme committee.
"A big part of being a teacher is helping people develop the skills that help them see the changes they want to see in the world," Dr. Eikleberry said.
But before she began to teach, lead and advocate for others, she learned how to from the pioneers in her field that came before her.
"My first day of graduate school I arrived and realized that these people who were going to be my teachers were absolute pioneers," Dr. Eikleberry said. "I knew that the women in my family were pioneers of sport and physical activity in their own regard, but I thought it was a family story."
The two women that Dr. Eikleberry learned from had, when they were students, protested the building of a new rec center because it wasn't going to include bathrooms for women. At that time, sports and physical activity were still highly segregated, and women didn't have the same teachings and access as men did.
"I realized my family was part of a tradition of people fighting for access for physical activity and sport," Dr. Eikleberry said. "That it was really important."
So now when she reflects on the kind of work she does with her students and with her friends in the community about things like access to gender-inclusive spaces and public accommodations, she realizes that the same fight is still going on but in a slightly different way.
"I realized there's this opportunity to take a thing that's such a cornerstone in my life and make it even more meaningful, not just for me, but more the community," Dr. Eikleberry said. 
Dr. Eikleberry is the SafeZone committee chair.
She claims that oftentimes people in minorities have to be taught to value the work they do, that they are laborers, that they are leaders, that it's not just service or volunteer hours.
"One of the things that often happens with gender minorities is that we are not necessarily taught that we can be a changemaker," Dr. Eikleberry said.
Dr. Eikleberry hopes to help guide the community around her to be the version of itself it claims to be on the website.
As for what she plans to do in the future, she has been granted a sabbatical for fall 2021 in order to continue her research. This research generally involves looking at things like how women and queer-identifying people use movement to draw people into a cause. She has already published many articles on this and other related topics.
Outside of school and advocating work, Dr. Eikleberry enjoys helping her friends, spending time with her partner and her dog, dancing, biking, lifting weights and rhythm roller skating.