The Value of Academics In Football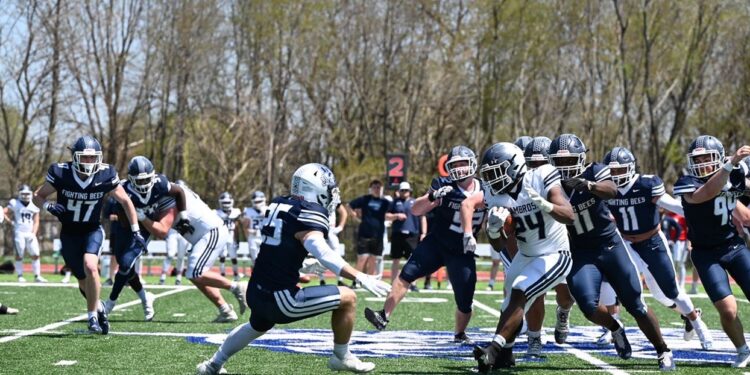 The St. Ambrose University football team has high expectations for this year's season. Within the past few years the team has shown promising growth in skill and dedication. The 2022-2023 roster has revealed the goals of the season will be accomplished due to a fresh mindset, eagerness to prioritize academics and sustaining a passion for the game.
Senior running back, Ray Bouye, has been a part of the program for four years and is currently using his "COVID season" to play during this season. He is a Business Management major with an endorsement in Entrepreneurship, and a minor in Philosophy, Bouye sets the example for his fellow teammates as the struggles of being a student athlete may begin to set in.
"This year we need to right our wrongs. I think last year things moved too fast. This year we need to focus on every task at hand as well as keeping a good perspective on what really matters. We have a new coaching staff this year which is good because we needed something different," Bouye said. "This isn't the same football team as last year. This is our time and we need to lock in on every front. School is just as important as football and that is something I try to emphasize to the younger guys. You can't do one without the other and this year we need to come out with everything we have."
Another senior running back, T'Nahleg Hall, preaches how important the bond of a team can affect a performance. As a player who transferred in his junior year, Hall has embodied what a leader can do. From being a captain of the football team in his first-year attending SAU, Hall has established a role that other players look up to.
"I handle supporting my teammates at ease. I support my teammates on and off the field by providing or asking "do they need help with any academic struggles". Helping my teammates become mentally tougher is another big thing because you never know what someone is going through," Hall said. "I love helping my teammates out because it makes me feel like I am accomplishing something every day and providing resources that some people are scared to ask for."
Current captain and offensive lineman, Brian Ciciura, expresses the meaning of the game. When it comes to presenting passion for football, Ciciura proves to be an impressive role model. In his fourth season at SAU, Ciciura has put in the work and seen the results of what his team can accomplish.
"Football is the greatest game on Earth. Everytime I step foot on the field I know it's an honor and a privilege," Ciciura said."Words will never come close enough to explain the thrill and the rush you get running onto the football field."
Considering this season is full of new and exciting changes, and many players have acknowledged that the team has all of the pieces, they just need to be put together. Join the team as they take on their next challenge against Trinity International on Saturday October 1st at 1 p.m. For more information about the Football team or any other sport here at SAU check out this link.