The Trending Closure of Small Universities: Ambrose President Amy Novak Provides Perspective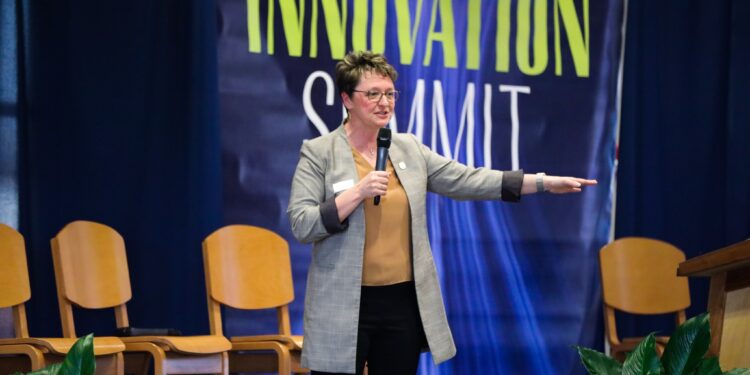 Iowa Wesleyan University closed its doors for good on Mar. 28, signifying the end of a 181-year-long era. According to a press release from the university, the decision to shut down at the end of this academic school year was unanimous.
The University is not the first to announce its closure. In fact, Iowa Wesleyan is one of many small colleges following a nationwide shutdown trend. In a study from Higher Ed Dive, it was found that over three dozen small colleges and universities have either closed or merged since the dawn of the COVID-19 pandemic.
Christianity Today revealed that 18 of those universities were Christian affiliated, including Iowa Wesleyan, which is a Methodist institution. Iowa Wesleyan attributed the decision to a series of financial struggles that have been posing an issue for years. According to the institution, some of these stipulations include increased cost of operation, pressures from inflation, shifts in enrollment, and a rejection of federal funding by Governor Kim Reynolds.
Many individuals were not surprised by the university's closure. In an article from KCCI Des Moines, the President of the Iowa Association of Independent Colleges and Universities, Gary Steinke, said that Iowa Wesleyan had been struggling with the financial burden for years.
Cardinal Stritch University, a conference mate of St. Ambrose, is also set to close at the end of this academic year. According to Higher Ed Dive, the Catholic university has experienced similar obstacles in terms of enrollment, finances, and the pandemic. Cardinal Stritch University and Iowa Wesleyan University are both in the process of establishing transfer plans so that students may finish their degrees.
With the trend of small colleges shutting their doors, it begs the question of what a situation like this might mean for St. Ambrose. However, President Amy Novak does not believe that this pattern will prove to be an area of concern for the university or its students.
President Novak noted that Iowa Wesleyan and Cardinal Stritch are two of 15 small colleges and universities that have decided to close their doors this year alone. She also believes that financial crises plague small colleges from coast to coast, and such issues make it harder for those institutions to remain open.
"I think there have been a lot of institutions that, instead of securing donations for their facilities, build on debt. In the case of Iowa Wesleyan, they had a really significant loan that essentially became impossible to pay," she said.
However, she says she does not see St. Ambrose University experiencing similar problems in the near future.
"We are fortunate here at St. Ambrose in that we have generally not had a whole lot of debt. We either raised the money or had it in the budget to pay for upgrades. We are not carrying debt that would lead us to be in a position of closure."
St. Ambrose University currently has an endowment of over $200 million. According to the President, this pool of investment capital provides a cushion in the case of lower enrollment or unexpected costs. She believes that Iowa Wesleyan closed with less than $15 million in its endowment.
On top of the financial struggles posed in the post-pandemic era, President Novak also attributes the closure of smaller universities to the declining birth rate during the 2008 recession.
A research study from the University of New Hampshire found that roughly 2.3 million fewer babies were born between 2008 and 2013 than would have been expected based on pre-recession birth rates.
"The recession caused people to have significantly fewer children, and now we are starting to see the implications of what we call a 'demographic cliff.' Fewer students are entering higher education, simply because there are fewer children, especially in places like Illinois and Iowa," Novak explains.
According to a study from EconoFact, the birth rate in the United States has fallen by 20% overall since 2007.
Given that fewer children were born during the Great Recession, and now fewer students are entering the realm of higher education, smaller universities are faced with a daunting task. Small colleges and universities, especially those that are private and Christian affiliated, must remain competitive to ensure their university will not be the newest on the list of closures.
President Novak said that in the current era of higher education, facing competition from larger universities is no longer their biggest challenge. Instead, competition with corporations and large industries has made recruitment more difficult. She believes that students who might have been on the path to higher education at a university are now becoming enticed by certificates that take less time to earn. As a result, people are beginning to question the inherent value of a college degree.
"People have said for years that higher education creates a value, and we now have industries trying to make the claim that a six or nine credit hour certificate is a better or more affordable pathway," she said.
While she thinks this is a viable option for some, she does find industry competition to be an area of concern in terms of life-long learning.
"These certifications may provide a starting point for students, but what can they do with it? Those certifications can become outdated rather quickly, and I believe there to be much more to education than just learning one skill," she said.
To combat these competition issues with large corporations, the university is placing a focus on the value of higher education and why students should choose to earn their degree at St. Ambrose or other smaller schools. Additional strategies to increase enrollment include scholarship opportunities, combined degree programs, and expansion of current projects. President Novak said that she hopes these initiatives will make the college experience more relevant to students, and will therefore increase enrollment and retention.
While St. Ambrose is not currently facing any obstacles that would lead to a shutdown, President Novak says that the national trend has forced them to sharpen the university's messaging. In the coming year, Ambrosians can look forward to new branding, initiatives, and educational pathways that prepare students for success.