The St. Ambrose community welcomes Father Ross Epping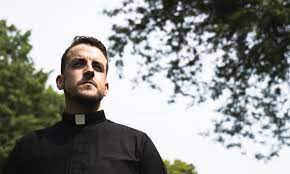 As the St. Ambrose University 2021 fall semester kicks off, new faces on campus are here to join in on the SAU fun. Blessed with the presence of an experienced and dedicated new hire, one addition to the SAU community is the new campus chaplain, Father Ross Epping.
A 2011 alumnus, Father Ross has finally returned to campus after spending a few years in Grinnell, Iowa. There, he was the pastor of a church, but he knew he always wanted to circle back to Ambrose.
When Father Ross attended Ambrose as a student, he made many joyous memories that he would not take back. He was a residential advisor in Franklin Hall for three years and enjoyed the community feel. In his leisure, he enjoyed spending time in the chapel with his friends as he worked towards his major in theology. He enjoys singing and can be heard when he sings during mass.
Inspired by his childhood priest, Father Ross said he always felt passion towards priesthood.
An Ambrosian at heart
Driven by his own beliefs and a desire to help others, Ross said he "loves Ambrose and is glad to be back."
Father Ross is here to support the students, faculty and staff in their spiritual journey. His first mission at Ambrose is to learn about the community so he can best figure out how to foster religious growth.
He adopted the thoughtful policy that he is "only as effective as I am open to learning." At the end of the day, he is "here and for the students." He understands that to have the largest impact, he needs to take the initial small steps of relating to students on campus.
He expressed how he loves connecting with the St. Ambrose students and talking about anything under the sun. One of Father Ross's favorite events here at St. Ambrose is Mass and more.
Mass and more is on Wednesday nights at 9:15 pm outside at the Grotto. Mass is celebrated and afterward people stick around, eat food and talk amongst the group; Father Ross believes that every conversation is cherished and appreciated.
His office is on the bottom level of Hayes and he welcomes everyone to pay him a visit to get to know him on a deeper level.