The Depths of the Oshin: All Business On and Off the Field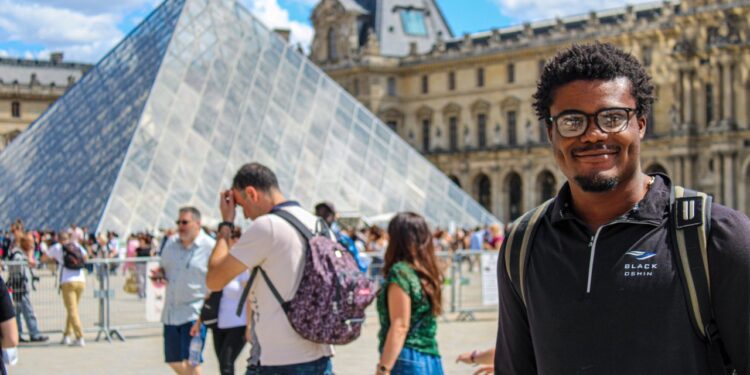 For one defensive lineman on the Saint Ambrose University football team, making some of the biggest plays off the field are as exciting as those on the gridiron.
Ayodeji Oshin, better known as DJ Oshin, is one of the key contributors to the Fighting Bee's defensive unit this season. Even when he is getting blocked by the opposition, DJ has been able to get to almost any opponent who has the ball in hand. However, serving as an opponent's worst nightmare is not the only aspect of life that DJ. has succeeded in.
Oshin is also a businessman. Alongside his brother, and occasionally his sister, DJ started a business known as "Black Oshin." According to DJ, "I started Black Oshin because I found in high school that my friends and I wanted some custom shirts, but the prices were just ridiculous for a simple shirt with a few words. I researched and figured out that I could do this with some tools, so I found myself making shirts for people at a price not nearly as much as other companies."
Oshin says there is a sort of niche in the market for affordable, custom clothing of good quality. When it comes to clothing, Black Oshin sells t-shirts, long sleeve shirts, sweatshirts, and other types of clothing that can be made custom or made with some of the default designs the company offers. Default designs may include words, pictures, or the company logo.
Oshin and his business do not only sell clothes anymore, though. "Just this year, we added tufting rugs, which are made by a sort of gun that works like a sewing machine and goes into the fabric that makes rugs of any shape, size, or design. We added it this year because we felt like there was a demand for a company expansion in terms of what we sold."
DJ, his family, and his business do not want to stop there, as he says he wants to keep expanding their product line. When talking about the big vision for his company, DJ said, "my goal is for sure to keep it going, but with me probably just overseeing it, and having employees that actually run it." Although it is not necessarily the same style of work, Oshin wants to have his own construction company and renovate houses.
The Black Oshin crew wants to expand their employment as well. Oshin says that the business is looking to hire someone in the coming months. He and his family are looking for someone to handle digital media and social media work for the company. He also says a product manager would be a nice addition.
One of the large products for Black Oshin has been supplying different teams or clubs around Saint Ambrose University with clothing. One such group is DJ's fellow football teammates. One offensive lineman for the Fighting Bees said, "I really like the sweatshirts DJ and Black Oshin made us. Not only is it comfortable, but it's a very high-quality material. I'd get more of the clothing from his company."
The Black Oshin logo has a special meaning for DJ. It was made up by DJ and his friends. "The name Black Oshin just came up, and we said we should put it on a shirt. Then we decided to add waves to it because of the Oshin, ocean combination." For DJ, the logo represents his family while also incorporating the importance that his friends have had in his life.
Although the website is still under construction, DJ says products can still be purchased. Oshin says that if one wants to get in contact with him for custom orders, the best way would be to text or email him (contact information can be found on the website).
Ayodeji "DJ" Oshin, the Fighting Bee defensive stud, is making big plays both on the football field and in the business world. By producing high-quality, comfortable clothing, Black Oshin keeps looking to expand and make a splash in the business world.
Ryan Schiestel is a staff writer for The Buzz.