The Bees Take A Listen To "Her Loss"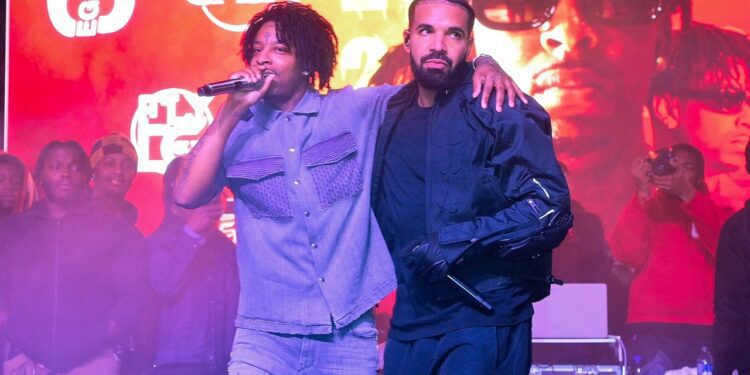 Music is something almost anyone can enjoy and that is no different for college students. When a person's favorite artist drops a new song or album it can be highly anticipated. This could be seen with the release of Drake and 21 Savages collab album that dropped in early November. It was highly anticipated by many young adults including SAU students. Many posted theories leading up to the album and stayed up on the night of its release.
Here, students at St. Ambrose voiced their excitement for the release of the album as well. Sophomore Hayden Newton stated, "These two always put out hit songs so I can't wait to see what they are going to do on an entire album!" Heather Motley a Junior at Ambrose says, "I really enjoy both of their music so how can this album be bad?"
The album titled "Her Loss," by Drake and 21 Savage released on November 4th was anticipated by many. The two rappers are highly acclaimed, and many believed that this album was to be one of the best of the year. Many young adults including students such as those at SAU relate to this sort of music, so it was no surprise when news of the album blew up on social media.
Students were clearly excited about this album coming out but what were their impressions after it was released? Online the first reactions to the album were positive and enthusiastic about the music the two artists produced. Most people are enjoying the track list and flow of the songs. It seems to overall be pretty popular among fans thus far.
Junior Franki Mannuel adds, "I really enjoy the songs on the album, and I think Drake and 21 Savage did a great job at creating this project. I just really enjoy the beats and samples they use within their music in order to stand out from other albums that have come out this year."
The album seems to be doing decent with those on the SAU campus. Students are liking most of the songs released and have no large issues with the album. Why was this album so popular and highly anticipated though? What made it so special that so many young people could not wait for its release?
SAU junior Hannah Drish, who is a large fan of the two artists says, "I think so many people were interested in the album because of how big these two artists are and because it came out of nowhere" She goes on to say, "They announced the album out of the blue, so I feel like it took everyone by surprise."
She also discussed how she specifically stayed up on the night of November third to hear the album right when it dropped at midnight. She stated, "I was so excited to hear what they came up with because I am such a big fan of all the other projects they have worked on together." She then states, "Drake is one of my top artists so when he comes out with new music I have to listen to it right away."
The album seemed to be something that people did not think was going to happen this year so when it did it sparked an interest. It gave many students something fun to look forward to over the weekend.
Overall, the Drake and 21 Savage album look to be a hit among most of the students at SAU. Many enjoy the beats within the album and the flow in general, so it is safe to say "Her Loss" lived up to the hype.
Bailey Tripilas is a staff writer for The Buzz.