Take Back the Night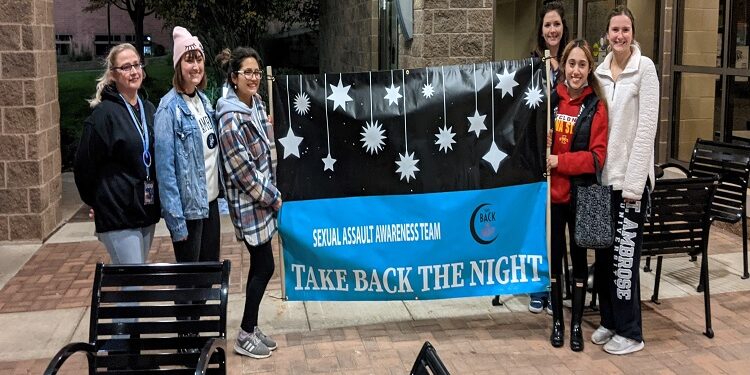 The Sexual Assault Awareness Team, a domestic violence and sexual assault awareness group on campus, held their "Take Back The Night" march Friday, October 29, 2021.
"Essentially what we're doing is taking back the night for our safety because many of us have not felt safe at night for a long time," said Piper Denny, SAAT Secretary. "So this event provides us an opportunity to be able to gather and empower and support one another."   
SAAT members and other SAU students that attended the event listened to poem readings, talked with Family Services, and marched as a group around campus.
"I want people on campus to realize that this is something to talk about because usually its a really uncomfortable subject for people to talk about and it needs to be talked about, and it's ok to talk about it because that's how you raise awareness and that's how you get answers and solutions," said Lindsey Greer, Co-executor of SAAT.
The club members hope this event and others like it spark important conversations across campus. 
"I'm hoping that this lets students see that 'hey, we need to talk about this' and I hope that they start to kind of look around and see whether it's an issue here or not," Greer said. "And look around the community and realize that maybe we need this here." 
SAAT has trained advocates ready to help anyone who needs them. They can be contacted by calling the number on the back of the Bee Cards or through campus security. 
"If you're interested in joining us, do that, and if you need our resources for anything do not hesitate at all to get in contact with us," Denny said.
The club meets on the first Wednesday of every month at 7:00 p.m. in the Gottlieb conference room in the Rogalski Center.