Suicide prevention month: Let's end the stigma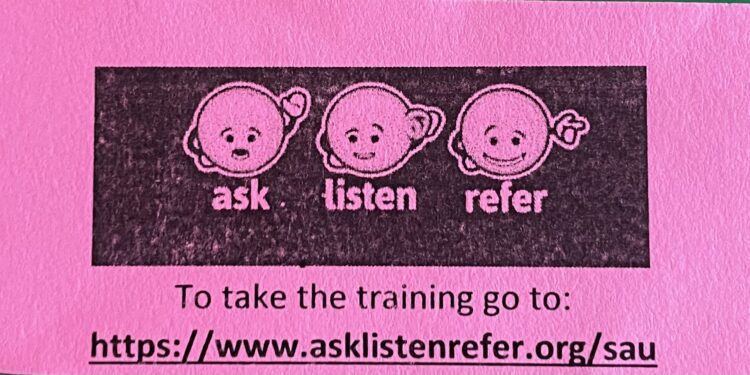 September is Suicide Prevention Awareness Month, and this is a time to spread awareness to end the stigma on this topic— members at the St. Ambrose Counseling Center are no exception.
Lindsay Hohertz, an Outreach Specialist here at SAU, talked about the importance of this month and what Ambrose is doing to spread awareness.
"We also strongly encourage all staff and students to complete 'Ask Listen Refer' training that the counseling center has been purchasing for the SAU community," Hohertz said. "If everyone in our SAU community would take this training, just imagine how much more thoughtful and impactful we can be with our friends, family members, neighbors, co-workers, the list goes on and on."
Suicide is a leading cause of death in the United States, especially for individuals in the 10-34 age range, which is the age most St. Ambrose students fall under. There are many mental health resources the Counseling Center has available for students on the St. Ambrose campus. One of them includes Life Coach Workshops with Lindsay Hohertz.
"I'll be presenting on various topics such as relationships, stress management, performance anxiety, depression symptoms, seasonal affective disorder and more. These workshops start September 13th," Hohertz said. "I'm pretty excited to see where we can go with them. I'm also pretty flexible if groups just want to come in and chat about different topics as well."
Other resources include up to 6 free counseling sessions per semester and mental health workshops. If a student needs to talk with a counselor after hours, they can utilize the Eastern Iowa Crisis Line which is a free, 24/7 service that can meet in person or talk/text over the phone. Their phone number is 844-430-0375.
On September 22, the Counseling Center will be hosting a Mental Health Fair at the Rogalski Center.
"We have over 9 community resources, and over 19 programs/clubs and groups on campus that will have coping skills, activities and resources on display," Hohertz said. "We have many giveaways that include an escape room pass for a group, many restaurants in the community, free coffee, Hot Yoga pass, gift baskets, TBK center pass for golfing and bowling, massage gift certificates and more."
All students are welcomed and encouraged to attend this event.
"Students should attend the Mental Health Fair because we all need to help fight against the negative stigmas of mental health. Mental health is in every aspect of our lives, and our awesome vendors and booths will display that idea," Hohertz said. "It has been exciting to talk to students and faculty about how their passions relate to mental health."
The Mental Health Fair will take place on September 22 from 2:00 pm- 4:00 pm. The event will be outside on the Rogalski patio. If there is rain, it will be in the ballroom on the 3rd floor of Rogalski.
"Breaking the stigma of seeking mental health services is one of the biggest aspects we are taking on here at SAU," Hohertz said. "When taking care of ourselves becomes a priority, it starts to become 'the norm', and we work better as a community."