Students Visit the Country Through Art Exhibit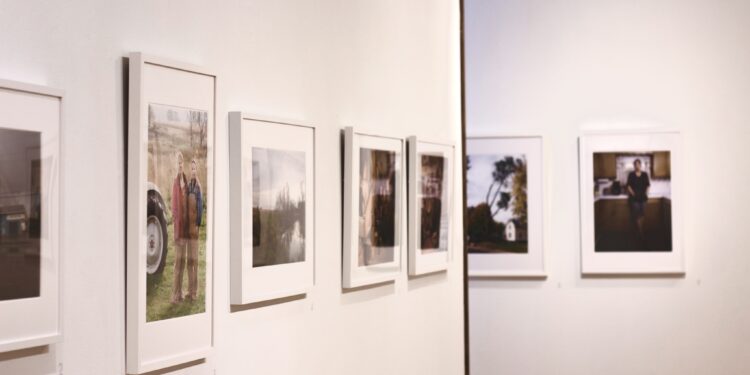 The St. Ambrose University's Catich Gallery is currently featuring artist, Kristine Heykants. Heykants is a photographer from Minneapolis, Minnesota, who grew up in Bettendorf, Iowa. Pieces from her most recent project, "Uprooted," are being showcased at the gallery for the Ambrose community to enjoy. The exhibit is called "Work Ethic: Women in Rural Iowa," which depicts the many working women of Belmond, Iowa.
Over her seven-year project, Heykants revisited the small town where her father was raised, and where she often visited her grandparents growing up.
"My time there with family was foundational to how I viewed the world as a child," Heykants said. "A farm is a great place for a kid to be in the outdoors, and I have many fond memories."
Heykants was inspired to photograph the small, rural town of Belmond due to a small voice in her head.
"It is important to listen to our inner voice nudging us to continue in a particular vein," Heykants said. "I aim to create insight around our mutual interconnection at a pivotal time when the perspective of city dwellers is at odds with those living in the country; while shedding light on the paradoxes, complexities and social realities of rural Midwestern life."   
Christopher Reno, curator and director of the gallery, agreed to showcase Heykants' work because he believes that the exhibit tends to the educational needs of Ambrose students.
"We want our students to enter the adult world and be productive and constructive citizens in their communities," Reno said. "This show has that kind of vibe. It is a close look at real people, real women, living and working in Iowa."
The exhibit showcases a mix of landscapes and portraits that Heykants hopes will allow viewers to feel a sense of familiarity.
"I hope people feel a connection with the subjects and with life in a small town, and I create empathy," Heykants said. "By empathy I mean not that we feel sorry if a picture is depicting a particular hardship, but by looking at the subject and recognizing something that is familiar; an experience that we have had ourselves."
Reno also believes that students will gain a sense of common purpose after viewing Heykants' photographs.
"We can appreciate our differences while sharing in our humanity and citizenship," Reno said. "We have more in common than we sometimes want to admit because conflict has become so normalized in our contemporary culture. Kristine's work is a great antidote to that unfortunate and tiresome way of being."
Ambrose students viewing Heykants' work were able to see how each individual photograph works together to create an overall story of the town of Belmond.
"It was very interesting to see who she picked to photograph and how each person was so different, but they, together, show what the town is all about," Amber Meyer said.
Another student, Kathryn Burr, had a similar conclusion.
"I thought it was really great, especially with the story. Not only the individual story behind each photo, but that it all comes together for a story of the small town," Burr said.
Burr also felt a sense of familiarity with the "East Fork Iowa River" photograph, like Heykants had hoped for.
"It just looks really familiar to me, and I thought it was really beautiful with the sky in the background," Burr said.            
The Catich Gallery will continue to show Heykants' exhibit until March 3, 2023. The gallery is open to students and the public Monday through Friday from 9 a.m. to 5 p.m. For more information, visit the Catich Gallery website and Heykants' website.