Student Diversity, Equity, and Inclusion curates Native American cultural display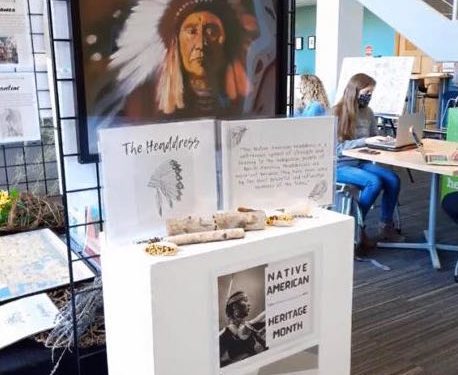 The Office of Student Diversity, Equity, and Inclusion (D.E.I.) recognizes Native American Heritage Month by curating a cultural display on campus.
"What it came down to was being informative and speaking on both the history and the current events that are happening in the Native American community," said Ashley Dean, The Office of Student D.E.I. Ambassador.
The display includes a map and different informational pictures that tell of the tribes in our area, as well as the significance of different things in their culture: lavender, the dreamcatcher, sunflower, etc. It provides QR codes you can scan to learn more about what you see. There's also little pieces of Native American memorabilia to add to the display.
"Some of the tribes may have resided right here by St. Ambrose University, so that's a really awesome aspect and important thing that we can acknowledge. When you make your way around the display, you see present issues that the Native Americans might be protesting. With this display, we are able to bring awareness and show support of the culture," said Dean.
The Office of D.E.I. student member, Ashley CarringtonParker, believes it's important to celebrate Native American Heritage Month so that we remember the history of native people in our country.
"A lot of the display is informative and gives people the chance to learn about the culture since there are so many misconceptions and assumptions already given about the Native American people," said CarringtonParker. "Another important reason is that the culture is still alive today and very much underrepresented. Anything we can do to recognize and acknowledge existing tribes is a step in the right direction."
The display has currently been in the library since Nov. 6. It started off in the Beehive on Nov. 2., and it will remain in the library through Nov. 14. Its next location will be the Rogalski Center from Nov. 14-25.
"We are moving the display around in order for there to be more awareness around campus. We are totally open to doing more to commemorate this month, but as of right now, our focus is making sure everybody sees this display," Dean said.
Along with the display, The Office of Student D.E.I. will release a newsletter this month and in December. They also will continue to work on connecting with different clubs and organizations. The next month The Office of Student D.E.I. will commemorate is Black History Month in February.
"Considering the climate and things going on in our country, it's very important to know we ourselves are not alone, and that we have a community of people around us who are most likely experiencing a lot of the same issues we are," said Dean.
In addition to that, Dean says she will continue advocating to continue to push diversity, equity and inclusion.
For more information, you can follow The Office of Student D.E.I. on Facebook.