State of the Union 2023: Ambrose Reacts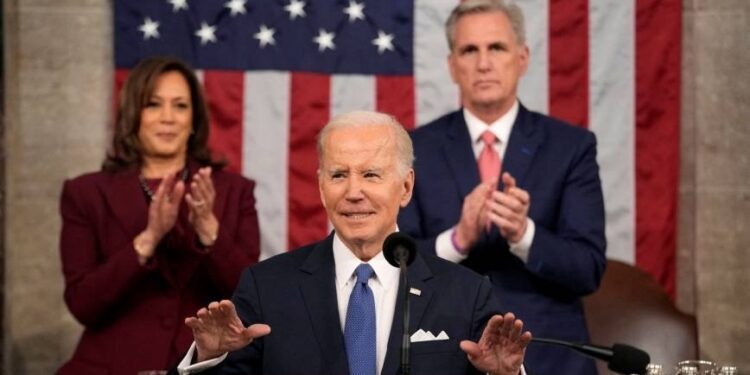 In the midst of polarizing financial, domestic and international crises, President Joe Biden delivered the annual State of the Union address on Feb. 7 to a newly divided Congress. Highlights of the speech included Biden's previous accomplishments in regard to job creation and lowering unemployment. The president also promised to "finish the job" in terms of maintaining the pandemic and ending police brutality and gun violence.
For the first time since 2019, the annual speech was held with zero COVID-19 restrictions, resulting in a completely filled audience. Despite this, fewer Americans than last year tuned in at home to watch. According to Nielsen Ratings, about 27.3 million people viewed the speech, constituting a 29% decrease in audience engagement than the previous year. Nielsen also stated that these figures do not account for online streaming viewership, which the New York Times attributes as an increasingly popular method for watching.
Though the numbers may suggest that Americans are becoming more politically apathetic, can the same be said for Ambrosians?
Dr. Jim Baumann, professor and chair of the Communication department, was one of the millions of Americans watching the address from their living room.
"I try to watch it every year. It's important to know what the different proposals are regarding particular political perspectives," he said.
In addition to taking interest in the speech from a political perspective, Baumann found the president's chosen verbiage to be another matter of intrigue.
"State of the Union speeches are oftentimes just really well written. They flow together. I thought Joe's oratory skills were very interesting. As well as the fact that he was trying to appeal to the middle class and create a sense of unity," he said.
While some believe President Biden spoke with unifying confidence, uncertainty surrounding politics and American democracy can be found in abundance on campus.
Senior Olivia Wright watched the State of the Union address live on television in order to "keep in touch" with what is happening within the political landscape.
"I think its important to know about what plans our politicians have to fix the issues in our country," she said.
In response to which of President Biden's remarks were most important to her, Wright noted his plans to rebuild the middle class and promise fair taxing for individuals of different income brackets.
"It's just not fair that some very wealthy people and million-dollar corporations don't have to pay their fair share. Then the regular people have to make up for them," she said.
Ms. Wright is not the only Ambrose student with concerns for the future of the American economy. Senior and President of College Democrats Ms. Samantha Sancen was under a similar notion.
Sancen was not one of the viewers counted in the Nielsen television ratings. Instead, Samantha took to social media to view clips and garner a solid grasp of Biden's policies.
"The biggest thing I took from it was President Biden's points on inflation, wages, and unemployment. Everything is affected by the current economy," she said.
Although she praised Mr. Biden for his previous accomplishments, she also believes that there is still quite a ways to go as many Americans are still affected by the federal minimum wage. Despite this, Ms. Sancen had a message of optimism for Americans and their families.
"I hope this inspires people currently struggling that there is hope, and to keep fighting for representatives to do the work," she said.