ST. AMBROSE WOMEN'S SOCCER TEAM "BEEING" THE DIFFERENCE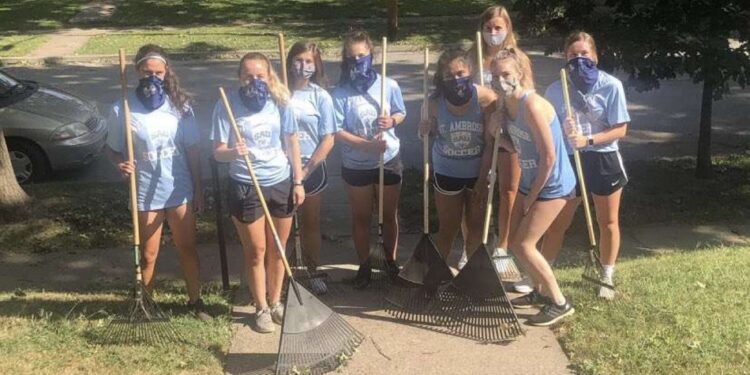 It is a big priority for Women's Soccer Coach, Jon Mannall, to have his team give back to the community that offers them so much. The popular SAU event known as "Bee The Difference Day" allows him and his team to help the neighboring residents of St. Ambrose University get ready for the winter season.
An Ambrosian tradition since 2006 takes place during the early weeks of November each year. The Student Government Association organizes the event to allow athletes, students, faculty, and staff to give back to the community surrounding the St. Ambrose campus. The women's soccer team is continually involved in helping the community each year, especially during this specific event.
For just a few hours, the St. Ambrose Women's Soccer Team as well as many others donate their time to help homeowners prepare for winter by bagging and raking leaves, trimming bushes, cleaning gardens, and doing a variety of other yard work.
Though the day is to give back to the community, it is also a very special day for the participants as well. Coach Mannall has his team participate each year as he describes, "Tradition is an essential component of the fabric of SAU. Having students be involved in a traditional event makes them a part of it now and forever." His perspective is that together everyone can make a difference. He believes that volunteering and carrying on tradition "inspires individuals and observers alike."
The players on his team agree. "We donate our time to try to make a change in the world both for ourselves and our community," second-year soccer player Genevieve Bowyer states. Additionally, she expresses that "everyone on the team enjoys helping the people around the campus who support our school's activities and athletics."
According to the St. Ambrose University Waggle, over 600 students and staff participated last year in 2021. The Student Government Association mentions that they would love to carry on the tradition with even more participants. The women's soccer team is looking forward to volunteering at Bee the Difference Day this year which will be held on November 6th from noon-2 pm.
Kaitlyn Brunson is a staff writer for The Buzz.