St. Ambrose Relishes the Francis At Ten: A Papacy of Possibilities Conference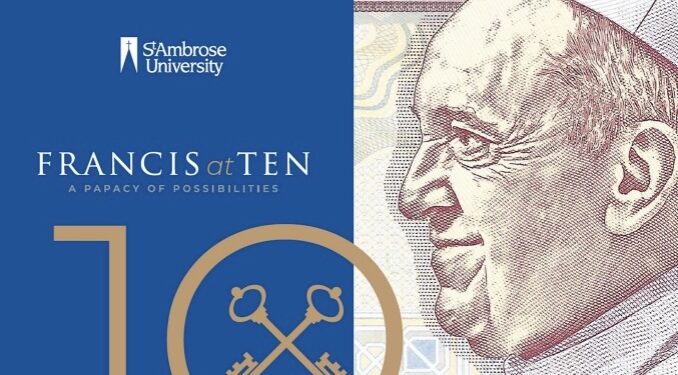 "Do you guys know how big of an opportunity it is to be here?" one attendee said at the Francis at Ten: A Papacy of Possibilities conference hosted by St. Ambrose University. The conference was held from March 16th through March 18th, and featured well-known keynote speakers, to recognize the achievements Pope Francis has accomplished throughout the 10 years of his papacy.
St. Ambrose organizers were grateful that so many papal experts came to speak about Pope Francis and his theology, his ministry, as well as topics on world religions, inclusion, and the future of the Catholic Church. "I have heard that it was the most impressive line-up for a conference such as this in the country," Fr. Bud Grant, a Theology professor at St. Ambrose said.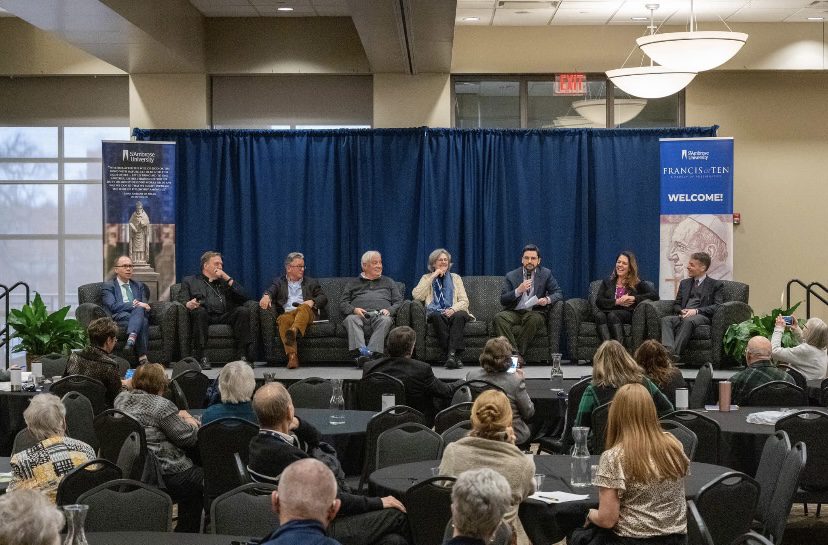 People traveled from all over the world to be able to attend this rare opportunity and celebrate Pope Francis' pontificate. "He is a pastor and a leader of remarkable nature, although still human, and this is one of the reasons we hosted this conference as a Catholic university," says Paul Koch, SAU's provost and vice president of academic and student affairs.
Pope Francis, head of the Catholic Church and the bishop of Rome has been a well-known figure that changed the Catholic Church. "I do not doubt that Francis has changed the future of the Church. He's helped the Church adapt to the current culture, providing a more accepting attitude that will hopefully continue after his papacy ends. I also think the information that was collected from the synods on synodality will continue to make changes in the Church," said Rylie Steinkamp, a sophomore at St. Ambrose. 
Attendees say he has also reshaped the church by expanding new possibilities. "He is more open about LGBTQ+ and women in the Church. He is changing the direction of the Church and it's nice that St. Ambrose wanted to acknowledge the future direction of the Church," declares Morghan Lemmenes, education abroad coordinator.
Pope Francis has traveled all over the world and inspired so many people through his teachings. "It has been a privilege to learn from his ways and teachings and his newfound ideas," said Dr. Austen Ivereigh, a keynote speaker at the conference who regularly writes about Pope Francis in the National Catholic Reporter.
Attendees say this celebration of Pope Francis' 10 years of the papacy was an uplifting and inspiring experience that celebrated Pope Francis' ten years of papacy. Additionally, the conference received a special and personal letter from Pope Francis that uplifted the attendees. Pope Francis expressed in his letter, "Since the Church's evangelizing mission also entails that of active charity, I trust the symposium will encourage all involved to take concrete and effective steps to serve the most vulnerable of our brothers and sisters, work for greater reconciliation, justice and peace within the human family, and care for our common home."