Spring Season Freshman Women's Soccer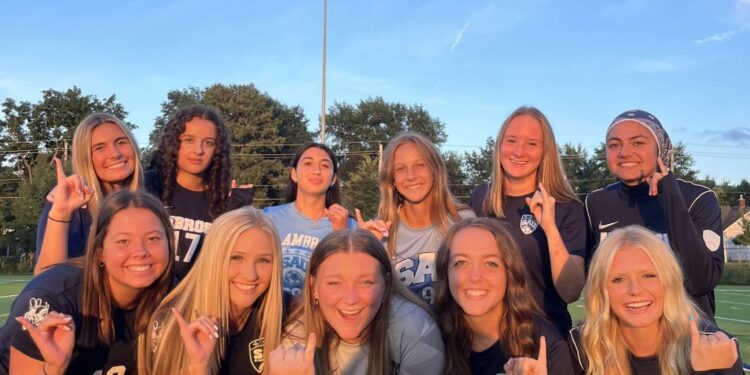 Hailee Wilson from Ashland, Wisconsin started playing soccer at the age of 6 and soon realized her true passion for soccer. Which has stuck ever since. Wilson majors in exercise science and chose SAU because of the great physical therapy program and the fantastic reputation the women's soccer team holds.
"My first season on the team was a lot of fun," Wilson said. "There were a lot of great memories made on the team, and even though I came in kind of nervous, the whole team made it feel welcoming and made me feel like an equal with them on the field." 
Wilson plays on varsity as a center forward for SAU. She plans to continue to play next season.
"I expect our team to be focusing a lot more on our team chemistry and connectedness on the field, while also pushing ourselves as hard as we can, " said Wilson. "No one on the team believes that we should have ended the season how we did and I can guarantee that we are going to be twice as hungry for a Nationals trip next season."
Wilson wishes she knew how big of a transition it was going to be, in terms of time management and commitment. It took her almost the full first semester to figure out how to balance school and soccer, and by then it was finals week. 
Jenna Horst from Peoria, Illinois, started playing soccer at a young age and stuck with it because she came to appreciate all of the sport's ups and downs, the relationships, and the bonds the sport has brought her. Horst is a biology major. She chose SAU because it was a small school with competitive athletic programs. 
"My favorite memory from my first season at SAU was winning our first big conference playoff game, " Horst said. "The game was back-and-forth and went into overtime; when the winning goal was scored, we celebrated as a team. The environment was electric, and we fought hard for the win."
Horst plays winger/outside mid-sat for SAU and plans to continue to play next season. 
"Something I would tell the incoming freshmen is to spend as much time with your teammates as you can during the preseason, " Horst said. "The bonds you make early in the year will carry on throughout the season and the rest of the year."
Kaylen Abrahamsen from Rockford, Illinois, says her parents put her into the sport at a young age but did not fall in love with the sport until her senior year of high school. Abrahamsen enjoys it the most now because of her parents, she loves looking in the stands and seeing them watch her play. Abrahamsen majored in exercise science and chose SAU because she felt as if it would be a great opportunity to fulfill her dream as a physical therapist. Coach Jon Mannall encouraged her to play collegiate soccer and she fell in love with the sport again. 
"The first season was exciting but nerve-racking at the same time," Abrahamsen said. "Playing on a team with a whole bunch of new girls and having to adapt to a new position was hard, but by the end of the season, I had never been so happy with the decision I made to come to SAU."
Abrahamsen plays the holding midfield position. She played on junior varsity last season, but has high hopes for varsity next season, as she was asked to practice with them at the end of this past season. 
"Something I wish I could tell incoming freshmen is that you will make friends so don't worry, be outgoing, and go with the flow, don't turn down any opportunities you are given."