SAU Theatre Takes Des Moines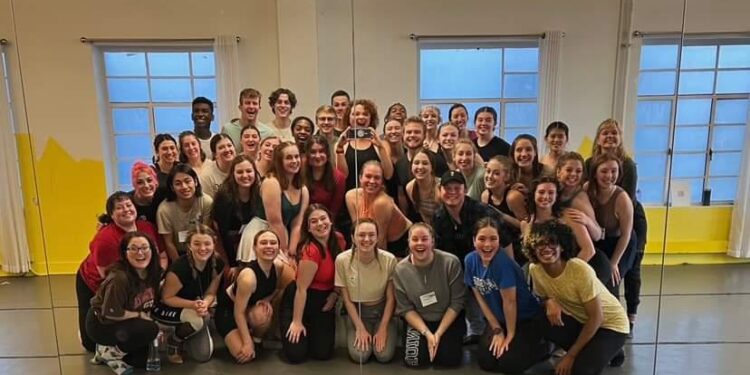 The St. Ambrose University Theatre Department has had quite a successful year, from their stellar performance of Little Women- The Musical in the spring of 2022 to their more recent production of The 25th Annual Putnam County Spelling Bee this past fall. 
While most SAU students were attending their first week of classes for the new semester, many people from the theatre department were traveling with Technical Director, Aaron Hook, to Des Moines, Iowa for the annual Kennedy Center American College Theatre Festival (KCACTF Region 5). In recent years, the festival was moved online due to COVID-19, so this was the first time the festival was back in full swing.
The big question is, what goes on at this festival? According to Theatre Department Chair, Dan Rairdin-Hale, "The main goals of the festival are to expose our students to theatre outside of our college, to learn from industry professionals, and meet and network with other theatre artists in our region."
One large part of the festival is the various competitions students can compete in. This year, in particular, students Charles Murphy and Julia Beltz participated in the Musical Theatre Intensive competition. The pair of theatre students advanced through the many rounds of elimination and were eventually selected as semi-finalists for the MTI Competition. In addition, both Beltz and Murphy were nominated for the Irene Ryan Acting Scholarship prior to attending the conference and submitted audition videos for the competition. 
"I definitely recommend attending KCACTF Region 5 whether you are nominated for Irene Ryan's (scholarship) or not, there are so many great workshops to take advantage of, from acting, singing, dancing, writing, directing, tech, and so much more," Beltz said. Despite it being her first time attending the conference, she said she gained a lot from the experience. " I feel I grew as a performer in many different ways. I was able to advance my dancing technique, but I also learned how to take direction in a new way. The theatre world is extremely competitive, and learning how to be better at your craft is crucial to success in the field."
The successes of the KCACTF Region 5 festival didn't end with the Musical Theatre Intensive competition. In fact, SAU junior, Miranda Richards, and her tech team placed second in the Stage Crew Olympics. Additionally, both Little Women- The Musical and The 25th Annual Putnam County Spelling Bee received recognition for their outstanding costume design, stage management, prop design, and more!
According to both Julia Beltz and Dan Rairdin-Hale, the week was a huge success. "My favorite part was all the new opportunities I had during the week! I was able to take many dance classes to improve my technique and perform award-winning Broadway choreography taught by Broadway stars," Beltz said. 
Rairdin-Hale shared similar sentiments, saying "Everyone had a great time and learned a lot. This was the first time the festival has taken place in person since everything was shut down for COVID two years ago – it was exciting to be back face to face again!"
Overall, the St. Ambrose University Theatre Department had a successful and fun week at the KCACTF Region 5 Festival, and they are looking forward to seeing what next year's festival brings.