SAU Students Explore Culture Through Food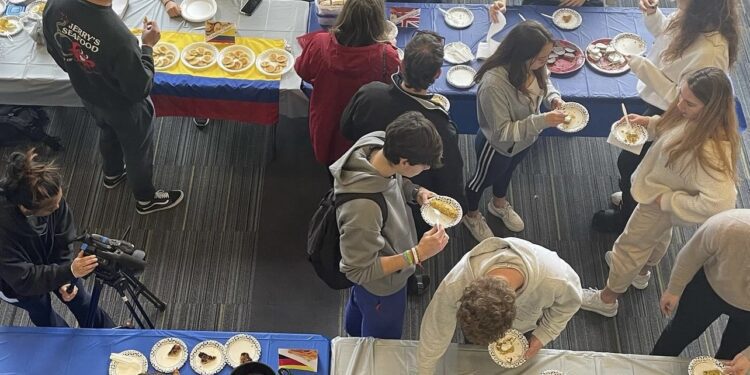 Breakfast served in England, lunch served in Ecuador, and dinner served in Mexico — This was the experience of St. Ambrose students during Multicultural Week. The Beehive was filled with the smell of delicious and authentic food from all over the world for The Crossing Cultures event hosted by the International Students organization. For this event, students came together to share their favorite dishes that originated in their home countries. There were eight countries represented including Germany, Spain, Argentina and Colombia.
SAU junior Jorge Brizuela said, "The event is for students to try and meet people from other places. We were invited to cook something and I cooked some enchiladas."
Though food is the initial reason that brings students together, the event was more than just putting extra love in the dishes and enjoying each bite. The foods are only an appetizer to learning about the different cultures that inhabit our campus.
"For me, I get to meet people from Spain, and for American students, they can learn and understand other cultures," Jorge added.
Crossing Cultures is held every semester for Multicultural Week. The staff and student participants say that this has been one of the most successful turnouts yet.
SAU International Students' staff Morghan Lemmenes said, "It is a good problem to have when we run out of food early. This event is an hour long, but it is actually a good thing to see students cleaning and wrapping up halfway through the event, it indicates how good the turnout is."
Organizers say the success of the event is also measured when students who aren't international students show up with the eagerness to learn more.
SAU Junior Danial Salazar said, "I appreciated the experience and will always have this memory of having a space to try new things with new people. It was a unifying event, bringing not just international students together, but the student body to experience a new type of environment and culture and not feeling like they couldn't participate."
Students say they gained comfort and familiarity through talking to people who share different cultures.
"It's so important to have that comfortable environment. Moving forward, I'll have the privilege of knowing that people want me to be part of their culture. It's important to know that we are all welcomed," one student attendee said.
"Exploring food from around the world is a great first step to empathy and understanding for people who come from different backgrounds. Seeing a picture can offer great insight, but experiencing culture in a way that engages all the senses can create a lasting experience for SAU students," says Daniel Salazar.

Multicultural Week is organized by the Diversity, Equity, and Inclusion office at SAU. The DEI office hosts different events throughout each semester for students and faculty. To find out upcoming events, look for emails from [email protected].