SAU STUDENTS ATTEND QC STORM HOCKEY GAME: FAMILY WEEKEND '22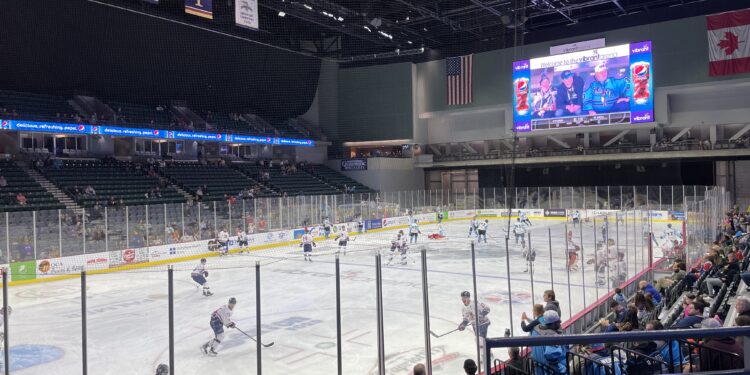 Fans cheering, cowbells ringing and hockey pucks getting smacked around. On Saturday, November 5th, St. Ambrose Students gathered in the Vibrant Arena at The Mark, located in Moline, Illinois, for a QC Storm Hockey Game. This event was a part of Family Weekend 2022, here at SAU.
An email was sent out to students and faculty from Student Activities, earlier that week promoting the event. The email stated that SAU had "150 tickets provided by the Campus Activities Board".
"We chose to do the QC Storm game because it's always a hit and we like to support our local teams and like to get the students out in the community," CAB Executive member, Faith McCubbin said. "Sporting events are always a good family event so we usually have either a Storm game or River Bandits game when we have family weekends."
The game started at 7:10, as fans from all over were pouring into their seats to watch the QC Storm play the Peoria Rivermen.
"I used to go to games with my family when I was younger," SAU senior Payton Clauson said. "So I thought my friends and I would have a fun time going."
In the first period, there was not any scoring but that didn't leave SAU fans without entertainment. Throughout the entire game, there was an abundance of fighting between the players on each team. Then in the second period, both teams scored, and the QC Storm took the lead and won in the third period.
"I have been going to hockey games my whole life" SAU senior, Karsyn Johnson said. "So it was great to be back, and watch them win."
"This was my first QC Storm game," SAU senior Liz Vaninger said. "I had a great time watching hockey and being with all of my friends."
CAB will have more events like this in the future, so make sure to watch your emails for more opportunities like this. And if you are interested in going to a QC Storm game yourself, all the information can be found HERE.