SAU Recognizes Sexual Assault Awareness Month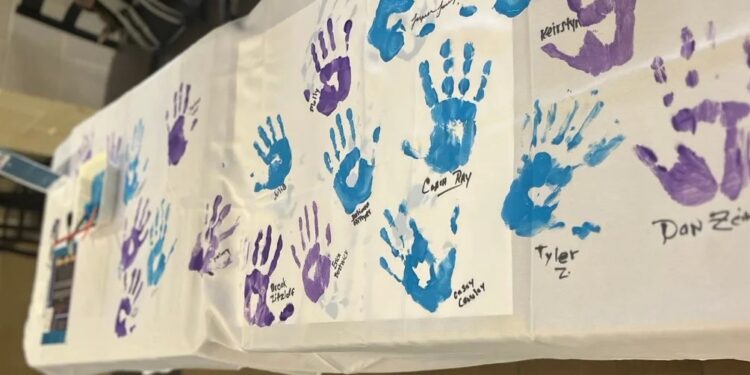 According to RAINN, the Rape, Abuse and Incest National Network, 13% of all college students experience rape or sexual assault through physical force, violence, or incapacitation. The month of April is Sexual Assault Awareness Month (SAAM) which is recognized across the nation. At St. Ambrose University, this month is a time to spread awareness of sexual violence and offer campus support and commitment to survivors.
"I participate in these events because I know for myself, as a survivor of sexual assault, I find peace of mind knowing other people on campus can either relate to some degree or support me through my recovery and journey," Kayla Devine, a student at St. Ambrose, said.
"To me, Sexual Assault Awareness Month represents a commitment to speaking out and demanding change that we should strive for in all 12 months of the year," Julia Fogleman, student advocate, said. "It [change] is possible when we listen to and believe survivors and highlight their experiences."
St. Ambrose's student-led Sexual Assault Awareness Team (SAAT) is dedicated to spreading awareness and in doing so, the SAAT hosts many events during SAAM. These events include Teal Tuesdays, the Handprint Pledge, Denim Day, and Take Back the Night.
"The meaning and purpose of all these events is to promote awareness of sexual assault on campus," Veronica Alexis, student advocate, said. "Not all college students realize it is something that can happen to them or their friends."
During the month of April, St. Ambrose students, faculty and staff were encouraged to wear teal on Tuesdays to stand against sexual assault. Teal is the color associated with sexual violence prevention. On Teal Tuesdays, participants could submit a photo of themselves wearing teal to the SAAT, which entered them into a raffle drawing to win a prize.
The Handprint Pledge is a promise that participants' hands will not harm anyone, or those they love. On this day, participants paint their hands, place their handprint on a white tablecloth, and then sign their name to stamp their promise.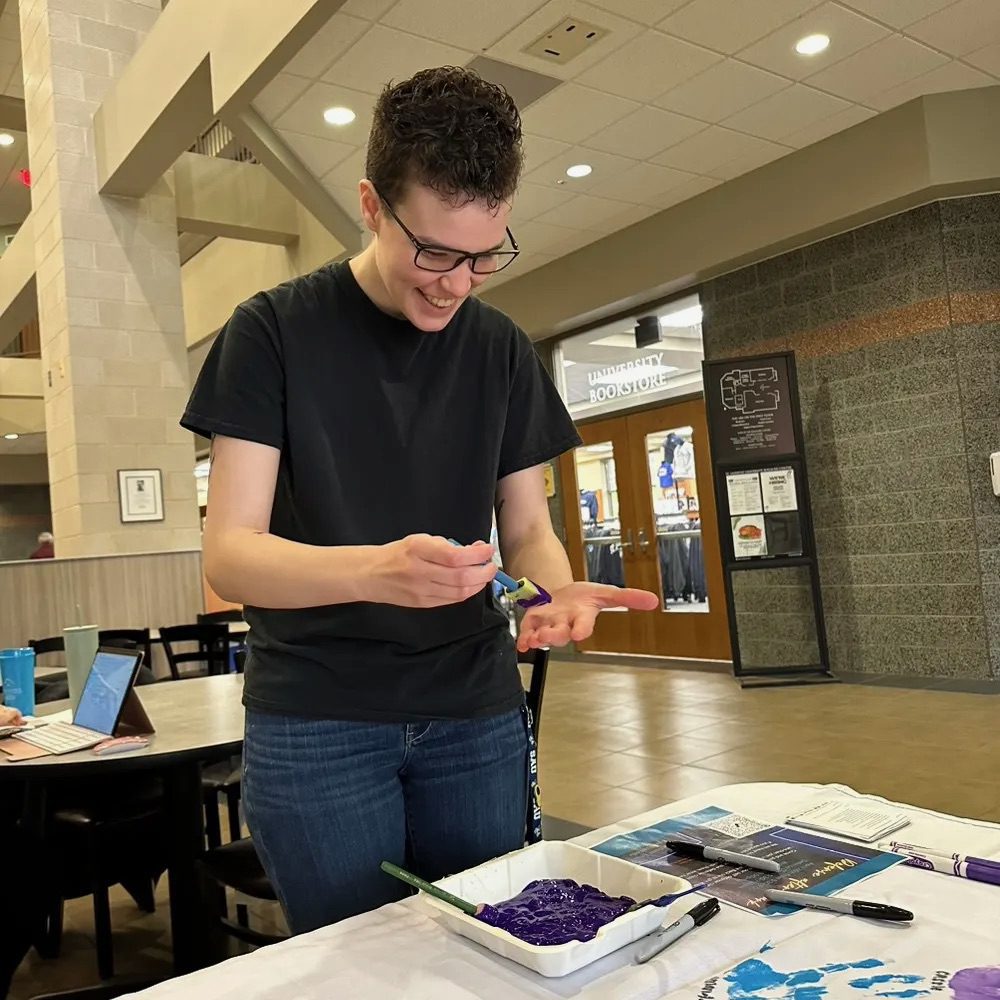 "The Handprint Pledge was really great because it only takes a few seconds to make that powerful pledge," Makenna Verdon, a student at St. Ambrose, said. "When I showed up at the pledge table, I saw a lot of hands already painted on the table. I was happy that so many people were willing to do it [take the pledge]."
On Demin Day, people on campus were encouraged to wear jeans to send a message that victims should not be blamed for what they wear, and that any type of clothing is not an excuse for rape or sexual assault. The SAAT collaborated with the Brotherhood of Bees to pass out stickers, buttons and literature to students in the Beehive.
"I think Demin Day is important because rape is rape; it does not matter what they [the victim] were [was] wearing," Verdon said.
The last event that the SAAT hosted was Take Back the Night, where participants walk around campus in the dark together.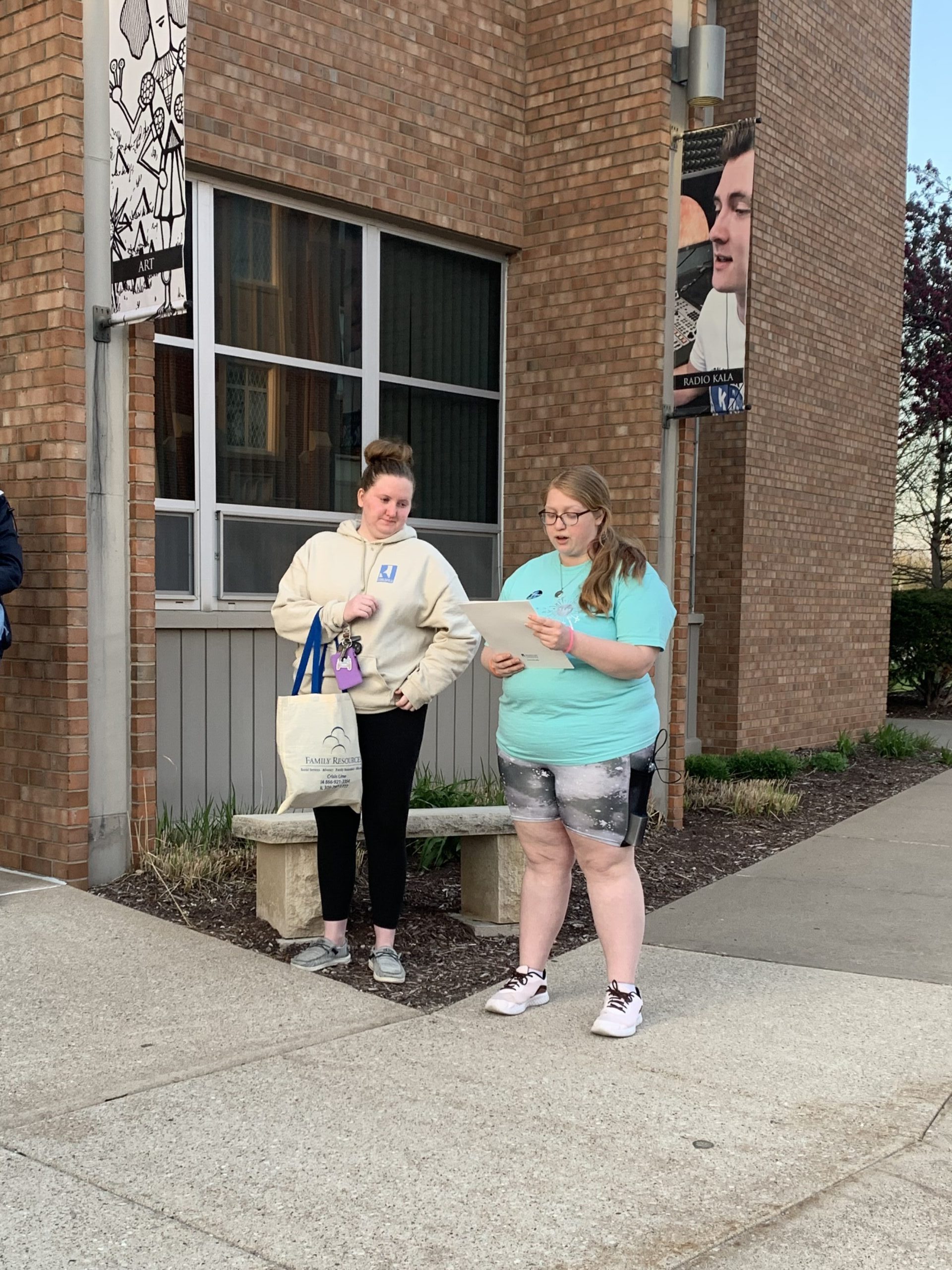 "Take Back the Night is an event that's aimed at reclaiming a sense of safety at night that has been taken from many people due to the threat of violence," Fogleman said. "We use this event to connect as a community and share the experiences of survivors."
"I attended and participated in these events because I want to stand in solidarity with sexual assault survivors," Verdon said.
According to RAINN, four out of five female students do not report sexual assaults to law enforcement. There are many reasons that victims choose to not report assaults, but St. Ambrose University offers both confidential and non-confidential ways of reporting to best support the students' needs.
St. Ambrose has a Sexual Assault Awareness Team, SAAT, built to spread awareness of sexual assault and provide support for victims on campus through confidential student advocates. These advocates are trained through Family Resources to correctly help and support students who have been impacted by sexual violence.
"Our SAAT Advocates are trained to help their peers navigate their traumatic experience and offer them a lending hand to help them on their healing journey," Lisa Fortner, faculty/staff advisor of the SAAT, said.
Other confidential ways of reporting include going to Health Services or the Student Counseling Center on campus, talking with Father Ross, and the 24/7 crisis line with Family Resources.
"Licensed practitioners and clergy are considered confidential resources and are not required to report assault disclosed to them unless the student wishes them to report," Kevin Carlson, the Title IX Coordinator at St. Ambrose, said.
If a victim wants the University to be aware of the assault, there are several courses of action that can be made. First, the student may speak to security either in-person or through the LiveSafe App. Second, one can speak directly to the Title IX Coordinator, Kevin Carlson. Next, the student can speak to any University official, whether that be any faculty, staff, Resident Assistant (RA), area coordinator, or coach.
"University employees are mandatory reporters and will take the concern to the Title IX Coordinator," Carlson said. "A student should not expect confidentiality in speaking with any faculty or staff member unless they are explicitly named as a confidential resource."
Lastly, a student may file a formal complaint through the Title IX policy webpage. On this page, students can also find resources and support for help.
If one chooses to report the assault, there are many steps taken after that offer different solutions. First, the faculty or staff whom the student talked to will make sure the student is safe and well supported by connecting the individual with resources on campus. Next, the student is given choices.
"There are several solutions the University can pursue and unless there is an immediate danger to the campus community, we do our best to allow the student to make choices, rather than drive them to any one set process," Carlson said.
When there is a written, formal complaint made, the University is required by law to start a prescribed process. Within this legal process, the student continues to have the options for an informal resolution, a formal investigation, or to do nothing. If one chooses to do nothing, that student reserves the right to change their mind at any time.
"I always encourage students to come talk to me before they file a formal complaint," Carlson said. "That way, they can be aware of their choices and at least have access to all the available support resources we can offer. Simply speaking with me does not lock a student in any particular path to resolution."
If a victim wishes to start a full, formal process, they can expect an investigation, a resulting investigative report, a live hearing, and an appeals process.
"It can be very complex and daunting, that is why I am here to help guide participants through the entire process," Carlson said.
For more information about SAAM or the SAAT, visit the club's webpage or email [email protected]. To report an incident, reach out to any staff or faculty, or visit the Title IX policy webpage.