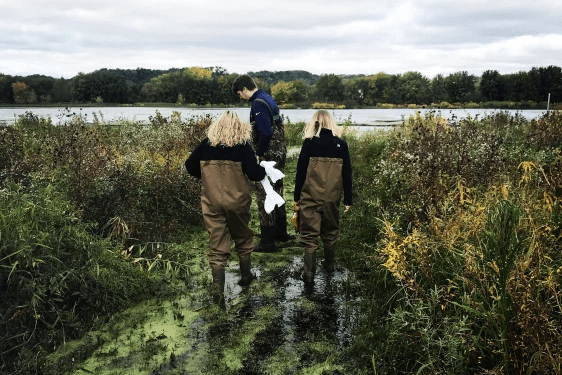 St. Ambrose's Changing Climates organization hosted a virtual community roundtable discussion Monday night on Nov. 16 to talk about water resources in the Quad Cities.
Representatives from the City of Davenport, River Action, Iowa American Water and other community representatives discussed challenges, opportunities and future pathways related to water availability and quality across our region. They also answered questions from student members of the SAU student environmental group, Green Life. Audience members also had the chance to submit questions, which the panelists answered as well.
Dennis Tarasi, assistant professor of biology, hosted the event. Carolyn Graham, SAU junior and Green life member, moderated the discussion.
"I thought it was very great and very informative. The panelists were knowledgeable. They were willing to share lots of information, and they were clearly enthusiastic about the topic. I think it was a very successful event and people were able to learn a lot from it," Dennis Tarasi said.
This was the first time SAU hosted an environmental roundtable discussion virtually. Around 30 audience members from both SAU and the local community were able to attend the virtual event.
"I am not from Davenport so I know very little. I am from Illinois and just transferred here, so most of the information was new to me," Carolyn Graham said.
Tarasi says he hopes at the very least the audience members realized things they took for granted like clean drinking water.
"There are a lot of parts of the world where they don't have as much access to water treatment plants or effective chemicals to try to treat some of the concerns they have in their water," Tarasi explained. "We are very fortunate here and hopefully the audience was able to take that away and we have a lot of people who are invested in public well being and we have the resources to do that."
Panelists in the discussion also talked about how there are a lot of individual efforts to improve water quality in the Quad Cities.
"Volunteering and helping with stream cleanups is one strategy, as well as cleaning up after yourself and avoiding litter," Tarasi said. "There are also ways to get involved with local community nonprofits. For example, River Action was a very popular community organization in the Quad Cities."
"The City of Davenport will be hosting a good neighbors, good community roundtable discussion in the future," Tarasi said.
SAU's Changing Climates organization plans on continuing the discussion on social issues next spring with virtual discussions open to the public.
"We are also going to be having a very high ranking military officer who is going to be talking about pandemics and infectious diseases and other components like that in the spring," Tarasi said. "In April, we will see a couple of very interesting discussions involving social concerns in very different sorts of veins concerning ethics and theology and philosophical concerts that will tie into the environment."
For more information about the Changing Climates program, visit www.sau.edu/changingclimates