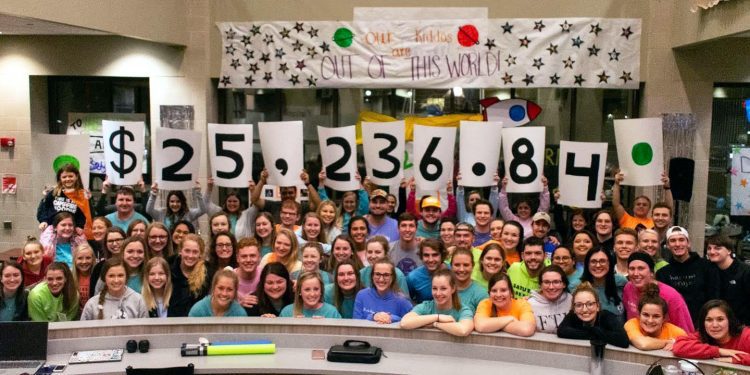 The St. Ambrose University Dance Marathon Team has faced many unique obstacles due to COVID-19 this year while getting ready for the big event in March.
Emma Wachter, the Fundraising Director for SAU DM describes DM as, "A culmination of year-long fundraising by participants, known as dancers, to celebrate the lives of children and families treated at the University of Iowa Stead Family Children's Hospital."
"A normal year for fundraising consisted of a variety of different annual traditions," Wachter continued.
For example, SAU DM typically hosts restaurant food nights, hosts committee food nights on campus, partners with businesses, works different events for donations such as the Haunted Forest, goes "canning" in local neighborhoods, and hosts smaller events like Bingo & Trivia.
 They also host larger events like the Black Tie dance, FTsKating and their biggest fundraising event, the Gala.
 "During a normal year, we obviously didn't have the challenge of masks, social distancing, and all things COVID related. We are very lucky, however, that SAU has been so flexible with us and is still allowing most of our events to take place; they just look a little bit different now," said Wachter.
Unfortunately, they have not been able to do all of their usual events this year, and some events have become more difficult to plan and carry out. A lot of them, though, are still possible, which they are grateful for. They are trying to make this year as normal as possible for their students and families while still following COVID guidelines.
"Although we have not been able to do all events and some events became trickier to plan, a lot of these events are still possible to do which we are forever grateful for. We want to try and make this year as normal as we can for our students and families (while still following COVID guidelines)," Wachter said.
Covid precautions have imposed many changes that SAU DM has had to contend with this year besides fundraising.
They are not holding any events on campus this semester with their kids for the kids' own safety. SAU DM, or anyone else, can no longer sell food on campus unless it's prepackaged. They will not be holding their canning fundraiser this year, and all of their other events have been affected by COVID-19 guidelines as well.
All of the fundraising that they do throughout the year leads up to the "Big Event" in March.
"The day where we celebrate both our amazing miracle families and all of the hard work and fundraising we've done throughout the year. At the end of the night, we have a big reveal releasing the total number of money raised throughout the year (which is top secret throughout the year)," Wachter explained.
Last year's Big Event would have been held on March 28th, 2020, but it was canceled due to COVID-19 regulations and risks. A virtual event was held in its place on April 4th, 2020, which reached 60,000 people online and engaged 12,000 people.
"We are fully planning to have our Big Event this year. We know how saddened our students were to not get to fully experience one last year. With that being said, a lot is still unknown, and of course, we will have to wait and see the severity of COVID by the time March hits," Wachter said. 
Ultimately, their goal is to do the best they can this year. They might not be able to raise as much money as usual this year, but they'll still be able to give people the most important thing that they joined SAU DM for: their "why."
According to Carly Miller, the PR & Marketing Director for SAU DM, people are still just as excited to be involved with DM this year as they have been in the past, it just looks a little different this year.
"COVID has shown us that we need to be creative, but a pandemic only emphasizes why what we are doing is so important. Nearly 70% of Children's Miracle Network Hospitals have indicated that without an increase in donations that they will be unable to meet their needs as a result of the pandemic," Miller said.
The children can't wait for the pandemic to end; the hospital needs funding more than ever. Kids are still being diagnosed, still need treatment and still need support.
"So even though coronavirus has made us have to think creatively, it isn't stopping any of us," Miller said.
SAU DM can be contacted via messaging on Facebook or Instagram, or via email at [email protected].