SAU Dance Marathon breaks nine-year Push Day record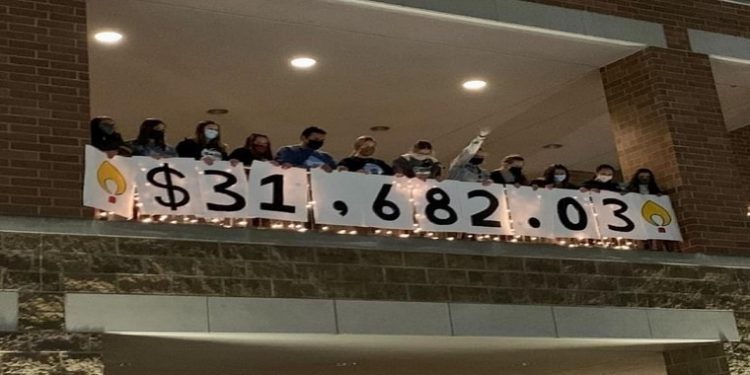 The St. Ambrose University Dance Marathon team shattered their goal of raising $27,000 in one day ending up with $31,682.03 for the kiddos—the most they've raised in one day over the past nine years.
But to the SAU DM team, it's much more than just a number.
"As an organization, we believe it is important for SAU students to recognize that the number we reveal is only part of the miracles we are making for our kiddos," Rachel Merritt, the Executive Director of the Family Relations Committee, said. "Stopping to think about the kiddos and families that we are supporting and discovering a reason to dance is something so important!"
Hundreds of hours of work and dedication were put into the 2021 Push Day, by everyone from the dancers to the executives.
"This Push Day was extremely successful," Heather Hoeger, the Sponsorship Director, said. "While it may have looked a little different with covid restrictions, we were able to do the majority of everything we normally do."
Push Day began bright and early Thursday, February 25, and continued throughout the day, ending with the big announcement. Events included scavenger hunts, Donor Drive Tag, letter writing, Penny Wars, a Family Talk, Alumni Hour, Exec Punishment, Lantern Lighting, dodgeball and much more.
"My favorite moment of Push Day was singing karaoke with one of our Miracle Kiddos, Madi," Merritt said. "It was so fun to see her jam out while dancers cheered her on!"
From left to right are Sidney Michel, Emlyn Krasnican, Carly Miller, and Morgan Barfield at the Hype Area.
In the Hype Area, people could stop by most of the day to register, get coffee and donuts, purchase Dance Marathon stickers and masks, take pictures and add their "why" to the fishing line. This year the theme was "seas the day" for the kids.
From left to right are Emlyn Krasnican, and Carly Miller at the Penny Wars station.
"I enjoyed all of Push Day, but I especially liked our Dancing in our Hearts Memorial," Sidney Michel, the Community Outreach Director, said. "The lantern lighting helps us to remember those kiddos who have lost their battle to pediatric illness and to remember them as we move forward into the night. It's an amazing time to be able to pause from the fun and excitement of the day and remember the reason we do what we do."
Looking back at last year's Push Day, many Dance Marathon members are just happy to be able to do some of these activities in person at all.
"My favorite part of Push Week was definitely just being able to be in person for Push Day," Hoeger said. "Our fall Push Day was canceled due to covid and we had to hold it virtually over winter break. While this event was successful, it was not the same energy as all other Push Days have been."
Whichever member of the executive board that had the least amount of money in their glass at the end of the day had to retake the ACT.
Unlike last year's Push Day, some of the families were able to come in person this time, with appropriate precautions taken.
"A big difference was being able to have some of the kiddos here," Chloe Even, a second-year dancer, said. "I was glad to be able to interact with some of the kiddos."
After the success of their Push Day, SAU DM has since announced the date of the big event as April 17, 2021, a little less than a month later than they usually hold it.
This decision was based on a discussion the executive board had with both school and health officials, and it allows the use of both the Rogalski Center building and the lawn, thus enabling them to stay under maximum capacity limits.
They intend to comply with all masking requirements and social distancing guidelines and hope to see more people vaccinated by then.
"This just gives us more time to make the miracles happen for the kiddos," Even said.
SAU DM has 43 Miracle Families who have been treated or are currently being treated at the University of Iowa Stead Family Children's Hospital