SAU Celebrates Hispanic Heritage Month
Hispanic Heritage Month, a celebration of the history and culture of Hispanic communities, lasted from September 15 to October 15. St. Ambrose University hosted events and displays around campus to honor and commemorate this important month.
SAU has 23 international students from Latin America and Hispanic countries, which include Spain, Peru, Brazil, Argentina, Ecuador, and Mexico. Cathy Toohey, International Student Advisor, talked about the importance of celebrating Hispanic Heritage Month: "I think it is important for all people to embrace and learn about cultures, traditions, and languages that are different from their own culture. This is especially important during the college years, when students are really discovering who they are and what is important to them."
In order to demonstrate this culture, the club Latinos Unidos from St. Ambrose hosted several events and brought new suggestions to campus. Besides participating in the Mexican Independence Day Parade and the Hispanic Chamber Block Party, the group developed a signature energy drink, or "stinger," at the on-campus coffee shop, to represent the Day of the Dead Celebration. The stinger is available at the Beehive, as "Marigold Miel" and it includes strawberry purée, mango purée, as well as peach and tangerine flavors.
Yuliana Marceleno, vice-president of Latinos Unidos at SAU, added to that by saying, "Celebrating Hispanic Heritage Month is important because it recognizes and honors the contributions, culture, and history of Hispanic and Latino Americans, fostering understanding, unity, and a sense of belonging among diverse communities and on campus."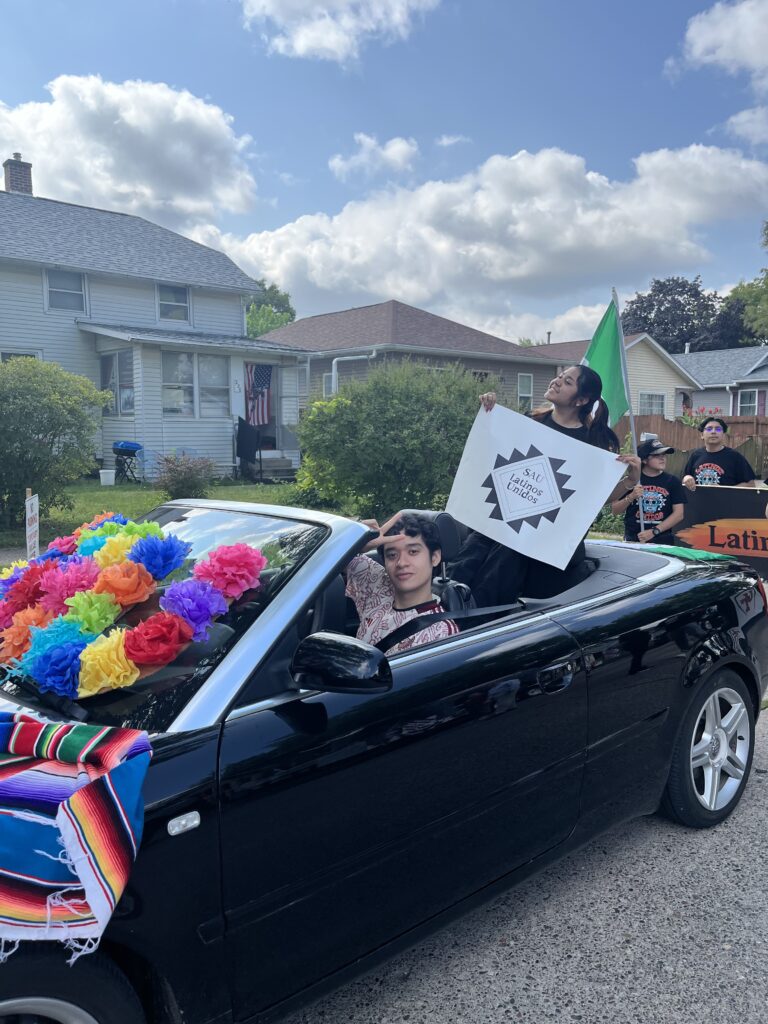 On Sept 17th the club Latinos Unidos represented St. Ambrose in the Mexican Independence Day Parade in East Moline, Ill. Photo by Maria Luiza Coelho.
Additionally, on October 10 St. Ambrose students were able to try different Hispanic foods in the cafeteria. Latinos Unidos, in partnership with Sodexo, was responsible for coming up with ideas for Tuesday's dinner menu.
When asked where that idea came from Marceleno said "Our [club] President, Eries Alfaro, pitched the idea to us and said it is important to get our culture's food on campus to expand everyone's taste pallets. I think that one of the best ways to get a message across is through food. So, we talked to the Sodexo staff, and our club came up with the menu ideas and then Sodexo took it from there. Our executive board was there the entire day helping taste the food and its authenticity, I even ended up helping cut up some food. It turned out to be one of the most successful dinners at the cafeteria. The Sodexo staff was amazing to work with and they said we need to repeat this next semester so it's definitely something to look forward to".
Arturo Lapido, Professor and Chair of Spanish and Latinx Studies, talked about the recent projects involving Latinos Unidos to promote the Hispanic culture on campus: "I couldn't be prouder of the work they are doing. The Free Food Friday was a huge success and their collaborations to organize Hispanic-inspired menus and even a stinger were fun contributions with great visibility. I would like to add that this is something that has been going on for the past few years. Latinos Unidos has been working hard to make their voice heard and gain a presence on campus."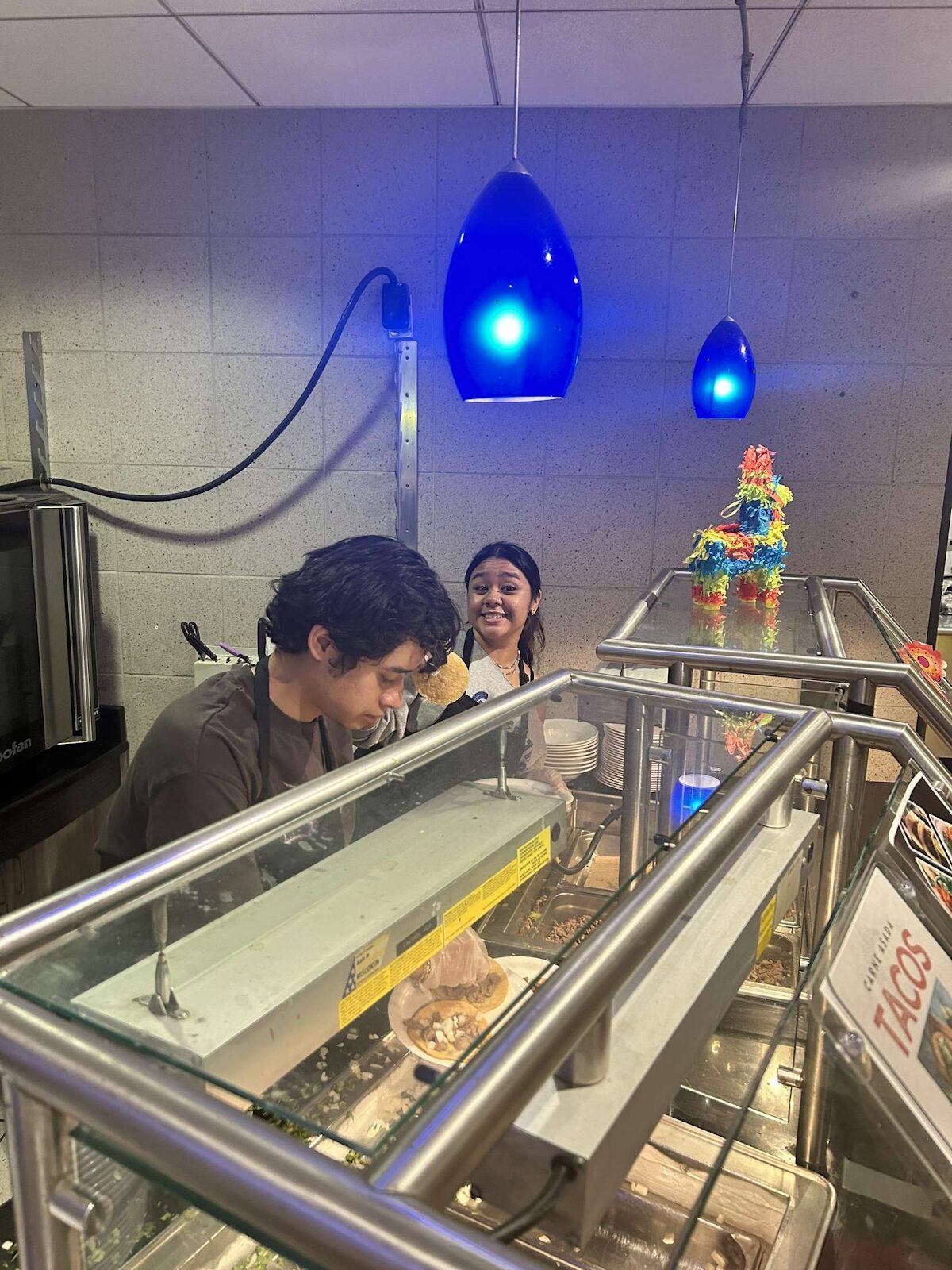 Eric Alfaro, Yuliana Marceleno, and other members of LU, were responsible for serving steak street tacos to the students. Photo by Alexa Avalos, social media chair of LU.
In addition, St. Ambrose's Library separated a list of Hispanic authors of contemporary fiction and memoirs, and the "Student Diversity, Equity, and Inclusion" office, also known as S.D.E.I, organized traveling displays around SAU to showcase Hispanic countries and their culture. Edwin Ubeda, an associate professor who teaches English as a Second Language (ESL) at St. Ambrose said: "I greatly appreciate the small islands of celebration that circulate around campus during this time. The office of DEI always highlights faculty members who otherwise may go unknown on campus. The biographies of their accomplishments and their upbringing are always a reminder that we belong, that we matter, and most importantly that we have something to contribute."
St. Ambrose University did a phenomenal job acknowledging diversity around campus during this last month. The students seemed to have enjoyed the events and the international group was content to have a valorization of their culture while they are far away from home.