Reselling Generates Thousands for SAU Basketball Player
While most college students may spend most of their free time scrolling on their phones or
playing video games, Isaiah Borgos is busy thinking about his next sale. As a full-time St.
Ambrose student and member of the varsity basketball team, he says he is conscious of his time.
On top of homework and practice, the sophomore manages his own reselling business, and what
started as a fun side hustle, and has now turned into a full-time job.
This is a fairly new venture, as Borgos says he's only been in business for roughly three years.
He says there was one main driving force leading him, "It was during COVID, and I was like 'I
need to find a way to make money.'"
He recalls that one day during lockdown, he was bored while scrolling through TikTok when he
came across an intriguing video on his "For You" page. After some digging, he discovered that
there was an entire realm of videos on the app dedicated to the art of buying and reselling. "I was
like 'Oh, people just buy stuff off Facebook and resell it?'" Determined to make money, he
decided to take a shot.
Borgos says it was not his first time discovering how lucrative the reselling business could be. "I
worked at an auction center, and so there was always weird stuff going for like super high prices.
We would just clear out old Victorian houses and farms."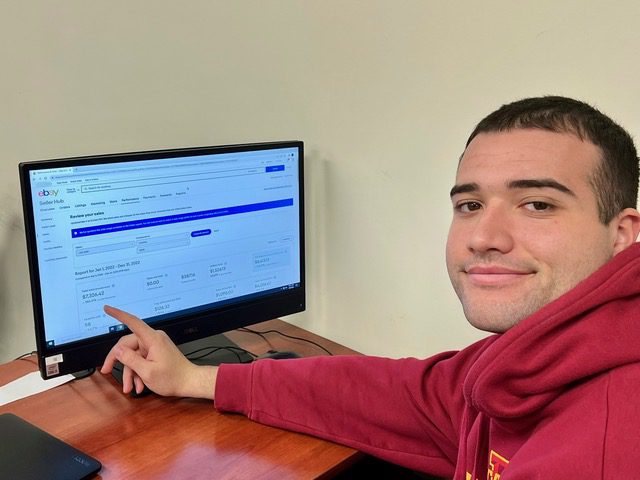 Borgos recounts there is no shortage of odd items such as lamps and posters found at these
sites. He remembers vividly one particular time when a glass bowl sold for around $2,500.
This is when he first discovered the value of some of these more niche, collector items that most
people would see as mere trash." I'm like ok, there's gotta be a reason why it's going so
high." He shares that much later, he learned that most of the bidders were antique store
owners looking to snag a good deal for resell.
In the quest to start his own business, Borgos started small. And according to Borgos, he would
often spend time scouring the Internet himself to find anything he thought could make a profit
on. Eventually, a listing on Facebook Marketplace caught his eye. Borgos states, "This guy in a
town with 400 people was selling these Hot Wheels collections."
However, he quickly realized that getting these toy cars was not going to be as easy as he
initially thought. "He's [the seller] like 'the only way you can buy it is if you come to my
house.'" Borgos says, oftentimes in deals like this, it is very common for buyers and sellers to
meet up halfway in a public setting to complete the trade to avoid any sketchy behavior.
So it was a risky decision to make.
Regardless, Borgos agreed to drive up to his house, with absolutely no knowledge of what to
expect. As he now reflects, he does admit in hindsight that the decision was probably not the
best. "I was stupid, I was just like, 'ok, whatever.'"
The fear and anticipation weighed heavy. To make the situation even more intense, he recalls
there being three pit bulls surrounding him when he first entered the house. Luckily, nothing bad
happened and the rest of the encounter went just fine. "The seller was a super cool guy,"
Borgos says the deal was too hard to pass up. According to him, the man offered to sell the cars
at the same price he had bought them for. All in all, he says he was able to snag about 30-40 of
them, for about $350.
Borgos said that in total, after reselling them all, he made about $1,000 in profit. "There was a
couple of them that sold for $200-250 each!"
To say he was shocked would be an understatement."It was crazy because that was like my first
ever introduction to reselling." The excitement from his first sale quickly accelerated into a
craving for more. "I realized that 'Oh, there are groups for this stuff.' And so I joined the group
I'm still in now."
According to Borgos, the groups he's referring to are legions of other optimistic resellers just
like himself, who are looking for an easier way to get notified when a good deal comes up on
particular goods. In his case, the group used Discord to host the chat. Which is an instant
messaging app that is common among gamers. The owner of the chat has access to website
monitors that gather massive amounts of price data for various items from major e-commerce
sites and shows which one has the lowest price. The owner subsequently shares the information
on the chat for everyone to see. This makes it easier for the members to pounce on a good deal
before it's too late and it's all sold out. During this time, Borgos' inventory increasingly added
more "new" condition items. Today, he says that one of his most popular items right now is the
Stanley Insulated Cup. He credits TikTok for its overwhelming popularity.
Borgos has been a part of the chat for some time now and has quickly learned the importance of
consistency when choosing which items to buy. He says, "Whatever you do best is what you
should do. They [the chat] just post bulk information and you just need to find your niche."
He says he doesn't just resell on Facebook Marketplace, but also has storefronts on eBay and
Amazon. Currently, he's a one-man show and currently runs out of his dorm. "It's just me. I have
a tub in my closet with all my inventory, label printer, bubble wrap, boxes, anything you can
think of." On any given month, Borgos says that he makes from $2,000-5,000 a month reselling.
He credits his success to the demand for online shopping that has grown since COVID,
especially Amazon. He sees the e-commerce giant as a way to keep his business
running more autonomously so he can explore new career opportunities, such as construction. He
still plans on continuing to resell as long as he can in the future but would like to get it to a point
where it can become more of a side hustle.
"To achieve long-term scalability, once I get out of school, I will probably bulk order products
and send them off to Amazon." He's referring to the company's Fulfilled by Amazon Program,
which Borgos explains, allows a reseller to send their entire inventory to an Amazon warehouse.
It leaves the rest of the reselling process to them. This program requires much less work for
resellers like himself and is perfect as he plans to transition into life after graduation in a couple of
years.
Nicolas Zepeda is a staff writer for The Buzz.