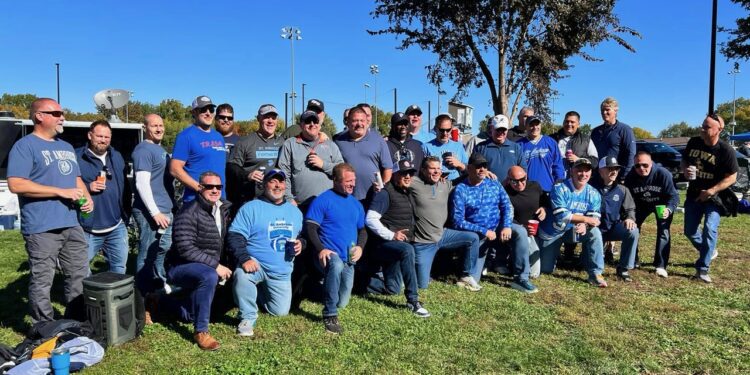 Photo by Dave Moisa.
St. Ambrose University celebrated the 30th anniversary of the most iconic moment in the school's
football history during 2023 homecoming festivities, October 21-22.

Countless alumni returned to remember Coach Mike Woodley's 1993 Fighting Bees upsetting Western
Illinois in SAU's November 13 season finale at WIU's Hanson Field in Macomb, Illinois.

The shocking 27-25 outcome, secured with a game winning field goal in the final seconds, demanded
newspaper headlines by raising eyebrows across the country.

"It was a real David versus Goliath story," recalled Chad Denning, who as a senior that season was the
play-by-play broadcaster for that game on SAU's KALA radio.

"The next couple of days afterward it was on ESPN and kind of a national story because Western Illinois wasn't a slouch, they were fighting for a conference title and playoff spot."

Western Illinois entered the day tied with Northern Iowa atop the NCAA Division I-AA Gateway
Conference, the second highest level of college football. Meanwhile, St. Ambrose remains a couple of
steps below WIU in the NAIA with schools of much smaller enrollments and few if any athletic
scholarships.

By contrast, the Bees' opponent that day was a Leathernecks team stocked with full-ride scholarship
athletes led by a pair of future NFL draft picks. Included most prominently was eventual Super Bowl
winning All Pro safety and "Sunday Night Football" commentator Rodney Harrison, who found himself
on the wrong end of one of that game's most memorable plays.

THE RUN
The Bees were backed up on their own goal line after a WIU punt, trailing 10-7 late in the first quarter
when Coach Woodley remembered calling for a basic off tackle power play run, "just to punch it out of
there," he said. Instead, the Bees did much more than that.

"We blocked that play perfectly and Lionel Porter hit his gap," Coach Woodley recalled about a 93-yard
touchdown sprint by SAU's record setting freshman running back and eventual career rushing leader.

"I knew he was gone because of the speed he had," seconded Dave Moisa, an offensive tackle blocking
for Porter that day. "But to see him outrun two future NFL players was breathtaking."
Porter's Teammates called him an NFL caliber speedster who unfortunately never got a shot in the
league and only ended up at SAU because of his undersized, 5 foot 8, 160-pound physique. The proof for them came that day.

"Not even Rodney Harrison could get the angle on Lionel and catch him," added Ryan Saddler, a junior
defensive back on the '93 team, who currently serves as SAU's Associate Vice President for Diversity,
Equity and Inclusion. "That run energized our confidence and let both teams know we could win the
game."

Porter's run gave the Bees a 14-10 lead they built to 24-10 before the Leathernecks began a comeback
by returning their second kickoff for a touchdown in that game.

"That run was actually funny," Porter recalled, "because we were pinned back and our receiver Jeff
Girsch came into the huddle joking, 'Don't worry, boys, we're going to score in two plays.' But he was right. The first play was a short pass to (Girsch) and the second was that run.

"That definitely is something I'll never forget, but the most memorable moment was when the field goal
went through, and we retook the lead at the end."
THE DRIVE
SAU relinquished the lead with 2 minutes and 48 seconds remaining when WIU scored its only offensive
touchdown. A dramatic 2-point conversion followed to edge the Leathernecks ahead, 25-24.

"We still thought we were going to win because we knew that our offense was moving the ball," Porter
said. "So, we felt like we could get at least in field goal range."

Coach Woodley recalls a trick play going awry on the kickoff return, which pinned the Bees back at their
own 4-yard line. However, quarterback Omar Navarro hit 7 of 8 passes for all but four yards on the game
winning drive with a 20-yard pass to fellow Southern Californian Kris Plash pushing the ball to the WIU
15-yard line.

"But they both took shots, Omar to the head, Kris to the side, and weren't able to play after that or we'd
have taken a shot at the end zone," remembered Pete Ivanic, then the freshman kicker and now a
broadcaster locally for MC22 TV and SAU's longtime public address announcer for football games.

"So, our backup QB came out and took a knee to set us up where we wanted to be (with 18 seconds
left). They took two timeouts to try and ice me, and I came over to the sidelines while a coach went out
on the field to talk to the other 10 guys.

"I was with Coach Woodley, and I remember being excited after they called the first time out. I was
clapping my hands, and I said to him, 'I'm making this. We're going home the winner.'"
When WIU called the second timeout, Ivanic asked Woodley to tell him a joke to keep him loose.

"I still think Pete is one of the best kickers I've ever coached," Woodley said. "I love him, but Pete's a
little different dude – and when he asked me to tell him a joke, I couldn't think of one. I can't tell you
what I actually did tell him."

"But," Ivanic added with a chuckle, "we did share a laugh together before I went back out there."

THE KICK
Ivanic had already kicked a field goal earlier in the third quarter.

"We all knew Pete was going to make that kick," Porter recalled. "He had ice in the veins."
Ivanic remembers being focused on his fundamentals – reminding himself to keep his head down while
pacing off his steps. His holder that season was Jeff Girsch, who set the school's career receiving record
that day and is now the head coach at perennial Division 2 playoff qualifier Angelo State of Texas.

"I remember Jeff being on a knee and looking up at me with a look that said, 'You ready?' And I was like,

"Okay, let's do this," Ivanic recalled. "I remember looking down and seeing the football waiting for me, for
my foot to kick it. I remember telling myself just keep your head down, because if you lift your head up
when you're kicking the ball, it's going to go directly left.

"I remember keeping my head down for two or three seconds before I finally looked up to see I'd never
kicked a football so straight in my life, and it was pure pandemonium after that. But what a lot of people
forget is we still had 18 seconds left and still had to kick off to them."
With WIU returning two kickoffs for a touchdown that day, SAU's coaches decided Ivanic should squib
the kickoff 15-20 yards downfield.

"They didn't have any timeouts left so they might have had one more play," Ivanic said. "One of their
guys got the ball on the kickoff and started to pitch it to a teammate – but our (All American linebacker
Dave Skonieczny) knocked the ball away and it bounced up into the gut of one of our guys (Shane Glisan)
and he ran it out of bounds.
"So we took a knee to end the game. They didn't even get a chance to do anything, and that was even
more wild."

In the bedlam, Ivanic remembers being hoisted on the shoulders of a teammate and paraded around the
middle of the field. He also recalls an emotional senior class shedding tears of joy with the win securing
the first winning season of their college football careers.

"I couldn't believe we actually knocked off a Division I-AA team," Moisa said. "I literally levitated off the
ground. I never experienced a greater moment in my life until I got married and had my kids."

THE SEASON
While basking in the glow of the moment, with more than 30 of those '93 Bees attending the
homecoming tailgate party, Coach Woodley recalled the journey to that history making win was marked
by ups and downs throughout the season.

St. Ambrose was an independent at the time, he explained, which meant the school was not affiliated
with a conference and needed to accept games with larger opponents like WIU and fellow I-AA member
Valparaiso in the opener to fill out the schedule.

As a result, the Bees also faced a rough slate made up mostly of road games, including four straight
Saturdays playing against schools from the rugged Wisconsin state league.

The Bees went 3-2 in those matchups, with the other loss coming 34-14 to Wisconsin-Platteville in the
UNI Dome for the only decisive setback of the season.

However, the team's trademark was, never losing hope and continuing to push through a withering
schedule despite having little to play for except pride.

Those Bees had no conference title to chase, and miniscule playoff hopes were dashed early by losing
four games by 10 points or less before heading to Macomb.

"That win was the perfect ending because it was a huge reward for this team," said Woodley, "This is
still one of the best things that I've been involved with, and I've coached a lot of conference champions
and playoff teams over the years. But this team was special because it fought so hard, and this one big
victory was so iconic because it showed their incredible heart." His admiration only has grown over the many years.

"I haven't seen most of these guys probably in 30 years – and that's not unusual as kids move on with
their lives," Woodley said. "But getting this opportunity to see what they have become as men – with
children and families and professional successes of their own – gives me a great feeling.

"Because when you do this, your first job is taking care of the players and hopefully giving them enough
concepts on life that they can go out and become a productive member in society. The fruition of that is
shown right here with all these guys back. I'm so proud of them all."

THE REUNION
More than Coach Woodley lamented seeing some '93 Bees for the first time in 30 years, with the
passage of time swifter than even Porter on that day.

"This is awesome this reunion got pulled together and all the guys are back to see each other and talk
about the good times," Porter said. "The stories get better and better as the years have gone by, but it's
really nice we got this opportunity to come together again."
The weekend included a reunion dinner, a special tailgate party and an on-field recognition ceremony
before the homecoming football game.

"I've been waiting since the day we won that game for something like this," confessed Moisa, whose son
Jacob is a sophomore linebacker now for the Bees.

"This is the first time since we won that game, we've really had a celebration." Moisa took up the cause earlier this year knowing the 30th anniversary was coming up. First, Moisa contacted SAU's Alumni Board to talk over the possibilities before starting to contact former teammates
with Saddler's help via social media channels.

"I can't believe how fast the time has passed," said Saddler, who served as an assistant football coach
for several years after his playing days were over. It is long overdue for this celebration. But I'm glad we're finally here. It's easy to say, 'I'm not going to go back, but I'm really glad to see so many people did come back and maybe this makes it sweeter that it has been so long ago."
Michael Tappa is a staff writer for The Buzz.