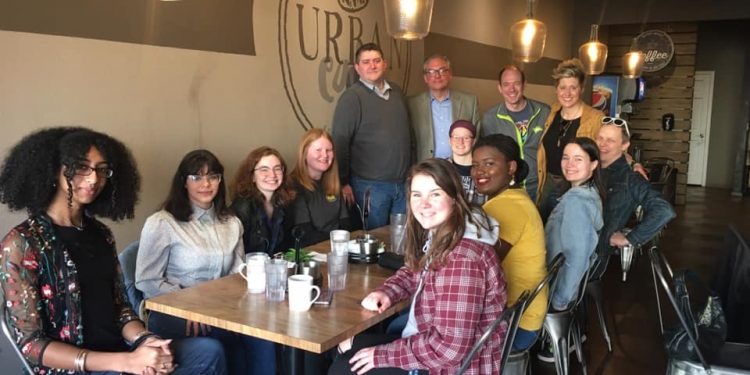 COVID hasn't been a problem for PRISM as they continue to make an impact in 2020 by banning conversion therapy in Davenport and speak out on issues involving sex, race, education, and politics.
PRISM, which stands for Promoting Respect in Sexual Minorities, is an LGBTQ ally group at St. Ambrose that successfully helped ban conversion therapy in Davenport back in March.
"It was a bright feeling because that makes Davenport the first city in Iowa, and knowing we can be a part of that change is a feeling like no other. It's relieving, but also empowering, and there's so much more ahead. I feel like anything with advocacy and social justice, there's always a step forward. Next, we need to get conversion therapy banned at the state level," Erika Seabloom, member of PRISM, said.
Outside of helping ban conversion therapy, PRISM hosted a virtual program in April called "Quarantine Bae," informing people on sex and relationships.
"That was a residue of a program we usually do in the spring called Sex in the Dark. People are invited to bring questions, and everyone sits in the dark. Quarantine BAE was our attempt to go digital," Sarah Eikleberry, SAU professor, and PRISM advisor said.
PRISM meets virtually every Monday night to talk about LGBTQ and other topics involving social justice. The latest topics have been about being LGBTQ during the time of COVID, making sure people are registered to vote, and coming up with virtual ideas.
"Just being able to have meetings and have a safe space is a great thing to have during these times. Coming up with virtual ideas is a little harder because in-person events made it a lot easier to reach out to people outside our club rather than just speaking to our own club," Seabloom said.
PRISM also pushes towards safe sex on campus.
"We gave out resources at club fest. There are URLs and links you can just click on and have dental dams, condoms, and lubricants sent to your house. There are some free places in the area that are within walking distance, and you can just grab them," Eikleberry explained.
PRISM usually does HIV testing but won't this year in order to reduce the spread of COVID.
"With all the constraints for hosting events with outside campus visitors, entities, and contacts, it just seemed a little messy," Eikelberry added.
October is National Domestic Violence Awareness Month, and PRISM is looking to host another program that month to inform people on having healthy relationships.
"We will probably link up with SAAT and Triota and do some sort of programming. We usually bring someone from family resources in, and that will be open to the public," Eikelberry said.
If you are a student and want to be involved in PRISM, you can go to their Facebook, Twitter, or email and direct message PRISM to be involved or informed.