President Novak's Year at Ambrose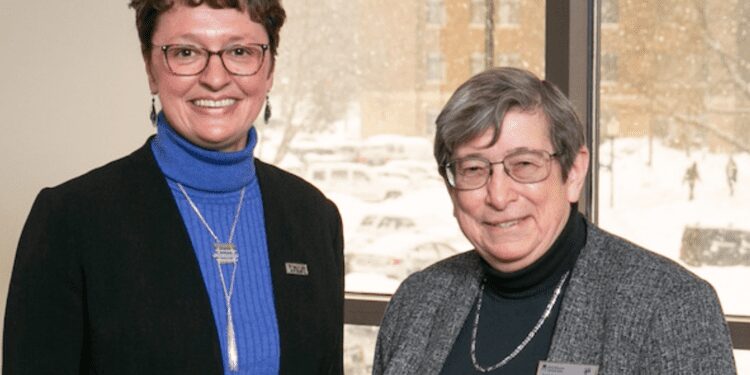 Change is never an easy transition to undergo. In a time of crisis, we saw a change in leadership that helped us rejuvenate the campus culture at St. Ambrose.
Since August 2021, President Amy Novak has made great strides in cultivating a community culture here at SAU.
"Ultimately this is about students, and I really see it as a privilege to work with students," Novak said.
Whether it's sending letters to students on a job well done academically, or sitting down for a luncheon, Novak has put herself out there for students whenever they need assistance. Her visibility on campus has contributed greatly to her success in connecting with the campus as a whole.
Photo Courtesy of The Quad City Business Journal
"I have had numerous town hall meetings, where I'll go to the faculty assembly and explain the strategic plan and take their questions. Last year I went to student government several times to do these listening sessions so we can ascertain what's happening," Novak said.
This bond President Novak wants to create here at St. Ambrose goes further than the students. In many projects the university has implemented, she makes the change much easier by using a pilot method, in case there's room for improvement further in the future.
Photo Courtesy of The Catholic Messenger
"One thing I always pledge to do is pilot, I think when we try and do massive amounts of change in a comprehensive way it's really hard for people," Novak said. "So say we're going to pilot something for 48 students or pilot something for three departments, and we're going to see how that works and look at the data to see if we can scale this up."
One such example of this is the introduction of AR/VR technology in our classrooms. Students in the departments who opted to engage in the pilot program have highlighted both successful outcomes in student learning, while also shedding light on potential roadblocks that the university should consider in the future. At this time Novak said the departments involved will meet to discuss the use of AR/VR and how it can be expanded for next semester.
"I think for me I hope students walk away saying she cared. Ultimately she modeled what it means to live out a leadership role that was built on relationships, that was built on a vision of creating excellence at the university, and that it went somewhere," Novak said.
As for faculty and staff at St. Ambrose, Novak hopes they can understand the vision of community, and collective education between students and professors, to foster success at all academic levels.