Out With The Old, In With The New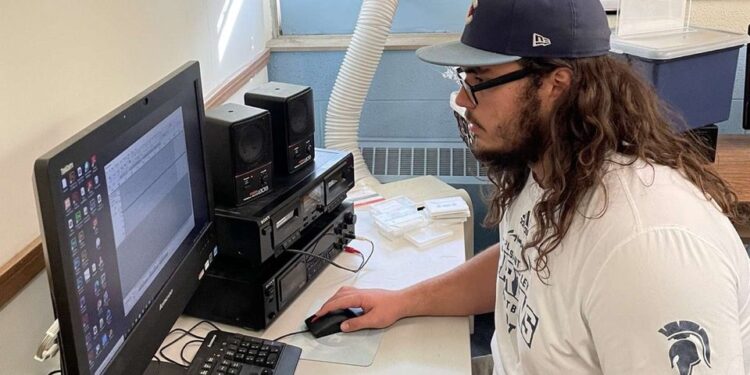 Saint Ambrose Football's AJ Tappa is a talented defensive lineman on the field; outside of the lines Tappa is also taking St. Ambrose's football history out of the past and into the future. In the past few years, the communication department at St. Ambrose has been looking at old footage and recordings of what used to be.
Old news broadcasts documenting the early days of student-run news, footage featuring dated looks at the campus, and old Fighting Bees football games were kept for posterity. The man who ran the department for many years, Don "Duke" Schnieder liked to remember the students who accomplished great things going through and one of the ways he did that was by archiving the footage to look back on one day. He retired last year handing the reigns to someone new. In an effort to clean up the department, the new hires wanted to put the old footage on computers instead of VHS tapes.
Now, AJ Tappa is finding a way to resurrect the past with new technology and the love of the game. As a communication/digital media production major, he wants to work in the field, and getting involved at KALA, the student radio station, is something he chooses to do. He started there last year at the beginning of his freshman year.
Now though he is doing something a little different than what he's used to. Taking the old tapes of the games he exports the files to his computer and "edits them up a little, provides some voiceover, and makes it cleaner. For us, it's more audio than visual, though."
KALA has been putting his work to good use. Just like the Big Ten Network will air its rich history of games on TV, KALA will do much the same, except the challenge for Tappa is producing it for radio. He is currently working through the '90s, providing a "voiceover with information about what game is happening to help out the listener," Tappa describes. He is glad to do it knowing that what he's doing is leaving an impact and helping out the department. "My dad worked here at the radio station so doing this feels right, you know?" he says with a smile.
KALA has always been at the forefront of St. Ambrose and Quad Cities. The station prides itself on providing support for the niche communities around the area. KALA is one of the only stations serving the Spanish language community and they play lots of Jazz, blues, and R&B which many radio stations don't play anymore.
Hearing the old football games reminds the students and members of the Davenport area of our campus and our campus' sports history while providing a reminder for all the football players who loved playing here.
Luke Vera is a staff writer for The Buzz.