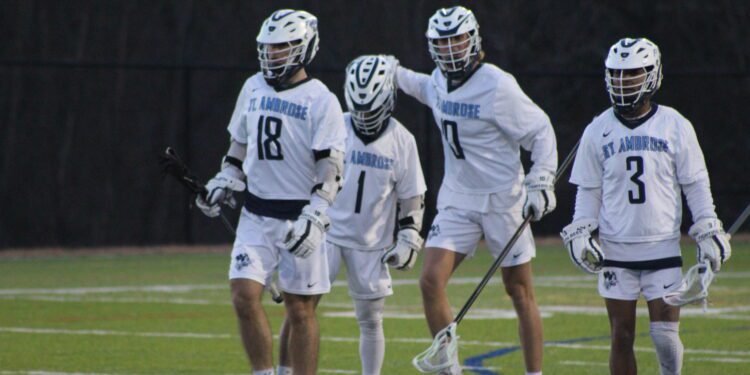 The Fighting Bees men's lacrosse team came firing out of the gates early on this season with an impressive 2-0 start.
They started off their season opener with an impressive 12-7 win over 2nd ranked Indiana Tech.
The defense won their individual matchups all game, but the real anchor of the Fighting Bee's defense was junior goalie Nolan Hayes who put up 19 saves.
"Honestly, I just go out there and tell myself that I can stop anything." Said goalie Hayes "Once you get your mind right making 19 saves feels like nothing, it sort of feels natural at that point."
The Bees offense was clicking all-around with two extremely impressive showings from junior midfielder Michael Shakerin who finished with 3 goals and 3 assists along with junior attackman Cole Danner who finished with 4 goals and 1 assist.
Senior defenseman Joe Henderson also provided some help on offense with an impressive 70-yard goal off of a failed Indiana Tech clear. 
Junior Midfielder Dawson Dickerson and Junior Attackman Michael Keating. Photo Courtesy of Katie Baranski
The Bee's next game was against Taylor University. This is a game that would typically be labeled a trap game coming off an impressive win the game prior appeared to be heading into that trap early on.
The Bees came out sloppy with early penalties and turnovers that kept the game a lot closer than they would have liked it. Heading into the second half with a 6-2 lead, the Bees offense turned on the burners and didn't look back.
They went on an 8-0 run to finish the game giving them a 15-5 victory. The defense once again dominated their matchups with impressive goalie play from Nolan Hayes and Johnny Moran. 
Junior goalie Nolan Hayes.  Photo Courtesy of Katie Baranski
The offense was led by junior midfielder Michael Shakerin who finished the game with 4 goals and 1 assist.
"It was honestly an awesome way to start our season," junior midfielder Sam Kerr said. "We felt a little disrespected dropping to 7th after finishing 5th last year, so for us to come out and beat the 2nd rank team and finish the weekend 2-0 was a huge confidence boost for the boys."
The Bees moved up to 3rd in the Nation in the most recent coaches poll and look to open conference play against 10th ranked William Penn University and 5th ranked Columbia College.