New Year Pumpkin Soup Recipe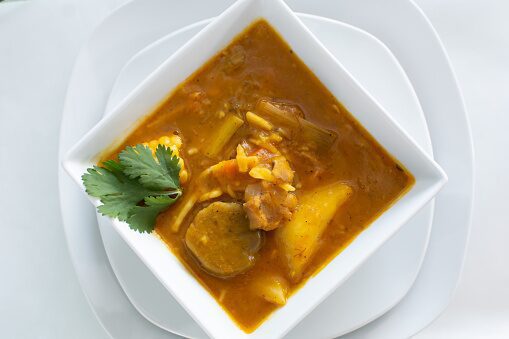 As the year dwindles down and New Year approaches, a lot of SAU students and staff head home for the winter break. Within the SAU community, there are people with many different family traditions. In some traditions, different family recipes are included. In the spirit of the new year, this recipe is a tasty treat to try out as a new year delicacy. Especially for pumpkin and pasta lovers, this recipe incorporates pumpkin, pasta, and meat. Reminder to scale this recipe to size. This soup can take up to three hours to complete, depending on the meat and serving size. This specific recipe uses ground beef as the meat and rigatoni as the pasta.
Main Ingredients: Seasoning Base
1 Onion, chopped
2 Large Bell peppers, Stemmed and chopped
1 cup chopped parsley leaves
1 cup garlic cloves, puree
1 cube of chicken bullion
½ cup scallions, puree
¼ cup vinegar
½ cup virgin olive oil
1 tablespoon of salt
Puree together.

Main Ingredients: Soup
1 Pound Ground Beef
1 ½ pumpkins, chopped and boiled
½ cup lime juice
¼ cup melted butter
¼ cup tomato paste
4 potato, peeled and cut
3 carrots, peeled and cut thin
2  calabaza squash, peeled
½ small cabbage, shredded
1 leek, puree
2 Onions, finely chopped
½ green scotch bonnet pepper, shredded. (Add seeds depending on spicy preference)
1 habanero pepper, shredded. Seeds included
1 teaspoon ground pepper
1 cup rigatoni pasta, boiled
2 teaspoon salt
1 teaspoon garlic powder
½ teaspoon cayenne pepper
¼ sprig thyme
2 tablespoon olive oil
¼ cup vermicelli
Directions
Step 1: Boil the cabbage, carrots, potatoes, and pumpkin. Separately, puree all ingredients of the seasoning base together. Marinate beef in the seasoning base for 60 minutes with 1 tablespoon lime juice. Leave part of the seasoning base for later.
Step 2: Once the meat has marinated, transfer into a pot with olive oil (alongside seasoning.) Let heat on medium, and let the mixture simmer until caramelized. Let the pot rest aside after cooking. Puree calabaza squash, as well as pumpkins. Boil rigatoni pasta separately.
Step 3:In a large pot, add 4 cups of water. Then add the boiled cabbage, carrots, potatoes, and calabaza squash puree. Add shredded small cabbage, leek puree, chopped onions, shredded scotch bonnet pepper, ground pepper, salt, garlic powder, cayenne pepper, thyme, olive oil, vermicelli, ½ cup lime juice, ¼ cup melted butter, and ¼ cup tomato paste. Add leftover seasoning base. Add pumpkin puree. Cover pot. Let the mixture boil, stirring occasionally, in medium to high heat for 30 minutes. 
Step 4: After the soup has boiled, add beef. Let meat simmer in the soup for 10 minutes, stirring frequently. Add boiled pasta. Let pasta and beef simmer in the soup for another 10 minutes. When satisfied, shut off heat.
Step 5: Serve and enjoy!