Married alumni describe meeting at St. Ambrose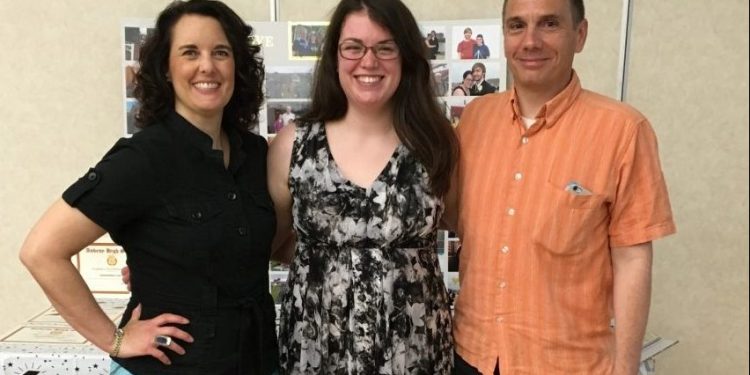 Guy and Alice Pareti met while students at St. Ambrose, and it was love at first sight. While Alice graduated with majors in journalism and radio/TV and a minor in business administration and Guy with a major in criminal justice and minors in psychology and sociology, both left with something much more precious. Now married with a daughter and dog, they describe their time at St. Ambrose and fateful meeting one winter day.
How long were you at St. Ambrose?
Guy: "Four years – class of 1991"
Alice: "August 1989 – May 1993"
Why did you choose St. Ambrose?
Guy: "I wanted a small school experience and I wanted to get away from growing up in a big city. I was drawn to Ambrose. As soon as I visited, I knew."
Alice: "I knew that I wanted to be a broadcast journalist; it was my dream. I loved that St. Ambrose had a television station right on campus and students produced their own news show. When I visited and asked about working at TV-11, they told me I could absolutely get started there as a freshman. Most colleges with broadcast journalism programs save those opportunities for upperclassmen. That, coupled with the fact that St. Ambrose is a smaller university, I was sold! When I stepped on campus, it felt like home."
Were you involved in any clubs/ sports/ activities?
Guy: "I was involved in intramural sports. I think it is important to socialize with other students by using the sports and activities you like."
Alice: "I was absolutely involved in activities. It's important for students to find an activity or club on campus where they feel accepted and feel they've 'found their people.' It's the best way to get the most out of your time in college. I wrote for The Buzz, St. Ambrose Magazine, and was a member of the Mass Comm Club. I worked at TV-11 and KALA. I had so much fun working at the TV and radio stations that every summer I stayed on campus to work there. I felt at home at these two places on campus and formed awesome relationships with the faculty, staff, and students."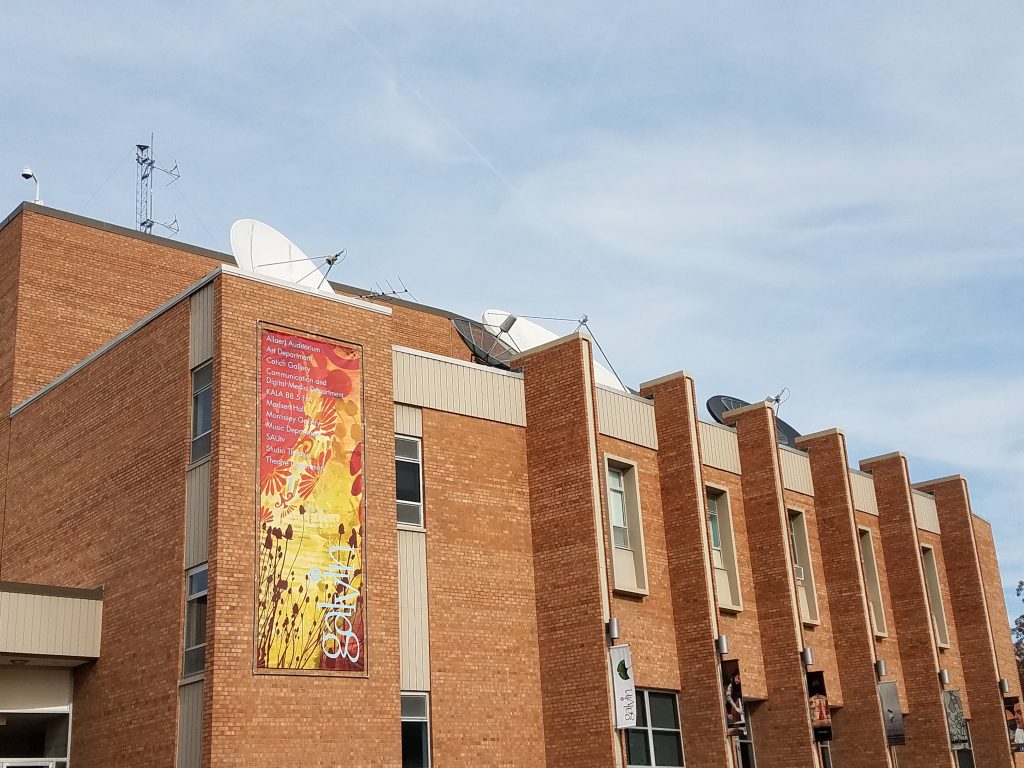 Did you do any internships while at St. Ambrose?
Guy: "I interned with the department of correctional services. I worked in pre pre-trial release helping to decide if those arrested will be available for release before trial."
Alice: "I did two internships while I was a student at St. Ambrose and both of them gave me invaluable experiences for my future career. I interned at KWQC in Davenport. I followed reporters, photographers, and news anchors and even got to report and shoot my own stories that aired during the newscasts. I also worked at WQAD in Moline. I helped write stories for the newscasts and I was paid for anchoring the live overnight news briefs."
Are there any specific classes or other school related activities/events which you would recommend?
Guy: "I would recommend taking as many different types of classes as possible. You never know what subjects will interest you. You may end up changing majors."
Alice: "The most important thing is to get involved in whatever interests you. College is more than going to class. I made friendships in my four years at St. Ambrose that I still have today."
Are there any faculty/staff you remember?
Guy: "I remember Dr. Bob Bush for helping me unpack some baggage, Dr Michael Halstead for teaching me to laugh at myself, and Father "Digger" Dawson for teaching me that ethics and theology are not simply classes but choices we make every day. He was a sword to cleave the darkness."
Alice: "Of course, I remember some of the faculty and staff! Several of them made huge impacts on my growth as a person and professional. Without a doubt the biggest influence in my life was Duke Schneider. You can find him at TV-11! He was my boss when I worked there and I took several of his classes. Duke was always encouraging and super supportive. He treated his students like family!
The late Julie McDonald was a tough, but fair journalism teacher. To this day when I'm writing, I remember the skills she taught me. Alan Sivell was another influential journalism teacher and my advisor.
I shared some fantastic, memorable times with the staff at TV-ll and KALA including Dave Baker, Steve Tappa, John Anderson, and Angie Seger.
I enjoyed the late Father DeFrancisco's comparative religions class. We were honored to have him officiate our wedding at Christ the King chapel on campus in 1994.
Since I did a lot of reporting on campus, I had the opportunity to interact with president Dr. Ed Rogalski. He was a fantastic presence on campus. When I walked across the stage at graduation and shook Dr. Rogalski's hand, he commented that he was going to miss my interviews with him and my reporting on campus. There are not many colleges where you have the opportunity to get to know the president on a first-name basis!"
Are there any specific memories about St. Ambrose you would like to share?
Guy: "I remember Father Dawson blessing our dorm room, being the first class to live in the townhouses, and launching water balloons off the roof top patio of Ambrose Hall."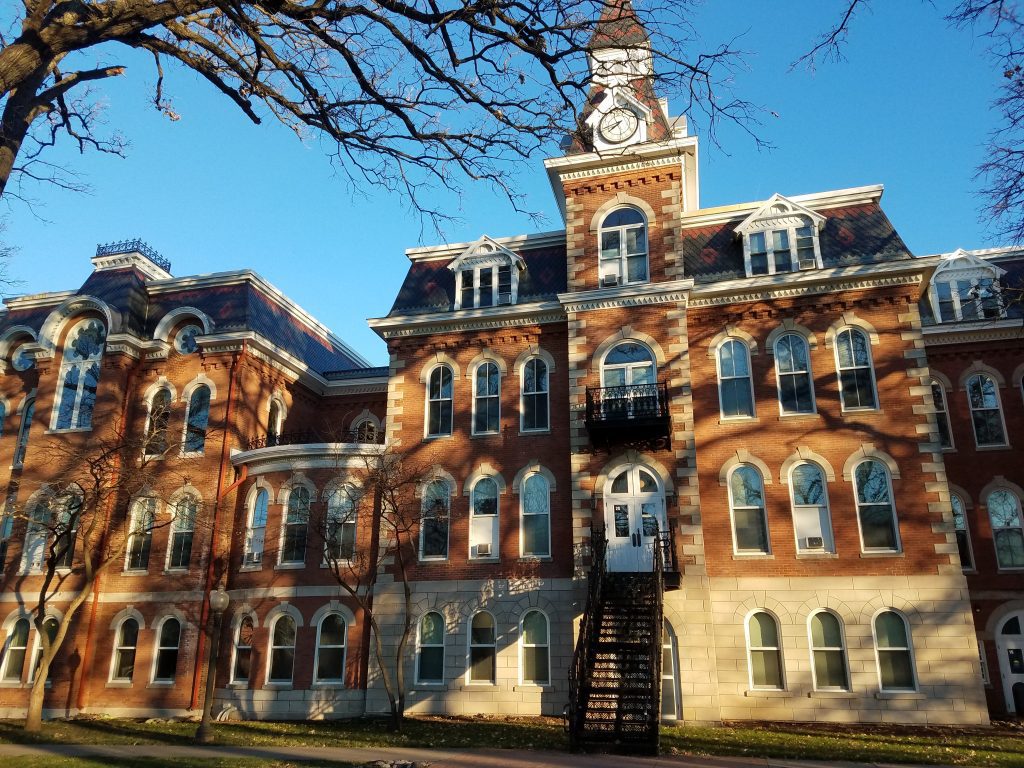 Alice: "I have so many memories spending time and working at TV-11. I remember the midnight breakfasts during finals, graduation under the oaks, and the welcome back boat rides on the Mississippi River in the fall."
How did St. Ambrose set you up for after graduating?
Guy: "St Ambrose taught me valuable skills. I learned to embrace new ideas and never give up on a goal."
Alice: "St. Ambrose taught me the skills I needed to get a job as a broadcast journalist right after graduation. Every class I took for my major gave me the information and skills I needed to score my first television news job."
What have you done since graduation up to the present?
Alice: "My first job out of college was with KNOP-TV in Nebraska as a reporter and weekend anchor. Missing home, I was able to land a job at WOI in Des Moines as the morning news producer. After getting more experience under my belt, I took a morning producer job at KCCI, also in Des Moines. After a couple years, I was promoted to produce the evening show, First News at Five. I left the broadcast world when my daughter was born to be a stay-at-home mom for a few years. As my daughter got older, I wanted to get back into the communications business. I took the communications assistant job at the Ankeny Community School District. Right now, I am the communications specialist for Iowa State University's food science and human nutrition department. I write newsletters, oversee social media, write press releases, produce videos, and conduct media relations."
Are there any specific accomplishments you wish to mention?
Alice: "I won the Radio-Television News Directors Association (RTNDA) scholarship and was able to attend their annual conference in San Antonio, Texas as part of the award. I was the first student at St. Ambrose to win the scholarship (and maybe the only). I remember my advisor telling me there are always a lot of applicants and someone from a small school will have a hard time winning. I remember telling him that I was going to win.
In my time since St. Ambrose, I have won several writing and photography awards.
In 2001, I was named first runner-up in the Mrs. Iowa competition.
I was also honored as volunteer of the year by the Girl Scouts of Greater Iowa."
What is your fondest memory of St. Ambrose?
Guy: "Meeting my wife playing football during a snow day. Everyone in my townhouse knew Alice from classes or work at tv 11 except me. We came back to my townhouse and after one look I was hooked. We got married about 4 years later."
Alice: "My best memory is meeting my husband who was also a student at St. Ambrose. It was a snow day and classes were cancelled. A bunch of us decided to play football in the quad. We had mutual friends, but didn't know each other before the pick-up game. We connected right away and the rest is history. St. Ambrose was a big influence on our relationship and lives, so getting married in 1994 at Christ the King chapel on campus was the perfect venue."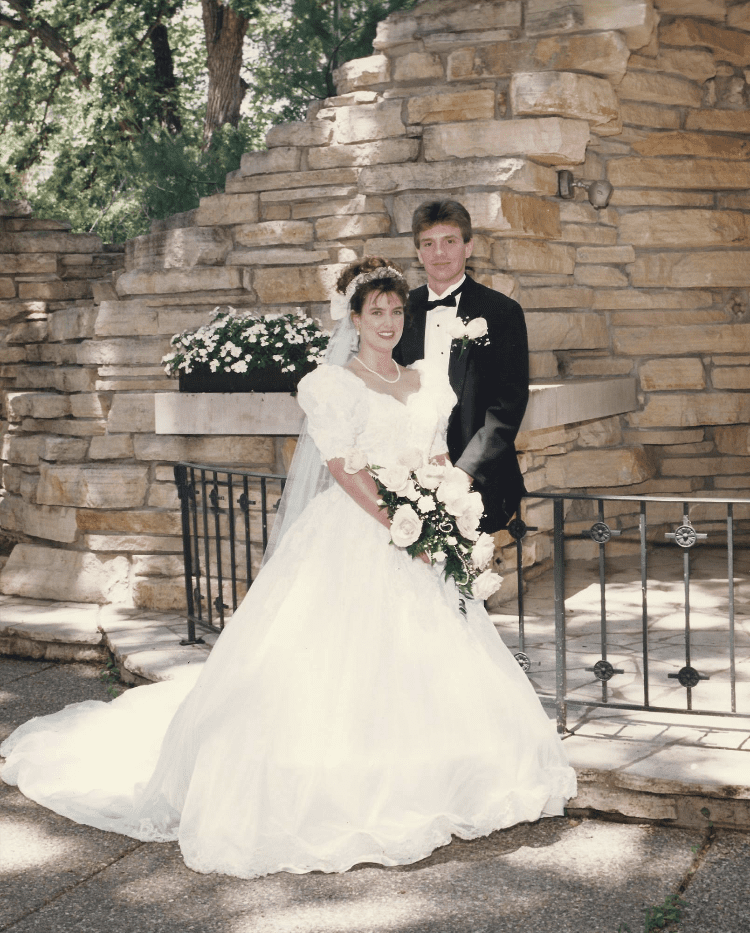 How would you describe your experience at St. Ambrose?
Guy: "Family and friends. Ambrose was my Hogwarts. I met the love of my life and friends that are still a big part of my life today. The entire time I was at Ambrose I felt accepted and safe to grow."
Alice: "My experience at St. Ambrose was influential, impactful, and I wouldn't change anything about it!"
Do you have any advice for incoming St. Ambrose Students?
Guy: "Take advantage of every opportunity. Accept who you are and embrace your individual weirdness and the weirdness. Try to be kind because everyone is going through struggles you know nothing about. Be open to new ideas. You may end changing majors several times. You may end up working in a field that is far from your major."
Alice: "Get involved! It's the best way to meet people and feel like St. Ambrose is your home away from home."
Anything else you wish to add?
Guy: "To the current and future Ambrosians. Have a great college experience. Try something new, meet new people, relax and enjoy. The time will go by fast."
Alice: "St. Ambrose University is in our blood. Guy and I send postcards on a regular basis to accepted students. We proudly wear our Fighting Bees gear and I even have St. Ambrose University license plates! I also display St. Ambrose memorabilia in my office at Iowa State University, no one will question where my heart and loyalties lie!"