Last Stop: St. Ambrose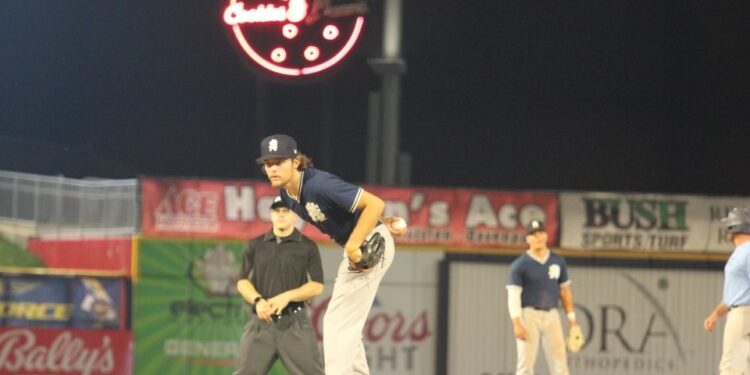 Ross Thompson, a senior baseball player for St. Ambrose, is in his seventh year of college athletics. Most athletes only stay for four, maybe five years, but Ross has an unwavering love for the game of baseball.
On this collegiate journey, Ross has attended three different institutions. Out of high school, he attended Capital University, Columbus, Ohio. "I went to Capital for three years, but I tore my labrum, so I only used two years of eligibility." Ross did not get discouraged.
After his time at Capital, he transferred to Heidelberg University, Tiffin, Ohio, where he spent two and a half years.
"I transferred to Heidelberg between semesters, so I was there in the spring of 2020, until this year when I transferred to Ambrose. I only used one year of eligibility at Heidelberg," leaving him with one year of eligibility left.
In the summers of every year that he was an able baseball player, he played on summer teams, meeting new people who went to various different schools. However, it was not until the summer of 2022 that he met two guys on his team who already attended St. Ambrose. Those guys sold him.
Due to their influence and the one-year master's program that St. Ambrose offered, Ross signed, hoping to win a national championship in his last year. But all this time begs the question; Why does he keep spending the money? Why not give up? What keeps him going?
"I don't give up because I've had too many people sacrifice things for me to still be here, still playing, to not see it out as far as I can and make something of my opportunities."
"What keeps me going? My family and all the teammates I get to meet. Including this year, and summer teams, I've been on 13 collegiate teams, and I consider every guy I've met family. So if you see it as every year you get to play is a year you get to add to the family, you wouldn't stop either."
Ross' ultimate goal is the same as anyone who plays a sport – to get paid to play the game he loves. How realistic is that dream? Nick Vollmert, a teammate of Ross's, had this to say about Ross' dream, "I do think he has the talent to play independent ball after college."
Independent ball is like a Little League for grown men, they get paid but some leagues have a higher level of competition compared to others, which gives them better chances at catching a major league scout's eye.
One of the coaches, Tony Huntley, had some words that support Vollmert's opinion.
"He has the most experience on the team and showed us how capable he is. I don't doubt that if he has a good season come spring, he can definitely continue playing competitively after college."
With the Fall season of baseball coming to an end, Ross is confident he will be in the starting rotation of pitchers come the spring season. The Fighting Bees baseball team has high hopes for the season after a fairly successful one last year that got cut short in the conference tournament.
Nate Villagomez is a staff writer for The Buzz.