Kicking off the 2021-22 theatre season: The Lesson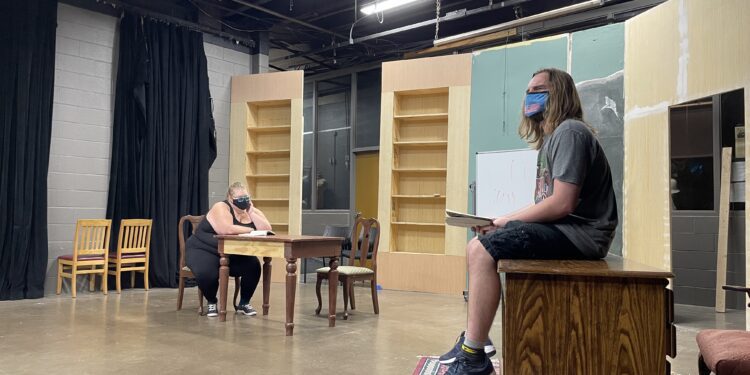 The St. Ambrose University Theatre Department is preparing for its first show of the 2021-22 season, The Lesson. It is a comedic, yet off-putting play by Eugene Ionesco.
The department welcomes back a very familiar face to direct this show, 2020 Alum TJ Green.
"Rehearsals are going very well, and we are taking a huge step forward and I am really proud of all the work everyone is doing," Green said. "I cannot wait for people to come and watch this amazing show."
Green is excited to be back and cannot wait to tackle this new project.
"I was asked if I wanted to direct in the studio in May and I presented a few options I was excited about and this was the one that was the best fit for our department," Green said. "I'm a big Eugene Lonesco fan so I wanted to give directing him a shot."
Rehearsals for the show are underway, and Green is leaning on his SAU education to guide him through this new experience.
"Here at Ambrose, I learned how to better advocate for myself and being in a position of authority," Green said. "I have been able to assert myself more throughout this process as well as having more of an understanding of what goes into production and what I need to do to make sure everyone else involved can do the best job they can."
The one-act play revolves around a timid professor who uses the meaning he assigns to words to establish dominance over his eager female pupil. The cast consists of three SAU actors, David Weaver as the Professor, Nikki Dewitt as the Pupil, and Quinnie Rodman as the Maid.
"It is nice to be back with the people I love doing the stuff that I love to do," Green said. "I am most looking forward to playing with darker horror elements, my past directing projects have been pretty light and grounded. It's exciting to be a little more fantastical."
The Lesson runs Sept. 30 and Oct. 1 at 7 p.m. and Oct. 2 at 3 p.m. in the Studio Theatre, located in the Galvin basement. Audience members need to wear a mask during the production. The actors will wear a mask while performing.
"Come to this show to laugh, be afraid, find some things to be a little unsettling, and most importantly come to be entertained," Green said.