KALA-FM, SAUtv Win 2020 Broadcasting Awards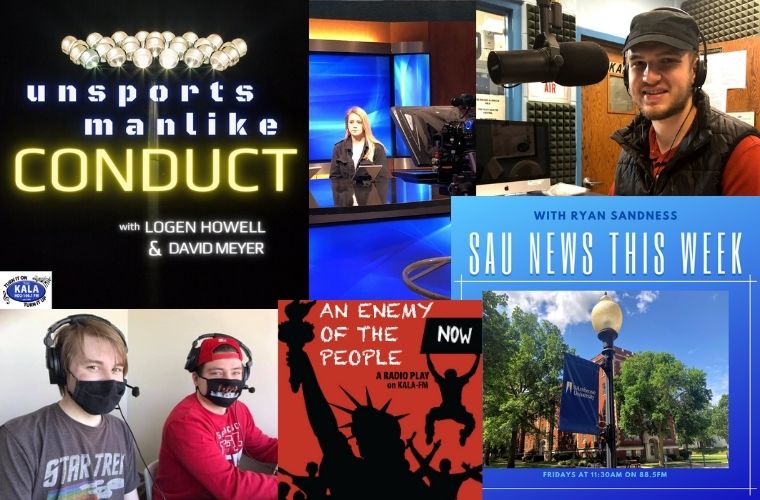 Each year, St. Ambrose communication students are recognized for their outstanding work in radio and television broadcasting. This year, four students received first-place honors across two different organizations.
Junior Ryan Sandness won first place in the "Newscast" category for "SAU News This Week: November 6, 2020." Junior Logen Howell and sophomore David Meyer placed first in the "Sportscast/Program" category for their Aug. 26, 2020, episode of their sports talk show "Unsportsmanlike Conduct." Both recognitions came from the Midwest Journalists Association's Eric Sevareid Awards. The Iowa Broadcast News Association awarded senior Haley Rhoads first place in "Sports Coverage" for her feature "SAU Dance Team adjusts to COVID." The SAU Theatre Department also earned a first-place honor. Their radio play "An Enemy of the People" won "Best Radio Drama" from the Intercollegiate Broadcasting System Awards. 
Check out the full list of honorees – and links to their award-winning work – below.
A national competition honoring the best work among college and high school broadcasters.
Student Radio
A six-state (Minnesota, Wisconsin, North Dakota, South Dakota, Iowa, Nebraska) regional competition honoring the best work among professional and college broadcasters.
Student Radio
Student Television
Small Market Radio
The IBNA recognizes outstanding work done by its members.
Student Radio
Student Television
Large Market Radio