"It is like we are living in Nazi Germany!"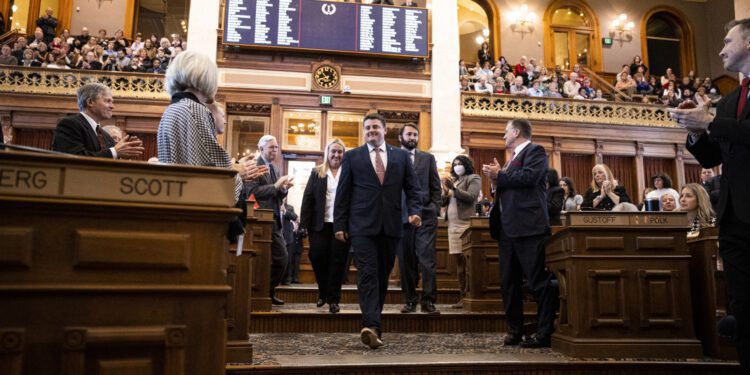 Throughout the beginning months of 2023, many different bills have been pushed forward regarding gender identity and children in the state of Iowa. One bill in particular, Senate File 83, would prohibit schools from teaching kids from kindergarten through eighth grade about gender identity. The bill would also allow parents to take legal action against schools found in violation. The House Education Committee passed the bill forward in January.
Students and professors at St. Ambrose in the women and gender studies and education fields had extremely negative reactions to Senate File 83. They see this bill as both an attack on teachers and an attack on the curiosity and self-image of students. When asked about the importance of teaching gender identity, professors stated that the idea behind teaching young children about these things is about cultivating empathy and acceptance within the students, something that contradicted the views of the proponents of the bill who see it as too political and inappropriate to expose to children.
For junior Abby Kroll, an early education major, a life of teaching and working with children has been something she has looked forward to since she was a young girl. Her mother worked as a teacher for over 25 years, something that Abby and her sister admired and emulated, often playing games where one was the teacher and the other was the student. Now at St. Ambrose, Kroll describes the rewarding feeling of visiting preschools and seeing the enjoyment on kids' faces when they learn something new.
Kroll sees these bills as a sign of a potential future where teachers are restrained and students' self-image is diminished. "My biggest fear about being a future educator is that people will try to silence me when I choose to stand up for children. As a future teacher, my job will be to mold children into confident citizens to go out into the world and be on their own with civil confidence. I want to be able to have the right to help these children figure out who they want to be," commented Kroll.
Dale Blesz, an education professor at St. Ambrose, agrees with Kroll, stating that, "It is natural for kids to be curious about things such as gender identity." He states children should learn about things such as gender identity in a way that they can feel that they are accepted and loved. Blesz heavily criticized the string of bills passed by the House Education Committee, calling the bills "homophobic," and stating "It is like we are in Nazi Germany," about the bills. "Teachers do not have a cynical agenda."
Kroll also commented on how dire of an issue mental health is for transgender people. Kroll serves as the President of the Gray Matters Collective chapter at St. Ambrose. The Gray Matters Collective is a non-profit organization that focuses on mental health awareness and suicide prevention. "These individuals are more prone to experience mental health issues for a variety of reasons. And, regrettably, most of them have to do with surviving in a society that is unkind to transgender individuals. Those who identify as transgender frequently encounter bias, prejudice, discrimination, threats of physical damage, and violent acts rather than being accepted and valued for who they are," commented Kroll.
Lisa Powell, the Director of Women and Gender Studies at St. Ambrose, also commented on the role that bills such as this play in creating mental health problems for transgender youth. "What these bills and the aggressive support of them are doing, is creating those exact conditions where kids will be more likely to be bullied, harassed, rejected, and even physically harmed. These bills don't protect anyone's children but threaten the emotional, psychological, and physical safety of children," commented Powell.
Education Professor Sherri Moler agrees with Powell that teaching kids about gender identity isn't about exposing them to ideologies, but about teaching acceptance and kindness. "Teaching gender identity is teaching acceptance and tolerance, and if we are (in our department) teaching students how to be effective with young children, we HAVE TO prepare them to welcome all learners into their classrooms. Do we exclude certain races? Not anymore, thank God. Do we exclude kids with green eyes? Do we exclude students with disabilities? NO. Kids are kids," commented Moler.
Early Education Professor Angela Rekers agreed that instructions on gender identity are instructions on becoming inclusive and respectful people. "Creating inclusive environments, including respect for children's self-determined identities, is an essential component of early childhood education. It is important to understand that supporting children's developing gender identity is not the same as teaching sex education. Teaching gender identity in the early years incorporates having respect for oneself, caring for classmates, and exploring a wide range of playful activities to best support holistic development," commented Rekers.
Senate File 83, as well as the bills it is being passed forward alongside, has yet to be passed into law. However, for future educators such as Abby Kroll, it is a scary peak into a reality in which teaching is censored and children are polarized by their identity. According to Kroll, as well as members of the Women and Gender Studies and Education Departments at St. Ambrose, all teachers want is the ability to inspire and uplift children that they educate regardless of their gender identity; however, bills such as Senate File 83 are being used to isolate children already at an increased risk of depression and suicide.