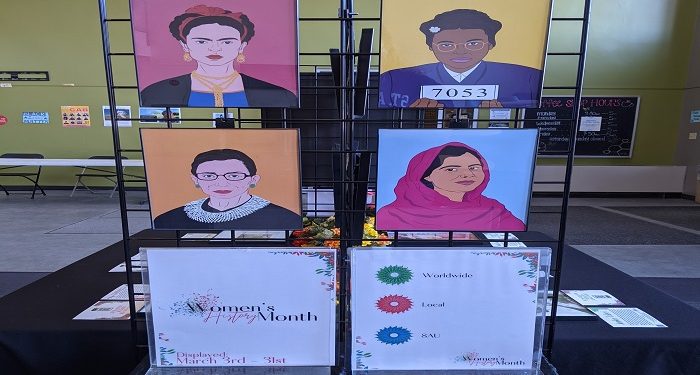 17th Annual Ambrose Women for Social Justice Conference
On February 23rd Dr. Shakti Butler provided the keynote address "Framing a Racial Justice Foundation," speaking about the "system of racial inequality that continues to impact the country, our lives, and our own internal processes of thinking and acting in the world."
Dr. Butler is a filmmaker and educator in the field of social and racial equity, the president and founder of World Trust Educational Services and was a diversity consultant for Zootopia, a Disney film on challenging bias and stereotypes.
Following the keynote address was a learning-lab on February 24th "Healing and Radical Imagination." The learning-lab was intended to "encourage open conversation and the exploration of first steps to begin working towards healing the deep wounds caused by racial injustice."
Both of these events were held via WebEx, free, and open to the public. A recording of the keynote address can be found here.
Dr. Shakti Butler Butler received her doctorate in Transformative Learning from the California Institute of Integral Studies.
Student Diversity Equity, and Inclusion Trailblazers Exhibit
March 1st through the 31st, the Office of Student Diversity Equity and Inclusion presents the "Trailblazers" traveling exhibit. "This exhibit serves as a pictorial reflection of history-making women throughout the world, the State of Iowa, and St. Ambrose University," D.E.I said. Each picture comes with a short biography on the woman, a QR code with an audio version of the biography and a link with more information.
The exhibit can be found in the following locations-
3/3 – 3/7: Rogalski Center
3/8 – 3/14: BeeHive
3/15 – 3/21: Library
3/22 – 3/28: Health Science Center
3/29 -/31: Rogalski Center
The exhibit features many trailblazing figures such as Malala Yousafzai, Greta Thunberg, Junko Tabei, Elizabeth Catlett, and Sister Joan Lescinski.
WGS | MPH Women's History Month Newsletter
Throughout the month of March, faculty from Women and Gender Studies and the Master of Public Health program are releasing a series of newsletters honoring women who contributed to the field of public health.
The newsletters include the names and photos of the women as well as a brief overview of what they contributed, a link to more information and a YouTube video with more interesting information about them.
These newsletters are sent to all students, faculty and staff at SAU, and there are more to come.
Two of the women covered in the first newsletter are Henrietta Lacks and Senator Tammy Duckworth.