Heat Brings a Hot Start to SAU Sports Schedules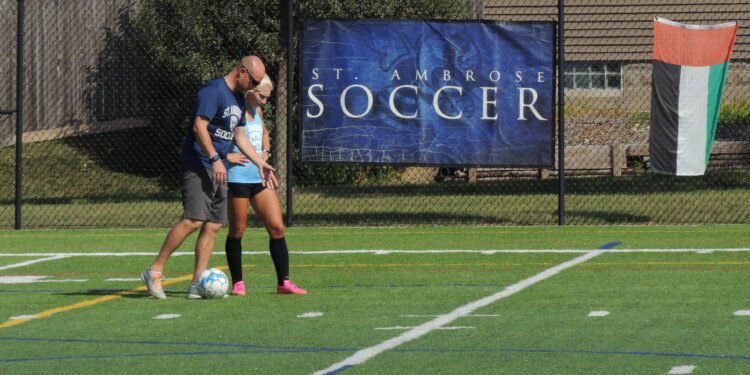 The high temperatures that greeted returning students and athletes have significantly affected athletic
schedules at St. Ambrose University and university athletics continue to reschedule earlier games
postponed due to heat.
Besides the start of practices, getting into clubs, and moving in, this start of the 2023/24 school year has also been marked by the heat wave. Anna Verry, a sophomore soccer player at SAU declared, "The first weeks on campus were amazing. I loved to get to know and practice with my teammates, but the heat did not allow me to do as much as I would like to."
According to the New York Times, "About 14.3 million people — 4 percent of the population of the contiguous United States — live in the areas expected to have dangerous levels of heat." The student-athletes at St. Ambrose University had to adapt to different practice times, games being postponed, and many other unexpected circumstances that occurred.
"Anybody that has especially played on turf realizes that turf just absorbs the heat so we are obviously really concerned about our soccer teams and football teams," said Mike Holmes, Athletic Director of St. Ambrose University. He declares that St. Ambrose University demands a cautious policy and follows NAIA heat and humidity guidelines, which are represented by colored flag zones that indicate the temperature, its risks, and the procedure required.
The National Association divides the US regionally into three geographical categories based on their average temperature marks. Davenport, IA, fits into the second category with the temperatures and guidelines marked in the graphic on the side. NAIA classifies its policy into five colored zones according to the degrees measured: green zone, in which activities can proceed as normal, yellow, orange, red, and black, when no outdoor events should be held.
"With the heat, there are some things that the coaching staff needs to take care of for the health and safety of players," said Jon Mannall, head coach of SAU women's soccer. Mannall added, "We are so fortunate with the facilities we've got, and that we are able to be flexible. We can utilize the dome, we can use the WRC, and what we also do is use some early morning training sessions to stay out of the heat of the day." 
"Playing in the heat has not been too terrible, but that does mean that we have to practice early in the morning sometimes, like 6 am and that in the first week of school especially, was kind of overwhelming." declared sophomore Jenna Horst, who plays as a forward for SAU Women's soccer team.
The Reserve team was preparing to play at the air-conditioned indoor TBK field, due to the heat. Photo by Maria Luiza Coelho.
In addition to that, Holmes complements the topic of practice rearrangements. "It is not completely foreign to us because we had to do that during COVID-19 when all of the teams were participating in the Spring, so we had to mix and match all of that together. I believe we have some decent facilities to be able to pull some of that off."
The Wellness and Recreation Center (WRC), 80,000 square feet, is the largest investment construction project in the history of St. Ambrose University. Photo by Maria Luiza Coelho.
Coach Mannall exhibits his thoughts on games being postponed, "It is not ideal, we are three or four weeks in, and we have played only two games. Fortunately, our season is spread out enough that we are able to put those games back in the schedule."
SAU athletes have been finding ways to beat the heat by drinking fluids, but avoiding staying outside in the sun has been a big challenge for the St. Ambrose fighting bees. Holmes concludes, "The safety of kids is primordial here, their welfare is what we have been entrusted to watch out for so it might be frustrating to coaches at times to figure things out, but at the end of the day, health and happiness of our kids is the primary thing."