Green Life: Fall Hike at Blackhawk State Historic Site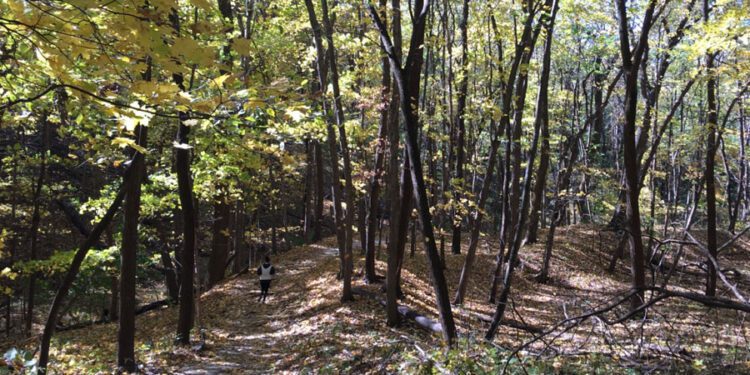 With fall upon us, the trees are swapping out their green leaves for wonderful hues of red, orange, and purple. This is a great time to get out and see the beauty the Midwest has to offer. One of the best ways to experience these colors is to visit a park or forest preserve that has lots of plant life.
Luckily, Green Life at St. Ambrose recently made this opportunity readily available for students. They hosted a hike at Blackhawk State Historic Site on Oct. 23. Green Life is SAU's environmental club. The club focuses on educating and spreading awareness about local, national and worldwide environmental concerns.
This was a great opportunity to get outside, connect with peers, and see the beauty of nature in our area. Sydney Jacobs, the president of Green Life, reflected on how well the hike went. "We had seven people hiking with us. We walked a few of the trails at Blackhawk State Park, which ended up being about two miles total. The weather was perfect and we saw a lot of beautiful foliage, so everyone was just happy to be outside enjoying the day."
Professor Amy Blair, who is a co-advisor to Green Life and a professor in the biology department, also shared her thoughts about the hike while highlighting how fortunate we are to have such beauty close to campus. "We had peak fall color for our hike at Blackhawk State Park. Just 13 minutes from campus, this place is a gem with several miles of hiking trails. The trees were glowing yellow, and everyone had a wonderful time."
Green Life does not only host hikes. They are very active on campus. Some things they have done are campus-wide cleanups, planting the first pollinator garden on campus, and coordinating an end-of-semester food drive in each residence hall. If you think Green Life is something you would like to get involved in you can find more information by clicking on "clubs and organizations" under the "student life" tab on sau.edu, or you can email Green Life at [email protected].
David Girgenti is a staff writer for The Buzz.