Fundraising Through Art
Every year the Museum Enthusiasts Club hosts a silent art auction to fund their yearly activities, as well as the club's big annual trip to a major city and museum!
According to senior art student Riley Lucas, the Museum Enthusiasts Club is made up of students from the art and museum studies disciplines, or are people who just really enjoy museums. In the past, the club has road-tripped to St. Louis City Museum, the Shedd Aquarium in Chicago, and their next trip will be to the Milwaukee Art Museum in the spring of 2024.
This year, the annual art auction bidding began on Wednesday, November 8th in the Beehive and finished up on Thursday, November 9th at SAU Night at the Figge, which is an event where many SAU organizations host interactive booths at the Figge Art Museum.
The art featured in this auction is donated by faculty and staff, students and community members and is a mix of 300 different paintings, drawings, pieces of woodwork, broadsides, and digital art.
Some pieces included a watercolor painting of Ambrose Hall by John Schmits (below), "Canoeing in the Sunset," a painting by Heiko + Anna (second below), and a painting of a sunset entitled "Pink Ribbons" by Margaret Babbitt (third below). Of course, these are only a few examples of the many masterful works presented at the auction.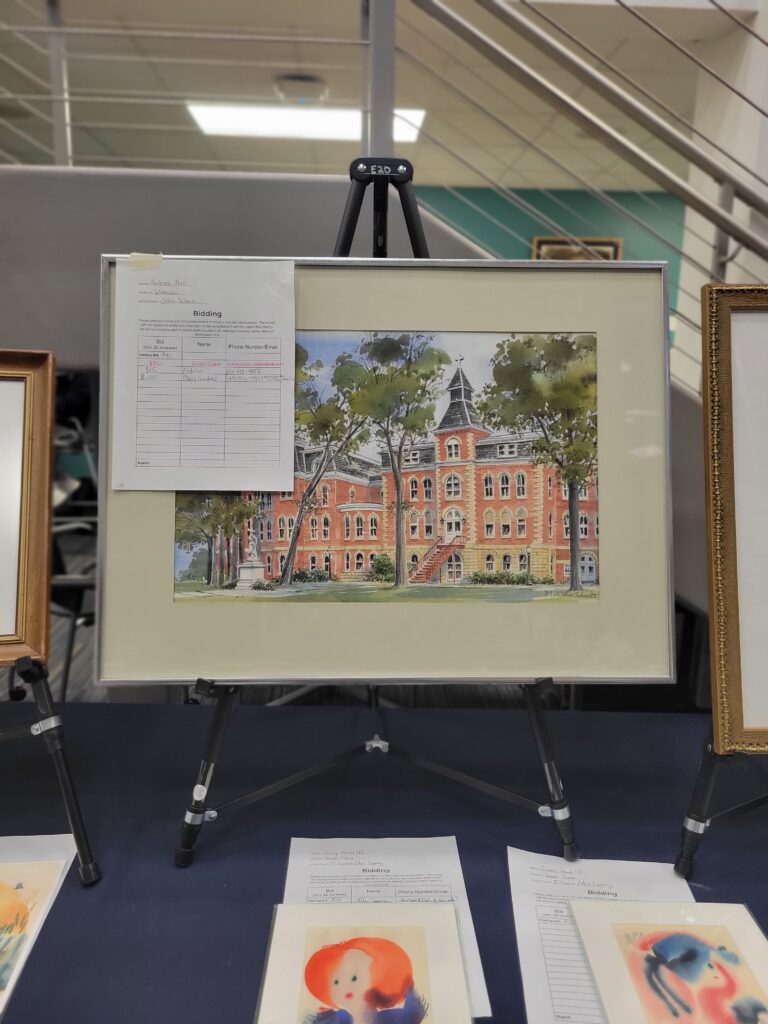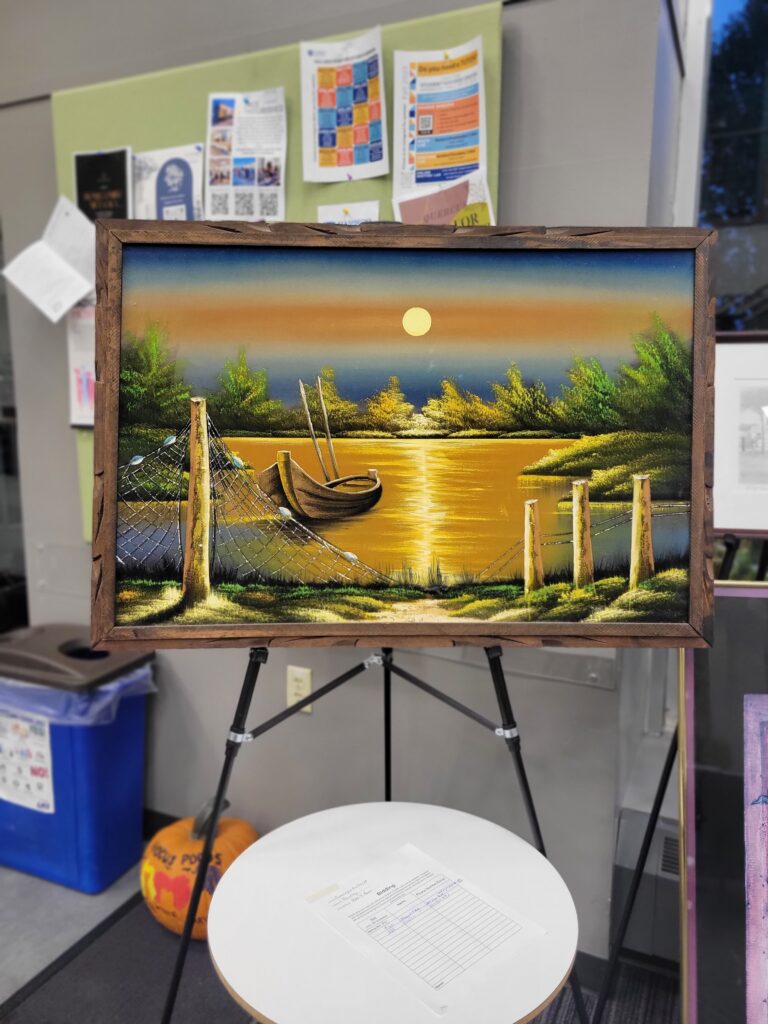 According to Dr. Terri Switzer, Professor and Director of the Art History and Museum Studies program at St. Ambrose, "We've been doing this (auction) in some form or another since about 2017, and we usually have anywhere from 200 to 400 pieces of artwork…we also have a tradition of combining the auction with a second day at an area museum, and we've partnered each year with the Figge Art Museum."
This event is of large importance to the Museum Enthusiasts Club. So much so, that Dr. Switzer starts planning for it in June, and starts collecting artwork for the event in August.
"We really appreciate everyone's support of the auction and SAU Night at the Figge, whether that comes in the form of donated art, bids on art, or attendance at one of the events! Every little bit helps, and all proceeds from the auction go to support the Museum Enthusiasts Club's activities throughout the year," Switzer said. "Students in the Art History & Museum Studies Program and members of the Museum Enthusiasts Club are passionate about museums, and we strive to make it possible for all SAU students—regardless of field of study—to explore museums with us!"
If you were unable to attend the 2023 Museum Enthusiasts Club Art Auction, there will be another one next fall. However, in the meantime the club would appreciate your support, whether that comes in the form of donated art, bids on art, or attendance at one of the events. You don't have to be a member of the club to purchase or donate art! But if you want to be, the club is open to people of all majors, and it's never too late to get involved in the Museum Enthusiasts Club.
If you would like more information about the club, follow this link to their page on the SAU website:
https://www.sau.edu/student-life/clubs-and-organizations/museum-enthusiasts-club