Finally! National Champions
For some, coming to St. Ambrose and seeing the esports center in The Cosgrove basement was the first experience into the world of competitive gaming. For the few it's a way to pay for college and continue to compete at a high level and maybe even winning a national championship just like your very own Overwatch team one of many teams that are a part of the St. Ambrose esports program.
St. Ambrose Overwatch's Michael Mennenga is in his third year at St. Ambrose and has won back-to-back conference championships and a national championship from 2021-2022 in the National Association of Collegiate Esports (NACE).
"Winning a game is cool, winning a best of 5 set even better, winning a conference championship crazy… but winning a national championship? Only in your wildest dreams or so you think." Michael says that the amount of people who come even close to national championships are only a select few but finally getting there is like reaching the summit of Mt. Everest" as he describes the experience.
What is esports? According to Harvard International Review, "esports are video games that are played in a highly organized competitive environment. These games can range from popular, team-oriented multiplayer online battle arenas (MOBAs) to single-player first-person shooters, to survival battle royales, to virtual reconstructions of physical sports." Esports has grown so much in popularity that many colleges have offered it as an official varsity program.
Esports can be played on gaming consoles like the PlayStation 4 or PC otherwise known as a personal computer and can be played in-person at tournaments or online in their respective games. The games could be anything from fighting, shooting, strategy, tower defense and even sports. Functionally, it's the same as traditional sports. Top-level athletes are constantly aiming for the top spots in their sport, or game, of choice. In collegiate most of the teams are in an open division so you could see your very own St. Ambrose Esports team against a big powerhouse school like UCLA, UCI, University of Illinois and still win and some of the team travels all over the U.S to compete in person.
According to Michael Brooks the Executive Director of NACE in 2022, "there are 195 member schools with over 5,700 student-athletes participating in varsity esports program across the U.S." Esports is constantly growing as schools find more value in having a varsity esports program.
St. Ambrose offered a varsity esports program starting in 2017 with two teams an Overwatch team and a League of Legends team under current Winthrop University's Esports Director Josh Sides it grew further under the influence of St. Cloud University's Esports Director Chase Neukam who took up the position in 2019 and from has grown the program to have nine teams and fostering a program with over 30 players.
Former Director Chase says that "you can only dream of having a successful program." Putting his success on building personal relationships and recruiting through grassroots events has made the program what it is today.
Reliving that moment, that second before they're about to win you can hear it clearly as the commentators do the play by play the score is 3-3 in a best of 7.
"He's on point with 2 percent left" says an announcer.
"This can be make or break for the Fighting Bees! It is game point to win it all!"
"Will they be able to win it all?!"
Following silence and the announcer screams "The Fighting Bees have done it! They won!"
Another teammate that was a part of the winning team and MVP Isaiah Walseman says "Wow dreams really come true…nothing feels better than to win."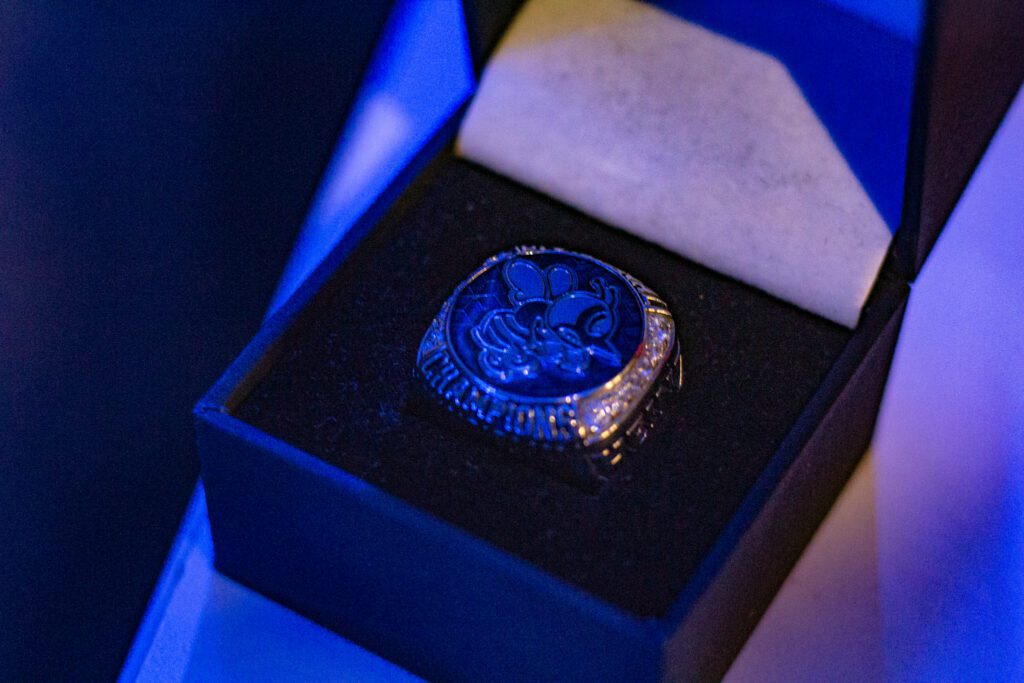 The St. Ambrose Overwatch team looks to continue winning this year and eventually win another national championship. If you would like to know more about the St. Ambrose Esports team, you can find them on twitter @SAU_Esports on Facebook at Sr. Ambrose Esports or at their website here.