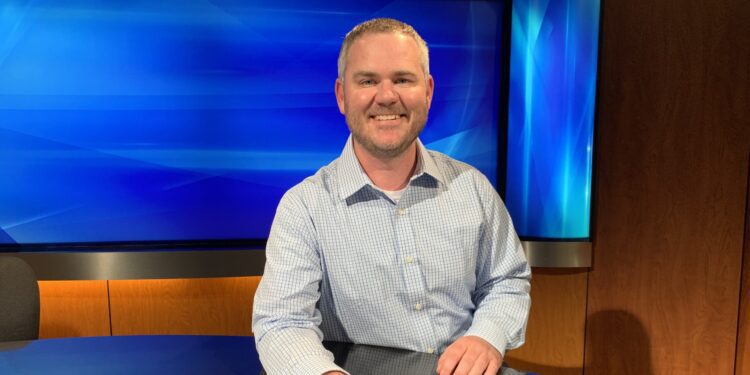 When the opportunity to work at St. Ambrose University presented itself, Greg Armstrong did not hesitate to jump at the chance.
Armstrong is originally from Ottawa, Illinois. He attended Southern Illinois University in Carbondale, Illinois, where he studied communications/radio and television. Upon graduation, he went on to his first-ever job at KWQC-TV here in the Quad Cities.
"I was there for about 10 years," Armstrong said. "I then got a job at WQAD as a sports reporter and anchor, and then worked in comm and marketing at Augustana College."
Armstrong has taken over as the new SAUtv Operations manager for SAU's Communications Department.
"What I always appreciated about the (SAU) program was it was so hands-on," Armstrong said. "Students can get in and work on stuff and really get that hands-on learning and experience right away in college."
During his time at SAU, Armstrong is hoping to achieve many things.
"I hope I can use my experience to guide them," Armstrong said. "And prepare them for when they graduate and walk out of here with a degree are they prepared to work in a newsroom or in some sort of communications role."
Armstrong took over this position from former faculty member Duke Schneider. But this was not the first time Armstrong and Schneider's paths crossed.
"It's kinda funny working in local TV, whenever I was covering an Ambrose event, Duke was there," Armstrong said. "So I got to know him over the years and I've always had a great relationship with him."
Armstrong is hoping to use the foundation that Schneider has set as a stepping stone for the future of SAUtv and the Communications Department.
"Do the things he did and then progress them, and figure out new ways to use technology and new ways enhance the student experience," Armstrong said.
Armstrong is looking forward to many things about this new position.
"I'm looking forward to the interactions with students," Armstrong said. " And being able to see the light switch when they learn a new skill or produce content that they didn't think they had the ability to do."
There is no question that SAU is the place for Armstrong.
"When the job opened up, it seemed like a great opportunity for me," Armstrong said. "The foundation Duke has laid here is so impressive and it's an honor for me to try and keep that going."