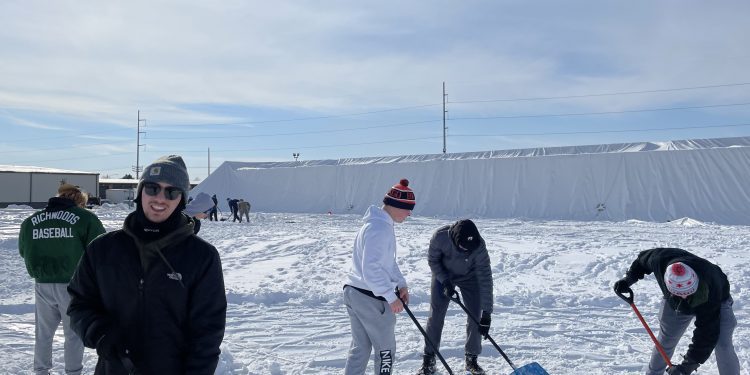 This past year the St. Ambrose University dome had just received a new installation of turf, turning it into one of the best facilities for SAU sports teams to use. In the summer of 2020, the dome was knocked down by extreme weather and winds during the midwest derecho. The collapse of the dome has yet to be reconstructed, making sports practice an on-going complication for the 2021 spring semester.
"The fight for time in the Wellness Center has been a battle every day," baseball coach Joe Vaccaro stated.
In the summer and fall, most teams could practice outside eliminating a need for indoor facilities. Now with freezing temperatures, it has become a necessity. Earlier this month, coaches and administration saw an opportunity to possibly get the dome up, but all hands were needed.
Since the dome hasn't been back up since its original knock down, it was covered in snow and ice. With a short window of weather good enough to melt it and get it in a position able to be put back up, the snow and ice needed to be removed.
"There is an opportunity to get it up this weekend," baseball coach Jim Callahan told his team. The snow and ice needed to be removed by January 30th. 
The baseball team wasn't the only group ready to get to work. Administration and the city of Davenport finally saw an opportunity for it to be up; after the city got temporary workers, the rest of SAU athletics agreed to pitch in to help. Along with Callahan and Vaccaro, softball coach Ron Ferrill and football coach Mike Magistrelli had their players help.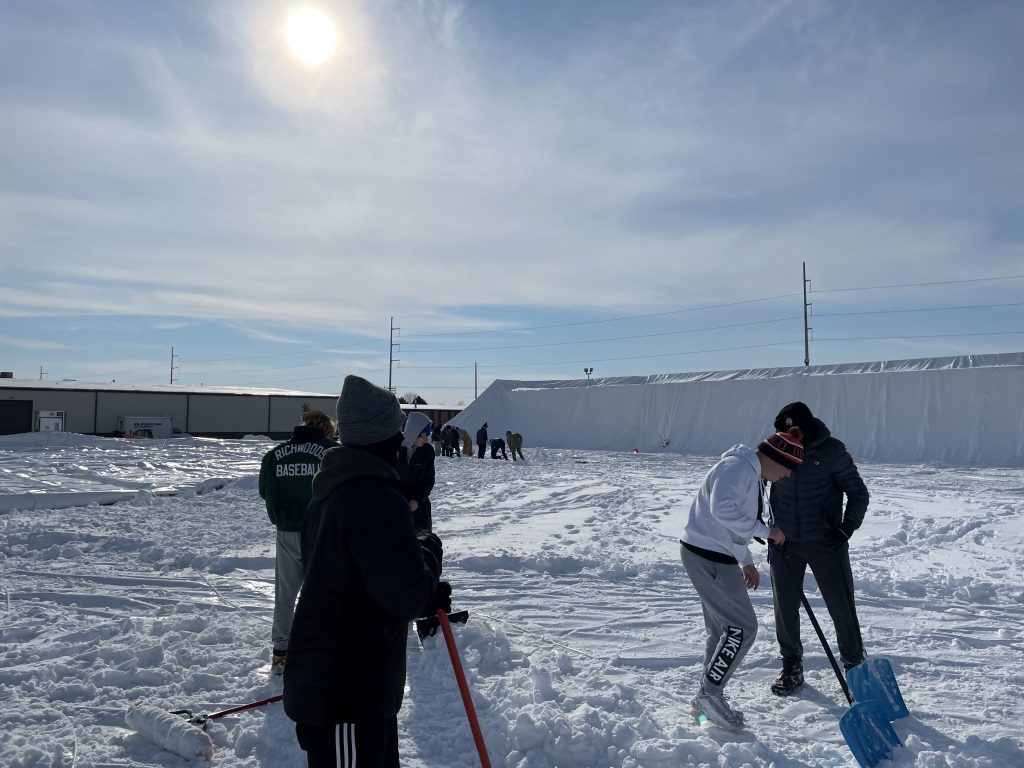 January 30th was the day they needed it to be cleared by, and the SAU teams went to work. From Thursday to Saturday, sun up to sun down, anyone traveling along Brady Street could see the players and coaches out there on a mission.
"We know how important it is for everyone if we can get it back up," junior baseball player Brenden Alsup stated.
The coaches set shifts for players to come so they wouldn't be outside for too long, as the weather was still unfavorable.
"I told my girls they could either go to lifting, or come out here and help," Ferrill stated.
With more sports in session than ever before this spring, the extra indoor practice facilities was a common motivator across these sports teams. Unfortunately, despite the countless hours and collaboration, the sheer amount of snow and ice made getting the dome up by Sunday's deadline impractical.
Coaches and players at SAU are still hopeful for the next bout of warmer weather to rebuild the dome and return to a sense of normalcy during an already up-ended season for many sports.