Fighting Bees Feel At Home
"Homecoming is a fantastic time for alumni to come back and reconnect with SAU faculty, staff and students, as well as see how campus continues to grow and change," Dennis Tarasi, Associate Professor and Chair of the Department of Biology says.
October 19th through October 22nd, St. Ambrose University held their annual Homecoming. The weekend was filled with many festivities and reunions for all SAU students, staff, and alumni. For many people, the weekend was filled with the feeling of being at home.
To kick off homecoming weekend, SAU hosted the Celebration of Generosity Event. The St. Ambrose community acknowledged the biggest donors, as well as the different tiers of donors.
"Celebration of Generosity is important to be able to recognize our donors and just simply thank them for their time and investment into St. Ambrose University. We take great honor of our donors and the future of our students and community," said Justina Crawford, Manager of Special Events.
On Thursday, October 19th, St. Ambrose University's Athletic Hall of Fame Induction Ceremony honored five new members into their hall of fame. The inductees included Tom Broders, Dan Dowjotas, Matt Fitzpatrick, Angie (Schinstock) Fransk, and Stan Stolte. The Athletic Hall of Fame is filled with many different former SAU student athletes, including record holders, those who played a part in memorable winning streaks, athletes who showed good sportsmanship, and those who supported SAU athletic programs with years of volunteering or by setting up a scholarship fund.
Caitlin O'Brien, Coordinator for Administration, Travel & Special Events of the Athletic Department said, "It acknowledges a hard working student athlete that gave so much of their time and talent to SAU. We want them to know we appreciated them then, but we also appreciate them as alumni now. They can help connect and inspire the next generation of Fighting Bees to excel in their sport."
Dan Zeimet, a SAU Registrar and Assistant Track and Field Coach, was inducted into the Athletic Hall of Fame in 2000. "It was a proud moment in my life. The opportunity to be recognized by your former coach, athletic director, and other members of the committee who recognized your athletic accomplishments," Zeimet said.
O'Brien expressed the importance of connection between alumni and current student athletes, "We invite current coaches and athletes to the ceremony because it's important for our young athletes to meet the generations that paved the way for their success, and for our alumni and hall of famers to meet the young talent excelling in their sport today and how the game has changed."
On Friday, October 20th, the Sustainability Committee held a ribbon cutting ceremony for the renovation of the Hayes courtyard. This courtyard has been in renovation for the last three years with help from many SAU clubs and organizations: Green Life, Engineering Club, Campus Activities Board, and Student Government Association.
Dennis Tarasi said, "This ribbon-cutting is a great opportunity to celebrate all the great work, across multiple campus groups, to make this significant change possible."
On Saturday, October 21st, the SAU track and field team helped orchestrate the 26th annual Killer Bee Road Race. The race began by the St. Vincent's Athletics Facilities and finished on Western Ave.
Tyler Mulder, Head Track & Field Coach said, "We wanted to integrate the Killer Bee 5K as a homecoming event with the hopes of creating another opportunity for alumni and families to be engaged with the college."
The homecoming football game was played on Saturday at 1pm. The honorary coin toss was done by former Head Coach Mike Woodley and the 1993 team. This was the first homecoming game in their new home, Jack and Pat Bush stadium. The football team ended up losing 55-0 against St. Francis.
Vince Fillipp, SAU's Head Football Coach was excited to coach the homecoming football game for the many alumni in attendance. "It is always great to see and meet different alumni that make it back to campus. Being able to share stories and memories with all of them is what homecoming is all about," said Fillipp.
Throughout the weekend, many reunions were held, celebrating alumni returning home. The reunions included the All Football Reunion, 50th Reunion, Emeritus Reunion, 40th Reunion, Classes of 1993, 1998, 2003, and 2008 Reunions, and Bees of the Last Decade Reunion.
"The importance of reunions is to help bring alumni back together with their class, or even an affinity group like baseball, football, physical therapy, and more," Crawford said.
The Fall Music Concert with Alumni Performance took place at the Galvin Fine Arts in the Allaert Auditorium on Saturday night. The concert was represented by St. Ambrose's two curricular choirs and symphonic band. The music was centered around the feeling and the meaning of home.
Nathan Windt, Director of Choral Activities said, "It is wonderful to offer an annual opportunity to welcome alumni home to campus, and also to offer them a chance to reconnect with Galvin friends and perform on stage with our current students. It creates a bond between generations of Ambrosians that is difficult to replicate in other areas."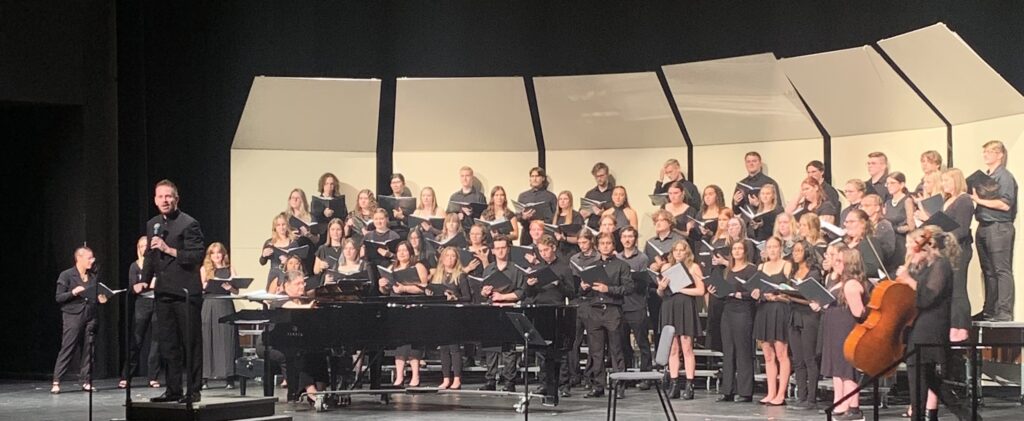 Cora Schultz, a symphonic band member, was excited to be a part of the concert. "This concert was significant to me because it reminded me that I am continuing someone's legacy as well as setting up the future generations with my own legacy."
On Sunday, October 22, Mass was held for all students, staff, and all participating homecoming members in the Christ the King Chapel. The 50 year reunion class sat together and was acknowledged during the Mass. Two of the members of that class became priests, Fr. Jim Vrba and Fr. Ken Kuntz.
Tammy Norcross-Reitzler, Director of Campus Ministry, said, "I believe the alumni enjoy seeing our current students participating at Mass with their peers. It means so much to the alumni to know that Christ the King Chapel continues to be a wonderful place for students to gather, worship and grow in faith."
There were also a wide mixture of other events that occurred during homecoming week. CAB, St. Ambrose University's Campus Activities Board had a launch of homecoming shirts, a Casino Night, Doug's Wire Writing and Custom Street Signs. Other activities that occurred during the week were Beeunion, Donuts with President Amy Novak, a pep rally, and a dance hosted by the Black Student Union.
Carley McGovern, CAB president said, "Homecoming is important for CAB and the overall campus because it's a time to celebrate our community. This campus is home to many, and a big goal of homecoming is to make this campus feel like home for everyone."
Homecoming weekend was an overall success as many SAU students, staff, and alumni reminisced over the feeling of being at home as they were welcomed back by the St. Ambrose community.
Cover Photo: (Photo courtesy of St. Ambrose University Communications and Marketing.)