Fighting Bees Begin a New Era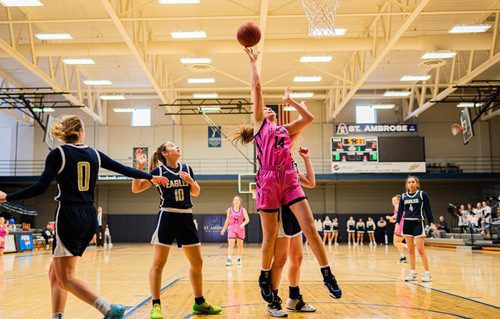 The St. Ambrose Women's Basketball team has officially begun the Zac Exume era. The Delaware State graduate becomes St. Ambrose's new head basketball coach after a multitude of stops in his young coaching career, including the University of Miami, Cincinnati Christian University, and the University of Arkansas-Monticello, among others.
Exume inherits a roster that is an interesting blend of experienced and inexperienced. On one hand, the Bees saw major contributions from a lot of underclassmen, including their leading scorer, forward Abby Wolter, who was just a freshman last year. On the other hand, the Bees are faced with replacing five seniors from their rotation last year. 
What that adds up to for the 2023 season is a lineup that is a very mixed bag of experience and age. Some players are underclassmen with a lot of minutes under their belt, and some are upperclassmen without a lot of experience.
For the players and coaches, it is no secret that this is a team that is still largely figuring itself out. "As a team this year, we are focused on improving the dynamic of the program and building team chemistry on and off the court. We have a new coach and new players. There's going to be a learning curve," described Wolter.
Fellow sophomore, guard Caitlyn Thole, agreed that the team is in an adjustment phase right now, "He's (Coach Exume) still getting to know our team and how we will best mesh together on the court. We too are still adjusting to his approach and game philosophy. We've had practices that have been great and we've had practices that have been frustrating."
As far as Coach Exume's philosophy goes, Wolter described how he likes to play fast and stay positive. "Coach Exume is a coach who wants to play uptempo and push the ball up the court to get easy baskets. I like Coach Exume's attitude and how positive he remains no matter the situation," Wolter detailed.
So far the team is still searching for their first win of the season. They lost their season opener against the seventh ranked Clarke University 95-55 on November 1, as well as their road opener against Missouri Baptist 88-51 on November 8.
The Bees will jump into conference play on Tuesday, November 21 against St. Francis. The Bees are looking for their first win under Coach Exume and start off conference play with confidence after a two week break from action.
Coach Exume and Caitlyn Thole sat down on Inside SAU Athletics to talk about the upcoming season as well as how the team is adjusting under new leadership. You can watch that episode here.
Coach Exume and his team will look to find their chemistry and identity. With a combination of needing to replace a lot of graduated players and having major contributors who are still underclassmen, it is set to be an interesting year for the Lady Bees.