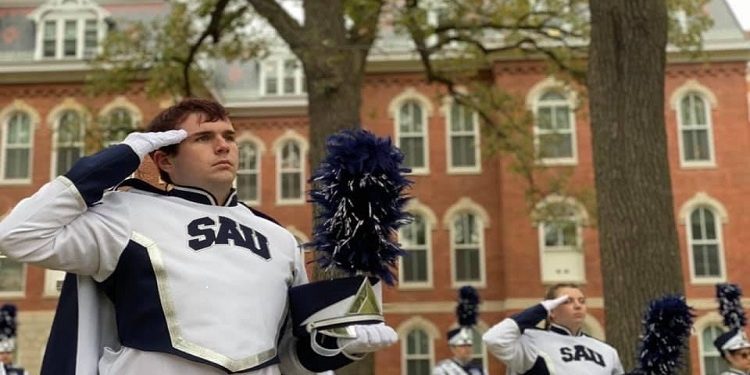 Michael Campbell is a junior at St. Ambrose University and is involved in all three bands on campus—marching, jazz and symphonic. Originally from Grimes, Iowa, Campbell now attends SAU in hopes of working in live sound when he graduates.
What are you involved in on campus?
"I work in the theatre, I help out with music technology for the productions and for the music department. I've also been in choir for a year and a half, and NAFME for two years."
What bands are you in and what do you play?
"I'm in all three, Marching, Jazz, and Symphonic, and I've been in them for all three years I've been here. I play the trumpet and tuba, I'm currently taking piano lessons, and I've taken a lot of techniques classes, I'm in brass techniques class now."
Do you hold any leadership positions in these bands?
"I'm one of three drum majors for Marching Band."
Why did you decide to join these bands?
"I started playing the trumpet because my dad played in high school," Campbell said. His dad didn't force him to do it, but the instrument was there and it helped him discover his love for playing. "I was a section leader my senior year of high school, and I took part of Drum Corps International."
What do you want to do in the future?
"I want to work in live sound. I'm pretty sure I'm going to take over my aunt's sound business, and I've been DJing since I was 10 years old."
Why did you decide to attend SAU?
"My aunt works here so I came to visit her. It instantly felt like home to me, the campus was inviting."
What's your favorite part of being involved in band?
"Definitely all of the people I get to know. All of the people that are in it are all together doing something they want to do. No one is being forced to be there like some people could have been in high school."
What would you say the benefits of being involved in band are?
"There are a lot of scholarships available. You get to meet new friends, and the professors are really nice! You really get to know the professors too, you're around them all four years instead of just for a class or two."
What's your favorite memory about band?
"Probably getting there early for a football game and getting to spend all day with my friends. I would say that Marching Band and Pep Band were the most fun."