Fentanyl Poisoning – A Devastation Targeting College Students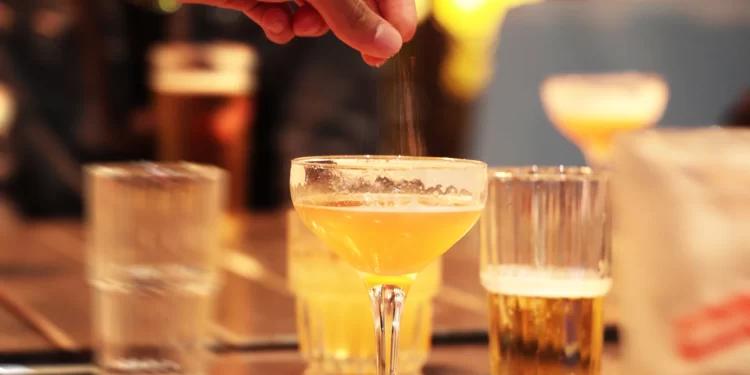 It was a typical up-beat Saturday night at St. Ambrose University (SAU). Campus was buzzing with students dressed in party attire. Music and laughter could be heard from miles away. Cars were lined up at every dorm, ready to bring students to the local bars. After preparing for what she thought would be a fun night out with her friends, an SAU student who prefers not to be named describes it as the "worst night of her life."
"I can't even describe how scary it was," she recalls. "I felt great one moment and was talking and laughing with my friends, and then the next I was barely coherent."
As the bartender handed her the beverage she ordered, she left it on the table next to her to talk to her friends for only a few seconds. She turned back to her drink to take a sip. It tasted normal, and she was excited to order more as the night went on. After 10 minutes, she began to feel dizzy. Her friends reassured her that it was just the effects of the alcohol and to drink water. However, this student knew she wasn't heavily intoxicated, and her reaction after only drinking half of her first drink was not normal. This was a dangerous feeling.
"I barely remember anything and had to ask a friend what happened to me that night," says the student. "I know someone put something in my drink."
Her friends made the decision to bring her home as she was feeling worse. She collapsed in her dorm room and was brought to the bathroom. Later as she was feeling better, she was advised to go to the hospital but decided not to go. Recalling a visit with her doctor days after the event, she says, "My doctor suspected that I was slightly poisoned by fentanyl."
"Fentanyl is a synthetic opioid typically used to treat patients with chronic severe pain or severe pain following surgery," reports the United States Drug Enforcement Administration (DEA) on its website. "Fentanyl is a Schedule II controlled substance that is similar to morphine but about 100 times more potent."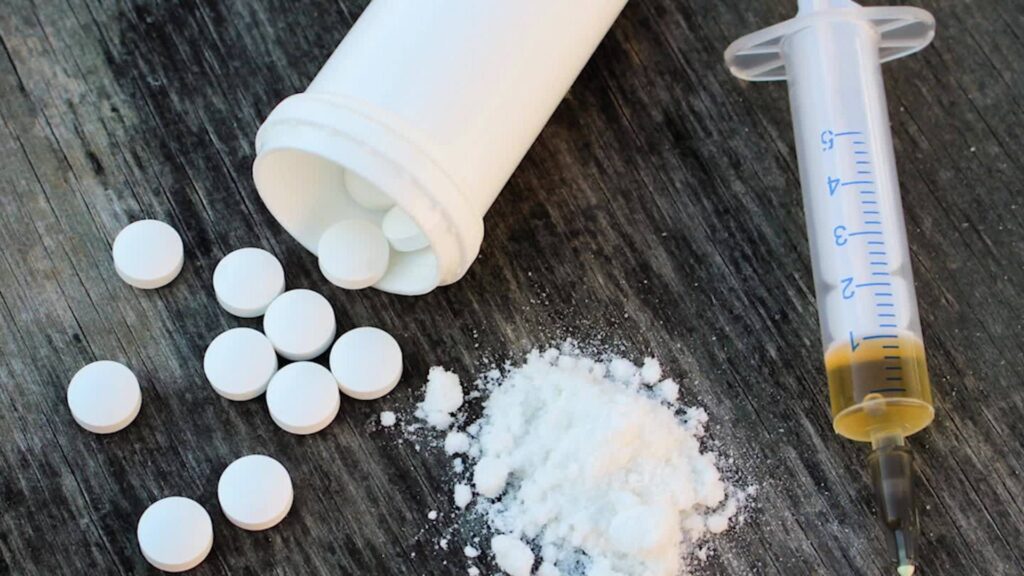 Given that drugs and alcohol are a major part of college culture, young people are targeted the most as they are consuming substances with their peers in order to seem cool and relatable.
"With growing numbers of illicit drug use among young adults aged 18 to 25, college students represent a crucial age group with exposure to opioid pain relievers and potentially adverse consequences," reports the National Library of Medicine on its website.
Fentanyl can be involved in many different drugs and substances. This deadly drug is smuggled over the United States-Mexico border, and is usually already powdered for drinks or laced in another drug.
"Most recent study health statistics show an estimated 100,000 drug overdose deaths in the United States during 2021, an increase of nearly 15% from the 94,000 deaths estimated in 2020," reports the Centers for Disease Control and Prevention (CDC) on its website.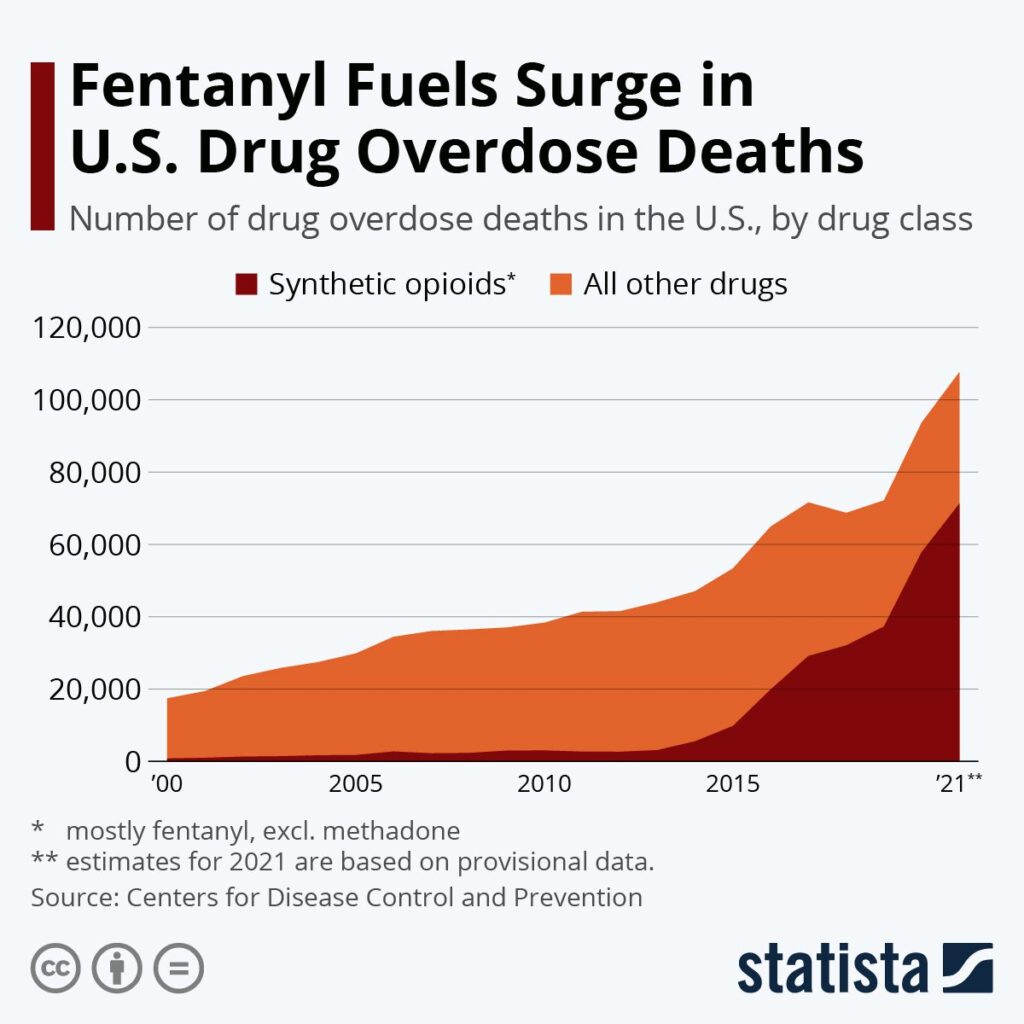 Death by fentanyl poisoning has been a constant problem in the United States, and while college students continue to take risks, the number of deaths will only increase.
"The first year of the COVID-19 pandemic saw a 113% increase in the 'Years of Life Lost' among adolescents and young people in the United States due to unintentional drug overdose," reports the Ohio State University College of Medicine on its website.
When the pandemic began in 2020, fentanyl poisoning and overdoses were on the rise. As the drug is increasingly and secretly being laced in substances, the overdose rate skyrockets and college students are still not in a safe zone.
"Accidental overdose can also occur when someone inhales or comes into physical contact with fentanyl powder," says an unidentified DEA Agent who agreed to be interviewed. "Fentanyl powder can be absorbed through the skin as well, and two milligrams of fentanyl is a fatal dose for adults."
Fentanyl is usually never taken alone. In most cases, it is added to other addictive drugs in which many are common on college campuses.
"It is commonly mixed with drugs like heroin, cocaine, marijuana, and methamphetamine and made into pills that are made to resemble other prescription opioids," reports the CDC on its website.
After a two-milligram dosage, one can die within seconds. Fentanyl can come in all different forms and is mainly mixed with other drugs. In the SAU student's as well as in many other student cases, fentanyl can come in pure powder and liquid form to be sneakily mixed into drinks.
"Boston Police said they've received 70 Boston University student reports of drink spiking this year, but said that of those, only one tested positive for an unknown date rape drug, and three tested positive for opioids," reports Boston 7 News on its website.
Boston 7 News also reported that colleges such as Emerson College, Skidmore College, and many others have received numerous reports regarding "drink drugging." Since college bars are a popular place for students to party at on the weekends, criminals are preying on the students who leave their drink unattended, even for a split second.
"Drink spiking is used to assault or rob someone. Estimates suggest that one-third of drink spiking incidents are associated with a sexual attack," reports the Alcohol and Drug Foundation on its website.
While fentanyl is supposed to be safely used for major health issues, criminals are using illegal fentanyl to "spike" drinks such as alcoholic beverages for malicious intent. In the case of the SAU student, her drink was most likely spiked so that she could be taken advantage of. If her friends were not there to guide her and take her home due to the effects of the drug, her situation could have been more extreme.
"Because fentanyl is so strong, people who make illicit (illegal) drugs use fentanyl to make their drugs cheaper and more powerful," reports the Tennessee Department of Mental Health & Substance Abuse Services on its website.
Dealers are also aware that fentanyl is extremely addictive, and they use its potency to their advantage by adding it to other drugs in order to make substances more addictive. This ultimately causes dealers and drug traffickers to make more money.
"The illegally used fentanyl most often associated with recent overdoses is made in labs," reports the National Institute on Drug Abuse on its website. "This synthetic fentanyl is sold illegally as a powder, dropped onto blotter paper, put in eye droppers and nasal sprays, or made into pills that look like other prescription opioids."
Besides a common drink, fentanyl is also used to spike other drugs. Young people, many being college students, buy drugs from sellers for personal enjoyment. They also buy prescription drugs such as Xanax from friends or sellers to save money. However, they almost never know that their bought substance could be laced with fentanyl, and in most cases, the average seller is unaware as well.
"The majority of fatal college fentanyl overdose victims purchase illicit pills from drug traffickers or are gifted pills or other illicit drugs tainted with fentanyl from friends or people they know," says an unidentified DEA Agent.
In an environment without parental guidance, college students take risks and put their health in danger when their peers are around. When offered a commonly used college drug such as marijuana, many students will take it.
"Drugs may contain deadly levels of fentanyl, and you wouldn't be able to see it, taste it, or smell it," reports the CDC on its website.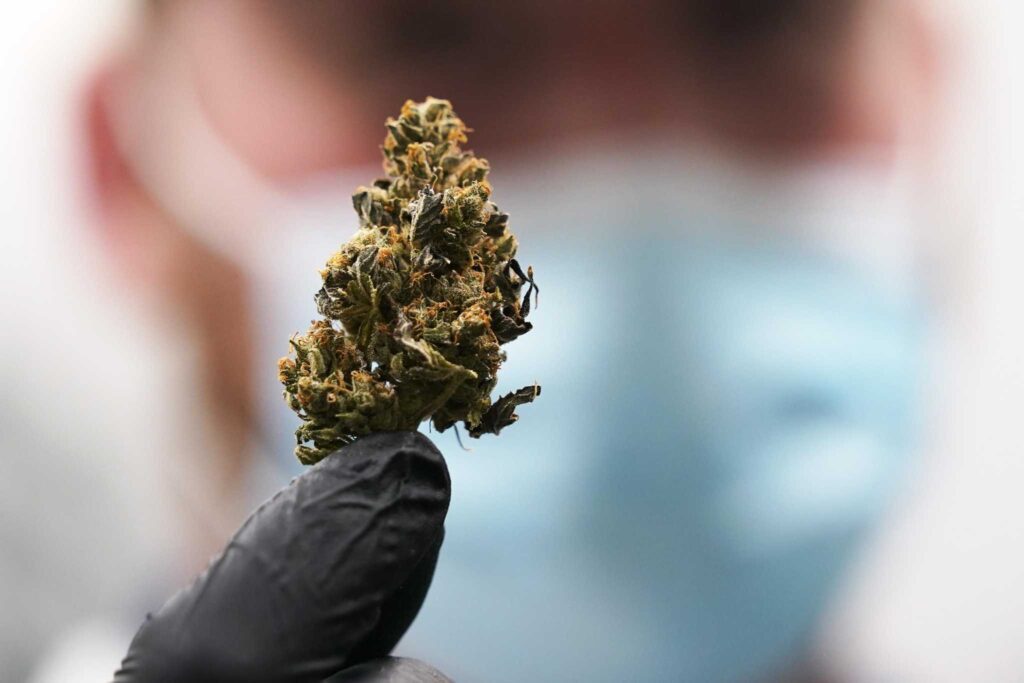 In another incident in 2022, three Ohio State University college students thought they were buying cheap Adderall, but in reality, it was a fake pill made to look like the popular medication for focus. Fentanyl or no fentanyl, there is no way of telling if there are traces without scientific testing.
"One person died that night and another died after," reports the New York Times on its website. "The third student was discharged from the hospital."
Putting trust in drugs and alcohol is a common trend for college students. Every day, students are accidentally exposing themselves to fentanyl by leaving their drink unattended or taking suspicious drugs. If the SAU student who experienced one of the scariest moments of her life, the students from Boston, and the one surviving Ohio State student ingested more fentanyl, they would not be here today. Once intoxicated with over two milligrams of fentanyl, the damage is irreversible.