Exercise is Medicine at SAU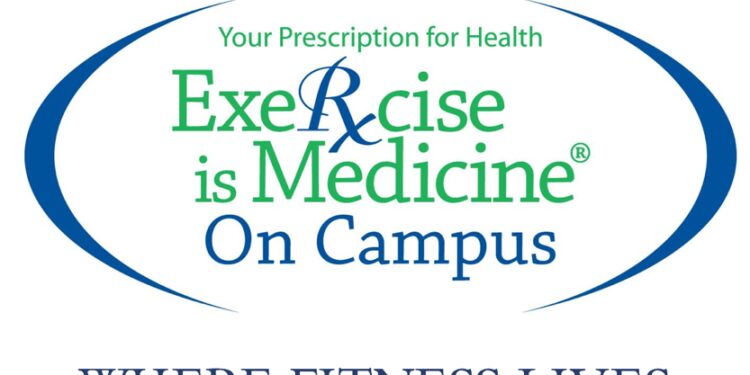 St. Ambrose University became an official Exercise is Medicine campus in 2019 under the organization of Kinesiology assistant professor Christopher Schwartz, PhD. The first step in initiating this program included an event called Gym 101, where students who had limited knowledge of going to the gym were shown how to use the equipment and carry out an effective workout. This event was hosted by partnered departments to promote physical activity and provide guides for cardiovascular, strength and flexibility work.
Exercise is Medicine is a mission developed by the American College of Sports Medicine (ACSM) and currently has a home to over 280 campuses around the world. EIM-OC encourages the collaboration of faculty, staff and students to improve health and well-being of the campus community.
In order to do this they find ways to incorporate movement as a daily part of campus culture and provide tools needed to strengthen active habits. They also connect university health care providers with university health fitness specialists to provide a referral system to participants. Physical activity is also assessed at every student health visit. The information learned through this program creates healthy active habits to last a lifetime.
In late September, the applications to enroll for this semester's EIM-OC program were sent to students to recruit them as health coaches. During this program, five health coaches stay in contact with four clients each for 8 weeks. Weekly meetings are held individually to inform and guide clients in fitness/exercise, nutrition, mental wellness and behavior change.
Health coaches will also design and lead an educational seminar for the campus community under the supervision of Dr. Schwartz and Dr. Thomas of the kinesiology department. This is an excellent opportunity for students to become health coaches, lead a strong career path and present their research at future ACSM conferences.
The St. Ambrose community offers a wide variety of athletic activities to promote exercise in the university. Ambrose athletics hosts 28 individual sports teams. Other opportunities include group fitness classes, club sport and intramural teams ranging from rugby to a walking club. A complete list of these activities can be found here.
EIM-OC is a movement that every individual can benefit from and is especially helpful to those who are needing a welcoming introduction to an active lifestyle. Dr. Schwartz hopes to grow EIM-OC and promote community outreach in the future to provide more people with the power to live healthy lifestyles.
"I see a great opportunity for St. Ambrose to be a pillar in the surrounding community," Dr. Schwartz stated.