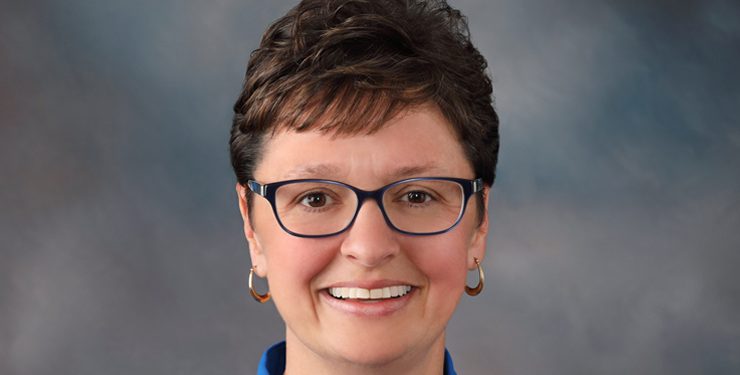 Amy C. Novak, EdD, president of Dakota Wesleyan University in Mitchell, South Dakota, will be the 14th president of St. Ambrose University beginning August 2021.
Novak was selected by the SAU Board of Trustees after a national search. She is succeeding Sister Joan Lescinski, CSJ, PhD. Lescinski is retiring after 14 years at SAU as president.
The announcement of the presidential decision was on Monday, February 8, 2021, at a morning news conference in the Gottlieb Conference Room in the Rogalski Center.
"I am deeply appreciative of Sr. Joan, Dr. Edward Rogalski, her predecessor, and, indeed, of all the previous leaders of St. Ambrose," Novak said. "St. Ambrose is a strong and vital institution because of their tireless work, and we are all fortunate to be the beneficiaries of their leadership and vision. I am also grateful to all of the members of the St. Ambrose community – students, faculty, staff, coaches, and leadership team members – who took the time to answer my many questions during the search process.
"I am honored and humbled by this choice, and very excited to be part of the Ambrose community. I look forward to continuing to find ways to co-develop a strong future for the university and the many communities it serves."
Novak, a native South Dakotan, has served as president of DWU since April of 2013. Through her tenure, DWU experienced record enrollment growth, surpassed university fundraising records, made significant updates to campus infrastructure, formed a variety of regional business partnerships, bolstered spiritual engagement on the campus, and launched a variety of innovative academic programs and initiatives.
At DWU she has previously served provost and executive vice president from 2008-2013; vice president for enrollment management; dean of enrollment management; and director of student support services.
Learn more about Dakota Wesleyan University.
Novak is the current president of the North American Association of United Methodist Schools, Colleges, and Universities. She also has served as the president of the South Dakota Foundation of Private Colleges; as the presidential representative to the NAIA council of presidents from the Great Plains Athletic Conference; and on the executive council of presidents for the NAIA.
Novak earned a Bachelor of Arts in History from the University of Notre Dame in 1993, a Master of Science in Social and Applied Economics from Wright State University in 1997, and Doctor of Education degree in Interdisciplinary Leadership from Creighton University in 2014.
Dr. Novak and her husband, Ken, are parents to eight children.
"We have been at Dakota Wesleyan 18 years now and there are a tremendous number of friendships and professional working relationships that have been formed. So, yes. It's hard to leave. But leadership imbued with faith is about risk-taking," Dr. Novak said. "Doors open and we walk through them with the belief that God gives us the grace to work through what lies ahead."
Click here for bio, presidential transition timeline, and more.
"I am a far better leader, a far stronger person, and much more committed to my faith because of my experience at DWU," Dr. Novak said. "So I take with me lessons, mentors, role models, and the countless pieces of wise counsel that have shaped me. But I take that knowing I have more to give and they empowered me to give that. People took a risk on me at DWU. Today, I hope to pay that forward."
Novak has consistently sought to make higher education more responsive to the needs of students – particularly students from underserved populations such as first-generation students, students of color, and students from low-income backgrounds – as well as to the needs of the communities and regions that colleges and universities serve, particularly in rural regions of the U.S.
"The rapidly changing world we live in demands that we begin to adapt our learning models," she said. "Together we must move from a focus on the philosophy of teaching to a learner-centric approach, a philosophy of learning that acknowledges how learning happens best. This might invite us to consider how learning happens, when learning happens, and where learning happens."
"Similarly, we are entering an era in which one's engagement of education may span a lifetime. Like a subscription service, we need to consider how the education of St. Ambrose may be accessed across a worker's lifespan by offering degrees, certificates, thought leadership, personal and professional coaching, and other educational services at any point in someone's career."
Novak will officially succeed Sister Joan as president of the university on August 7, 2021.
"Serving as president at St. Ambrose also is an opportunity to live out my Catholic faith, my own vocational calling to use education as a vehicle for increasing a person's economic, social and spiritual mobility," Dr. Novak said. "I feel very called to work with the students, faculty, and staff to strengthen our common humanity through education. That's the best I can say. I feel deeply called to be at another place and space and see how we can connect and work collaboratively to continue to strengthen higher education and the common good."