Do It Yourself Dorm Room Decorations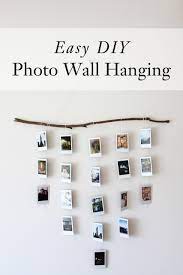 When it comes to college dormitory rooms, it is safe to say that schools definitely do not supply wall decorations.
When money is tight and college students need to "ball" on a budget, that does not mean that the dorm residents should have to live in a bland room. Here are some Do It Yourself wall decorations that can spruce up any living space.
Hanging Photo Display
This DIY photo wall hang provides a sentimental and personalized accessory. The following pictures use polaroid film, however, any sort of photo will do the trick.
Photos courtesy of Dossierblog.com
To complete this craft, a few materials need to be collected:
A stick
String of preference
Scissors
Tape
Photos
A wall hook (if necessary)
To begin, line up the photos in a fitting and aesthetically pleasing manner. The design options are vast and can be personalized to fit the wall space and the person creating the fixture.
Cut strings to match the layout of the photos. The string should be longer than just the photos because it will need to be wrapped around the stick to make sure it is secure and durable.
The next step is to secure the photos on the string using tape. Apply as needed, typically covering every part of the string that touches the photo with tape. For hanging variety, an option of using clips, wooden or metal, would also suffice.
To finalize this design, make sure that there is a proper space on the wall and every part of the contraption is secure.
A Flower Wall
The dollar store provides DIY supplies on a budget. Use your favorite dollar store flowers to recreate a flower wall.
The materials necessary for this project are:
Hot glue sticks
Foam boards
Flowers of your choice
Hot glue gun
These are required for one board, however, the more materials bought, the larger the flower wall can be.
Photos courtesy of etsy.com
The first step is to prepare the flowers. Each flower needs to be pulled off the plastic stem and sorted into a pile. After the stem is pulled off, there should be a short stem about one inch left.
Next, align the flowers in an aesthetically pleasing way. To place the flowers on the board, stab the remaining stem into the foam board.
After all flowers are pushed into the board, go through with the hot glue gun and glue around the stems and bases to secure the flowers. Allow the glue to dry and the task is complete.
These two DIY projects are quick and easy and are a simple, yet cute, way to fill up dorm room walls. If you complete these dorm room DIY projects, post photos and tag @sauthebuzz on Twitter.